A novelist with a story attached
Isabela Fonseca's new book, her second in 13 years, is a novel about a woman who suspects her husband of having an affair
Isabel Fonseca's new book, her second in 13 years, is a novel, Attachment, about a woman who suspects her husband of having an affair. This is perhaps not the wisest of career moves, considering that she is married to a novelist far better known, Martin Amis. Once the bad-boy star of British letters, he has become a fashionable target these days — both for his success and, more recently, for some of his political positions — and inevitably his wife has sustained a certain amount of collateral damage.
In some UK tabloids, she is probably doomed to be known forever as Isabel "Fun-seeker," the bosomy American home wrecker who in 1994 busted up Amis' first marriage and made him fire his longtime agent, the wife of his best friend, so that he could extort from his publisher more money to spend on cosmetic dentistry. That none of this is true, exactly, or that it's a good deal more complicated than the headlines allow, almost goes without saying.
Fonseca and Amis, who live in London after a two-and-a-half-year hiatus in Uruguay, have two young daughters. They also see a lot of his two sons, now in their 20s, from his first marriage, and of Delilah Seale, 32, a daughter whom he didn't even know he had until a few years ago. Their social world consists largely of other writers, including Will Self and Ian McEwan.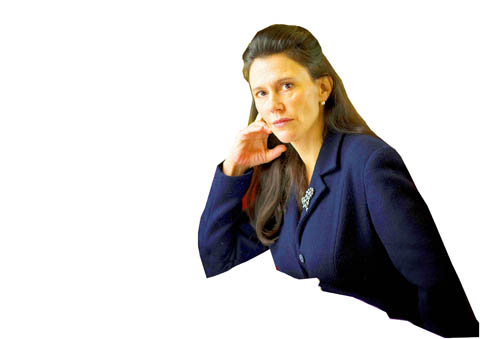 Isabel Fonseca at the River Cafe in Brooklyn, New York, in March. Fonseca — once portrayed in the UK tabloid press as the bosomy American home wrecker who broke up novelist Martin Amis' first marriage — has now written her second book, a novel about an American who suspects her dapper British husband is , having an affair.
PHOTO: NY TIMES NEWS SERVICE
In this circle, Fonseca is less a tabloid harpy than the latter-day equivalent of Zuleika Dobson, the heroine of Max Beerbohm's 1911 novel about a beautiful young woman who turns up at Oxford and makes all the undergrads suicidal with longing. Now 46, she is still turn-your-head attractive (the papers were not wrong about that part), and she is an heiress, sort of. Her maternal grandfather was Jacob Kaplan, who owned the Welch's grape juice company. Her mother is American; her father, Gonzalo, was a Uruguayan artist; and she grew up in a house on West 11th Street in Manhattan that used to belong to Daniel Chester French, the sculptor of the Lincoln Memorial. Her brother Caio is a painter whose work hangs in the Museum of Modern Art, the Whitney and the Metropolitan Museum of Art.
In 1984, after graduating from Barnard, she enrolled at Wadham College, Oxford, and both there and afterward in London, where she got a job with the Times Literary Supplement, she really did have a Dobson-like effect. She was a fixture at the Groucho Club, a fashionable nightspot for the London literati, and among her many admirers, to judge from contemporary accounts, were Clive James, Bill Buford, Salman Rushdie and the actor John Malkovich.
She actually worked, though. For the Literary Supplement, she created the NB department, a column of cultural commentary that persists to this day, and while on the staff there she also wrote Bury Me Standing: The Gypsies and Their Journey, a history of the Gypsies, which she researched, traveling alone through Eastern Europe, for four years. At one point she lived for six weeks with an Albanian Gypsy family, the Dukas, where the rules of hospitality required the other women to wash her every morning.
Fonseca now makes light of her adventure. "I was never frightened for a minute," she said recently about traveling on her own to Gypsy encampments. "There's nothing easier than being a woman alone in the world. People are so protective. If anything, I was dying just to have a few minutes to myself." The book, which was well-received when it came out in 1995, helped her reputation, making it harder to dismiss her as a literary bimbette and adventuress.
Her editor at the time made two suggestions: Don't take forever to write another, and for God's sake, don't write a novel. So much for that good advice. And to make things worse, her novel is about a 46-year-old Oxford-educated American, a writer, who is married to a glamorous Briton.
"Well it is fiction," she said last month over lunch at the River Cafe in Brooklyn, New York, where one of the book's scenes takes place. "The character is really not me at all. I didn't consciously avoid any of the parallels, but I didn't seek them either. It wasn't a special area of play. I just didn't worry about it."
Speaking of her husband, she said, "It's probably awful for him that I've done this thing, write a novel. I didn't mean to. I don't think it's his kind of book, really — he doesn't read that much fiction anyway." She added that being married to a famous novelist who is also a formidable critic is a mixed blessing. "Imagine having Martin all to yourself at the dinner table. For free! He's got a very interesting point of view." She went on: "Also, one of the lucky things about living with another writer is that they really understand what it's like to be preoccupied — you know, a pretend mother and a pretend husband. I remember when I was in school and I'd bring my friends home and my father would just be getting up in the middle of the afternoon. I suffered agonies of embarrassment."
On the other hand, she said, "having Martin judge your work — I wasn't looking forward to that. I didn't let him read the book until it was done, or until I thought it was done, and it took him a hell of a long time to get through it. That was one very long week."
Attachment is a gracefully written novel about aging, parents and children, and the mystery that even married partners can be to each other. But it begins, surprisingly, as a novel about identity theft, when the protagonist, reading a love letter sent to her husband, answers by e-mail, pretending to be him. This was the kernel of the short story Fonseca had in mind, and she said she got the idea from the amount of crazy mail — hate mail sometimes — that pours into her house, and from her own experience of having her identity stolen.
"I'm not sure I want to admit this, but I went to a sample sale in London," she said. "You know, shop-o-mania — where there's a communal dressing room and where you wind up buying a lot of stuff you would never have bought otherwise? Someone stole my American Express card, and two hours later they called me up to say that this person had shopped in my name and bought something like US$4,000 worth of knickers — you know, Agent Provocateur stuff. I would never have spent that much money on underwear!"
One thing Fonseca has in common with Jean Hubbard, the protagonist of her novel, is a certain sense of rootlessness. In the book Jean Hubbard travels from St Jacques, a fictional island in the tropics, to London and to New York, without being certain where she really belongs. Even at the end there is no easy answer, and it's not entirely clear what is going to become of her. Fonseca, who has not shed her American accent, says she feels homesick for New York all the time and that she returns several times a year just to "wallow."
"I never imagined that I'd spend half my life in England," she said, looking out over the East River. "I never meant to give up my country," and she added: "Do you know what 'domicile' means — in the poetic, tax sense? It means where you're going to die, and when you go to the tax accountant, that's what they want to know. When I go to meet my PriceWaterhouse tax-planning person, these questions are always intensely difficult for me. I'm swamped with anxiety."
A little later, lingering over coffee, she said: "Martin and I talk about moving here all the time. When we left Uruguay we even looked at houses and schools in New York. But if I moved here would I stop feeling homesick? Probably not. It's more an idea than anything else. Now New York is here whenever I want it, and that's probably ideal. It's handy living in the wrong place."
Comments will be moderated. Keep comments relevant to the article. Remarks containing abusive and obscene language, personal attacks of any kind or promotion will be removed and the user banned. Final decision will be at the discretion of the Taipei Times.