Restaurant: Tandoor Indian Restaurant 坦都印度餐廳
Address: 9, Ln 13, Tienmu W Rd, Taipei (台北市天母西路13巷9號)
Telephone: (02) 2876 7206
Open: Daily from 12pm to 2:30pm; 5:30pm to 10pm
Average meal: NT$500 to NT$600
Details: menu in English and Chinese; credit cards accepted On the net: www.tandoor.com.tw
One of Taipei's oldest and most reputed Indian restaurants, Tandoor Indian Restaurant, has recently found a new home in the multicultural Tienmu neighborhood serving the same authentic North Indian cuisine and an enchanting interior design mixing elegance with modern chic.
Named after the traditional Indian clay oven, Tandoor takes its native recipes seriously and imports all the spices and herbs from India. For each dish, at least 10 to 12 spices are used.
"Many people ask us if we make changes to appeal to local palates. I always reply that there is no such need since the menu is so extensive, diners are bound to find something to their liking," said manager Monisha Relwani.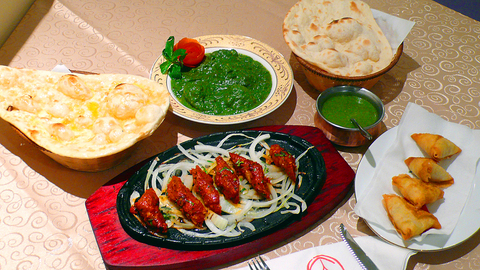 Tandoor's colorful Indian dishes are both luscious and visually enticing.
PHOTO: HO YI, TAIPEI TIMES
Relwani's confidence is not unfounded since the restaurants experienced Indian chefs study the ancient combinations of spices and are skilled at making over 100 different sauces.
For appetizers, the barbecued delicacies come highly recommended as they are roasted in the tandoor in the traditional way. Seekh kabab (NT$290), or the roasted minced mutton, is one of the most-ordered dishes.
The Indian gravies come in three basic kinds: yellow, which is made of various vegetables and ginger powder; red, which is either tomato or chili-based; and green, which is the spinach-based. The vindaloo is not for the faint-hearted. If you prefer something milder, chicken saagwalla (NT$300) has a slight tang of spices mixed with the fresh flavor of spinach.
Arguably the world's favorite Indian dish, chicken tikka masala (NT$350), cooked with green peppers, onions and spices, is perfect with a basket of garlic naan (NT$70), according to Relwani.
"All our meats are deboned and skinned since North Indian cuisine was traditionally served at the imperial family's dinning table and the royal family liked their food immaculately prepared," the manager explained.
As for the vegetable options, aloo gobi (NT$220), or cauliflower and potatoes cooked with dry herbs and spices and chana masala (NT$220), which is chickpeas cooked in traditional Punjabi style with a thick spicy gravy, are two must-tries for vegetarians.
A tip to Tandoor's customers: ask for a doggie bag for leftovers since the sauces are the soul of the food and excellent seasonings for bread, rice or noodles.
Comments will be moderated. Keep comments relevant to the article. Remarks containing abusive and obscene language, personal attacks of any kind or promotion will be removed and the user banned. Final decision will be at the discretion of the Taipei Times.