Speed freaks and salt: the fastest car show on Earth
All manner of racing enthusiasts show up to try to set land speed records on the Utah salt flats during Bonneville Speed Week
Booming past the last mile marker of a ruler-straight course on this ancient lake bed, traveling at more than 640kph, Al Teague pulled the parachute release lever to slow his streamliner, simultaneously fulfilling the final request of a hot-rodding buddy.
On that day four years ago, tucked within the folds of cloth, were the ashes of Gray Baskerville, a champion of all things associated with the Salt Flats. Baskerville, a writer for Hot Rod magazine, had died in February 2002 at age 66.
"It was exactly what Gray would have wanted," said Teague, holder of a speed record with the Spirit of 76, a low-slung dart of a car engineered for nothing but top-speed trials. "I got the feeling that my high speed would have made him happy."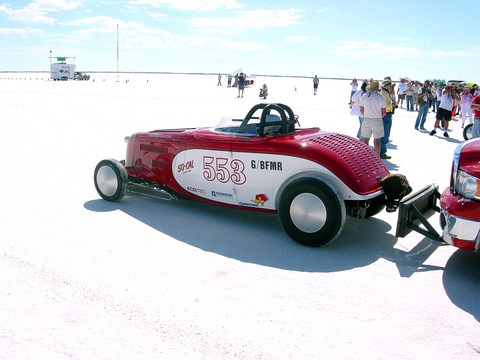 A Ford Highboy roadster on the salt, where speed records exist to be broken in Bonneville Salt Flats, Utah.
PHOTO: NY TIMES NEWS SERVICE
To those who have been touched by Bonneville's high-speed mystique, neither Baskerville's career-long devotion to this eerily flat expanse, nor Teague's homage, would be a surprise. The 4,828km2 salt plain 193km west of Salt Lake City, bisected by Interstate 80, is one of the few places on earth suited to driving vehicles as fast as they can go.
The great bleach-white expanse is what remains of an enormous inland sea that evaporated 14,000 years ago. Since the 1930s its fragile surface — and the thin atmosphere at the 1.3km elevation, which saps engine power — has challenged the speediest cars, trucks and motorcycles.
Still, drivers return each August seeking records at ever-greater velocities. "If you like making cars go fast, this place is addictive," said Ed Iskenderian, a hot-rodding pioneer who first attended Bonneville contests in 1950 and continues to make the annual pilgrimage.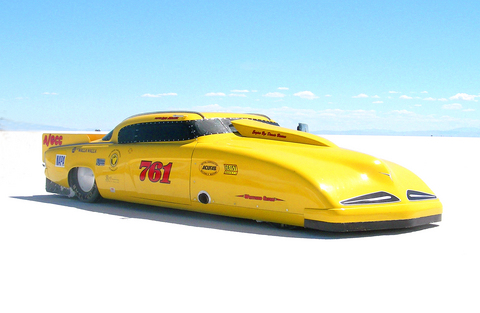 Salt racers favor variations on traditional shapes like this seriously streamlined Studebaker.
PHOTO: NY TIMES NEWS SERVICE
Nearly 500 entrants gathered here last month for Speed Week, one of the few times of the year when the salt is used to establish official records. This year's turnout was the biggest ever, drawing vehicles ranging from prewar Fords to diminutive "lakesters" with bodies shaped like the fuel tanks once seen under the wings of fighter planes. There were 1950s Studebakers stretched like taffy to cheat the wind, and everything from Toyota econoboxes to Corvette-powered Porsches to ground-scraping motorcycles testing their engines against electronic timers. Even a Ferrari F40 turned out.
More than 150 records were set in dozens of classes, encompassing every imaginable combination of vehicle and engine, from tiny 50-cc motorbikes to a mammoth Freightliner truck powered by a 4,000-horsepower V-16 diesel said to have begun life in a tugboat. This improbable rig, lowered and modified unlike anything one might see on the Interstate, is a perennial favorite, thundering down the salt at more than 354kph.
The streamliner class is a showcase of the swiftest machines on wheels. This year's star was the Dieselmax streamliner entered by JCB, a British maker of construction equipment. Powered by a pair of heavily modified four-cylinder diesel engines from the company's backhoes, the 8.8m-long projectile was driven by Andy Green, holder of the absolute land-speed record in a jet-powered car at 1,227kph (set in Nevada, alas, not at Bonneville).
Green, a Royal Air Force wing commander, is a superstar in the community. Overcoming five days of technical gremlins that kept speeds below 370kph, the JCB car finally set a record of 563.41kph to become the world's fastest diesel vehicle (or, as many kidded, the fastest backhoe).
Diesel was not the only alternative fuel at Bonneville this year. Mark Dickens, a General Motors engineer, set several class records driving Chevrolet Cobalt SS coupes; one (reaching 251kph) was the first to be powered by an E85 ethanol blend.
The best combination of salt surface and weather in 10 years created excellent race conditions and helped pack the entry list, said Buddy James, a longtime starting line steward. But with so many vehicles queued up to run on the two courses — a 4.8km straightaway for machines capable of up to 281kph and a 8km course for the fastest — cars waited hours for their next chance. Even those in line at 7am when each day's action began might make just two runs before the courses closed at 5pm.
Official Bonneville records are determined by averaging two runs, as supervised by the Southern California Timing Association, which organizes Speed Week and operates the electronic timers. Once a vehicle makes a qualifying run that tops the existing record, it is impounded until the next morning's record run.
For most of the tanned-and-wrinkled regulars — as well as what seemed to be an infusion of fresh blood in hot imports — creeping slowly to the starting line under the scorching sun is simply part of the routine.
A strong grass-roots ethic and amateur-racing spirit underpin Speed Week and the few other events held at Bonneville. Competitors routinely lend a hand to one another, along with advice and tools.
"Bonneville is more than a hobby to many of these racers; it's their life," said Louise Ann Noeth, a Salt Flats historian and former professional drag racer known universally as Landspeed Louise. "They return because money and marketing have not yet put their stamp on the salt."
The Flats' amateur racers can be mildly contemptuous of professional record efforts. Participation by big companies, including efforts this year by GM and JCB (which had two huge tractor-trailers in its pit area), attract the most scorn.
"Sometimes we might resent the money the factory teams spend for their projects, because we don't have those funds," said Teague, whose 659.79kph attained in 1991 is still the international record for wheel-driven vehicles powered by a single piston engine.
"They have engineers and aerodynamicists," Teague said. "We do our work in our garages after work."
On the Flats, there are no fixed structures providing the comforts of traditional racetracks — no pit garages, no grandstands, no food pavilions for spectators.
Racers prepare their vehicles under tent shelters erected next to vans and campers. Staying hydrated is part of the Salt Flats survival ritual.
The salt itself is a survivor. Decades of potash mining over the last century began depleting the salt base. But recent efforts by the local salt industry, under pressure from the SCTA and the racers, have helped stabilize the thin crust, which can be less than an inch thick in places.
"My team and I were utterly humbled by our experience," said Tim Leverton, chief engineer of the JCB Dieselmax team. "You cannot arrive here and simply expect to go fast. You have to learn the salt — and listen to the Bonneville speed community, who know more about it than anybody."
Comments will be moderated. Keep comments relevant to the article. Remarks containing abusive and obscene language, personal attacks of any kind or promotion will be removed and the user banned. Final decision will be at the discretion of the Taipei Times.