Planet Pop
Madonna stole the show at the MTV Europe Music Awards on Thursday with the first live televised performance of her new single Hung Up, emerging from a giant glitter ball wearing purple leather boots and matching leotard.
The 47-year-old queen of pop rocked the Atlantic Pavilion on one of the music industry's most important nights outside the US, and said she still got a kick out of playing to a crowd.
US punk rock trio Green Day and British act Coldplay shared top honors at the MTV Europe Music Awards, picking up two prizes each in the event broadcast from the Portuguese capital Lisbon to millions worldwide.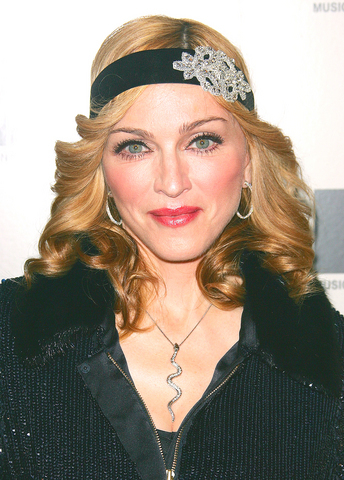 Madonna is back in the saddle.
PHOTO: AP
Green Day walked away with the awards for best rock act and best album for American Idiot while Coldplay, fronted by US actress Gwyneth Paltrow's husband Chris Martin, won the awards for best UK and Ireland act and best song for Speed of Sound.
Chinese actress Bai Ling is so much in love with Backstreet Boys singer Nick Carter that she's ready to tie the knot, a press report quoted her as saying on Friday.
The 35-year-old, known for her sometimes skimpy outfits, said she has been seeing Carter, 10 years her junior, since they met recently in a charity event in Malaysia, a Chinese-language daily reported.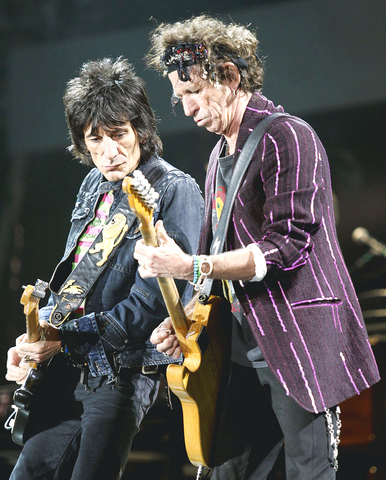 Ron Wood, left, is more than a legendary guitar player.
PHOTO: AP
Bai Ling said Carter, who ended a brief romance with Paris Hilton last year, got her phone number through Ling's friends. They met -- and fell in love.
"My current boyfriend is a godsend. I didn't need any reasons to like him and I am willing to do anything for him," said the Hollywood-based star of Anna and the King and horror flick Dumplings.
Ling said the couple was ready to wed any time.
The editor of Britain's best-selling tabloid is laughing off her brush with the law after she was arrested on suspicion of hitting her husband, her own newspaper said Friday.
Rebekah Wade, 37, at the helm of The Sun since 2003, was released without charge Thursday after she was grilled at a south London police station over what police called "an alleged assault".
The supposed victim of the carrot-topped editor with a penchant for sheath-like dresses was her husband Ross Kemp, 41, who plays head-shaven tough-guy Grant Mitchell in the hit BBC television soap opera EastEnders.
"It was just a silly row which got out of hand," she was quoted as saying in Friday's edition of The Sun, which thrives on celebrity gossip and topless "page three" beauties. "It was a lot of fuss about nothing."
The Sun, which sells 3.3 million copies a day, more than any other national newspaper, said Kemp was not injured, and that a reported cut to his lip was sustained during filming.
Kevin Federline, the husband of pop star Britney Spears, has released his first single to hoots of derision from critics.
The former back-up dancer's first CD, entitled The Truth is due out next year, but his first single Y'All Ain't Ready was posted on the Web site of producer Disco D.
Critics weren't impressed with his musical talent. "Kanye West he's not," said the New York Post. "He's not even Vanilla Ice." The New York Post called the song crude and said the sound effects were like a "pinball machine submerged underwater".
Super-svelte model Tyra Banks donned a special fat suit for a segment on her syndicated TV show and was shocked when strangers made fun of her obesity.
The 31-year-old former supermodel went undercover as a 150kg woman and called the reactions to her new figure "one of the most heartbreaking days of my life."
"I started walking down the street and within 10 seconds, a trio of people looked at me, snickered, looked me right in my eye and started pointing and laughing in my face," she said. "Obesity seems like the last form of open discrimination that's okay."
Famed Navajo artist RC Gorman, sometimes referred to as the Native American Picasso, died on Thursday at the age of 74, a spokesman at the University of New Mexico Hospital said. His agent, Virginia Dooley, said on the artist's gallery Web site (www.rcgormangallery.com) that for more than a month he had battled "a virulent blood infection and pneumonia, among other issues, and finally lost his battle."
When Ron Wood takes the stage with fellow Rolling Stones rockers in San Francisco later this month, a collection of his acclaimed oil paintings will also be in a spotlight in the city.
Wood, a legendary rock-and-roll guitarist, has won acclaim for his paintings and prints.
Wood past a milestone earlier this year when one of his paintings sold for a million dollars, according to the San Francisco Art Exchange, which will open a display of the guitarist's artwork on Nov. 9.
Comments will be moderated. Keep comments relevant to the article. Remarks containing abusive and obscene language, personal attacks of any kind or promotion will be removed and the user banned. Final decision will be at the discretion of the Taipei Times.