Orchid Island spoils the visitor in need of a break
The island is a great place for seekers of tranquility. It boasts some of the best reefs in Asia and wonderful scenery
Located about 62km southeast of Taiwan proper, Lanyu (蘭嶼) is called Orchid Island because of the butterfly orchids that once grew there in abundance. It is a wonderfully interesting, friendly and unspoiled weekend destination and well worth a visit.
There are no beaches of note and much of its rugged mountainous hinterland is inaccessible, but the island nevertheless boasts a verdant picture postcard beauty.
Orchard Island was once populated by just the Yami tribe, which made its living raiding villages and breaking heads in Taiwan, as well as in China's Fujian Province.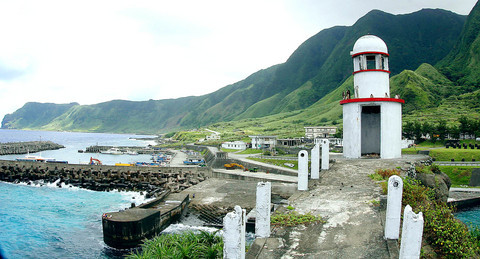 Many of the sights and sounds of Orchid Island hark back to the island's past and its Yami tribe culture. A visit is the perfect chance to unwind and get away from the pressures of city life.
PHOTOS COURTESY OF DAVID SMITH
Tourists were first allowed to visit the island in 1967, but 40 years later the place is still a tourism backwater. Life on the 46km2 island is far removed from Taiwan proper and unlike its nearest neighbor, Green Island (綠島), the natural environment remains unspoiled.
Orchid Island is home to around 3,200 people, most of whom are Yami, or are descendants of the tribe. Islanders rely on farming wet and dry taro, yams and millet and they also rear pigs and goats. Sinicization programs, which ran from the mid-1950s until as recently as 1980, have been responsible for the collapse of much of the traditional Yami way of life.
The years of meddling by the Taiwan government has left many of the island's elderly wary of outsiders, but the island's younger generation is extremely friendly and is more than happy to chat about the island's past, present and future.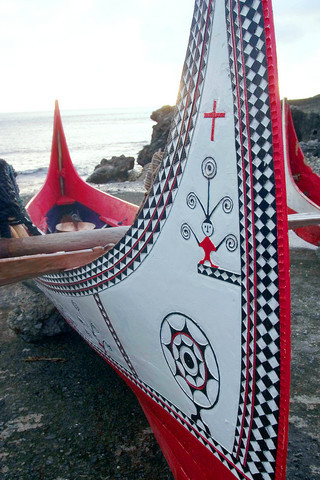 There are two ways to get to Orchid Island, by air or by sea. Those who opt for the 16-seater Dornier 228 propeller-driven aircraft are in for a treat. The flight takes around 25 minutes and with a cruising altitude of a mere 1,500m, passengers are given a wonderful bird's-eye view of the Pacific Ocean as the plane skips above the waves.
The sole airline currently servicing the Taitung-Orchid Island route is Daily Air Corporation (德安航空). Every day there are six flights to and from, depending on the weather. Purchasing tickets for these flights is problematic, however, as unless visitors have an exceptional amount of political clout the company doesn't take reservations.
To ensure a seat on the plane passengers are forced to go to either Taitung or Orchid Island airports, depending on the direction they wish to travel, and write their names on a waiting list located at the Daily Air check-in counter. One-way tickets for the flight to Orchid Island cost NT$1,408 and are only available from Daily Air Corporation check-in counters.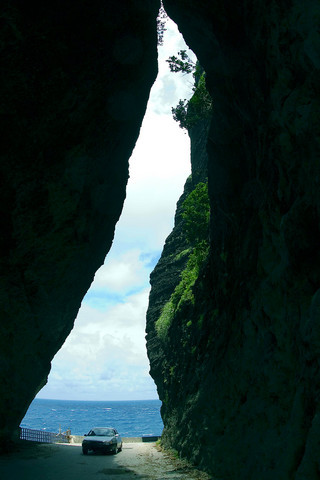 Depending on the weather, the three-hour boat trip can be thoroughly enjoyable or exceedingly painful. On a calm day passengers can sit on the deck, enjoy the sun and watch dolphins and flying fish swim alongside the vessel. The Pacific Ocean can be cruel, however, and more often than not the crossings are rough.
Two boats run daily trips to and from Orchid Island, and both are based out of Fukang Harbor in Taitung. Roundtrip tickets cost between NT$2,000 and NT$1,550 and are available on the boat before sailing time.
There are a couple of hotels on the island but neither the Lanyu Ocean International Hotel (蘭嶼海洋國際飯店) or the Lanyu Hotel (蘭嶼別館) could be described as four-star in quality. And their prices are not cheap.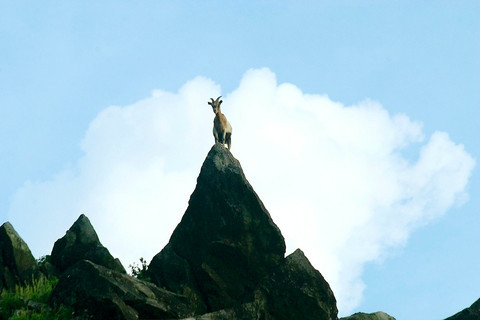 The best way to enjoy a few days is to stay at one of the many smaller hostels run by locals. Costing from NT$300 to NT$500 per night the hostels are clean and offer both single and dorm rooms. Guests are allowed to use the kitchens and some owners will even offer to cook for their visitors.
The big plus of staying at a hostel is that the owners will often go out their way to make your stay more enjoyable. They'll not only introduce you to the neighbors, but will also make sure that all village inhabitants know exactly who you are, where you come from and what you do.
There are hostels in five of the island's major townships, but if you're looking for a picturesque and rustic setting, then one of the best villages to stay in is Yehyin (野銀村). Located on the west side of the island, it's home to 100 people and is the only place on the island where village elders still reside in traditional Yami underground housing.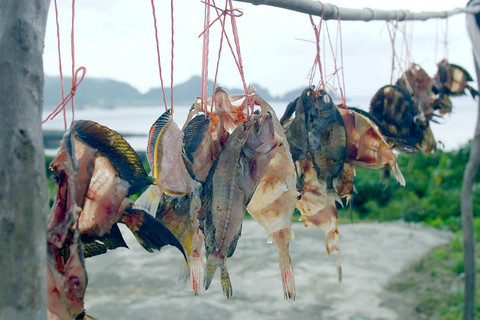 Visitors can circumnavigate Orchid Island on foot in a couple of days, but the best way to see it is to rent a scooter. The condition of the scooters isn't that great and chances are that either the speedometer, gas gauge, or both, will not work. But with daily rental costing an average of NT$300 per-day you can't really complain.
Helmets are not mandatory, but do take care as gravel trucks, cement mixers and buses can cause problems for the unwary. In addition to large vehicles, sections of the road are in pretty bad shape and there are plenty of blind corners.
Visitors can also explore the island by bus. It traverses the island every hour from between 8:30am and 4:30pm.
While the nuclear-waste storage facility remains a controversial issue among the island's population, who claim that it has been responsible for depleting fish stocks, would-be visitors shouldn't be deterred by its presence.
Although it's probably best to avoid swimming in the area adjacent to the nuclear-waste storage facility, other parts of the island are considered must-dives for underwater explorers.
Scuba diving has become a popular tourist pastime and a big money making venture for the locals over the past 10 years. The coral reefs that surround the island are some of the best in Asia. Each township has at least one scuba center and prices for trips begin at NT$1,000.
Dining out is, for the most part, a pretty hit-or-miss affair. The few restaurants that do exist serve modest fare. There are no menus and proprietors will either tell you or show you what they have in stock and will cook to order.
Other than enjoying the scenery and scuba diving there is little to do on Orchid Island. This is what makes a trip there so satisfying and the perfect getaway for anyone who needs a complete break for a few days.
Hotels:
Yehyou village (椰油村): The Lanyu Ocean International Hotel (蘭嶼海洋國際飯店), call (089) 229 482.
Hongtou village (紅頭村): The Lanyu Hotel (蘭嶼別館), call (089) 342 226.
Hostels:
Yehyin village (野銀村):
The Fuyin Hostel ( 恩民宿), call (089) 732 763.
The Yinhui Hostel (恩惠民宿), call (089) 732 979.
Yehyou village (椰油村):
The Lanshang Hostel (籃翔民宿), call (089) 732 236.
Hongtou village (紅頭村):
The Lanyu Hostel (蘭嶼民宿中心) (089) 731 601.
Yuren village (魚人村):
The Mingyun (明霞民宿) (089) 732 554.
Transport:
Air:
Daily Air Corporation (德安航空), call (089) 362 489.
Sea:
The Golden and Common Star Ferries (金星/恆星),
call (089) 281 477.
Comments will be moderated. Keep comments relevant to the article. Remarks containing abusive and obscene language, personal attacks of any kind or promotion will be removed and the user banned. Final decision will be at the discretion of the Taipei Times.