Lovingly limned nudes are the equal of Matisse
Li I-hung is one of the country's most prominent artists and his nude paintings show a new lease of life
Lee Yi-hong's (李義弘) journey in art has been filled with large-scale excitement. Thirty-odd years ago he began to paint under the master Chiang Chao-shen (江兆申), then serving as chief of paintings and of the calligraphy collection, and later as Deputy Director of the National Palace Museum in Taipei. \nFor a period of many years it was difficult to tell apart the work of Lee from that of his teacher. Chiang's very personal landscape imagery stem from the best of Chinese traditions, from his love of ancient Chinese mountains and streams running, the memories of his native land and, by dint of his work at the museum, first-hand familiarity with diverse brush-habits of great masters spanning centuries. \nIn Lee's works, elements of Chiang Chao-shen, shades of younger contemporaries and well-studied elements from ancient masters that have been entirely reframed in new contexts, serving new functions, truly delight with their masterful and dramatic boldness. \nIn Lee's oeuvre, joy radiates directly from a child's heart. The Tang dynasty scholar and demon-queller, Zhong Kuei appears in Lee's works as a memorable being with a strong personality, bursting with humor and mischief and, in an album devoted to him, is given many close-up portraits that display Lee's uncanny virtuosity and delight in lively, dramatic \nexpressions. \nRecently, Lee has thickened his application of washes to the point of opacity, deviating from the translucency marking traditional Chinese inkwash painting. Because of Lee's experimental nature in the application of brush and ink, he has experimented with different types of paper, and with amazing results. \nThis may have begun with experimentations in splashed ink in the late 1980s, juxtaposing different forms of dripped tonal and formal effects yet still legible as landscapes. For a while, tree trunks were merrily swollen out of pooled ink. This has subsided in his current show where the pooling takes place on the back-side of paper as distant mountains, and the paper is again painted over on the front face creating a fresh new effect. \nLee's world is charged with life and gaiety. A most delightful discovery this visit was Lee's astonishing paintings of nudes. Lovingly limned in strong, robust strokes, one lies invitingly and relaxed, seen from the head, mirthfully covered with the Heart Sutra declaring color (the senses) to be as void and void as color. I have not seen ink-wash nudes of such beauty and accomplished brushwork as here where gentle eroticism is fired with Lee's virile brushwork and masterful calligraphy in the xiaokai small formal script. This is a new genre that Lee Yi-hong should develop into a series, to provide Chinese painting with truly outstanding examples of the nude that are easily on a par with the best of Matisse. \nExhibition notes: \nWhat: Li I-hung (李義弘) (b.1941, Tainan). \nWhere: Tainan County Cultural Center, 5F, 23 Zhongcheng Rd, Xinying City, Tainan County (台南縣立文化中心台南縣新營市中正路23號5樓). \nWhen: Final day today.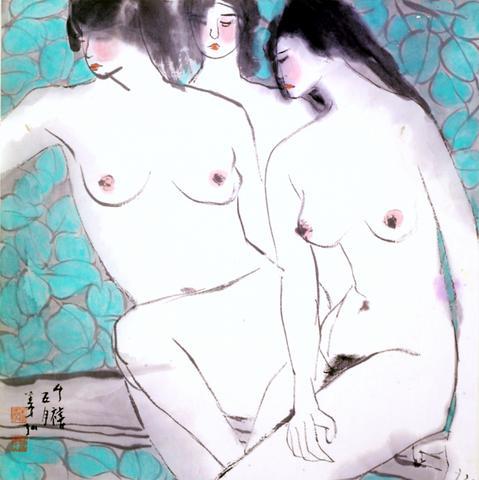 Li I-hung has been a master of painting for over 30 years.
PHOTO COURTESY OF THE ARTIST
Comments will be moderated. Keep comments relevant to the article. Remarks containing abusive and obscene language, personal attacks of any kind or promotion will be removed and the user banned. Final decision will be at the discretion of the Taipei Times.