He's only a bookkeeper,but don't get him riled or there'll be trouble
The title of the director Yoji Yamada's minor character drama, the initially slow-going Twilight Samurai, may evoke an image of duels between volatile warriors as the setting sun silhouettes their early-evening battles. But the film's name actually refers to a taciturn, devoted -- and impoverished -- widower in the Edo period, Seibei Iguchi (Hiroyuki Sanada), who dashes home at dusk to spend time with his young daughters and ailing mother.
Yet the martial associations hinted at in the title eventually materialize: a tense and compact sword battle, tinted with anxiety and regret, gives the last act a sizzling muscularity.
In his ratty and worn kimono, the quiet, sensitive Seibei smells as if he's been fighting for days; his lack of personal hygiene, or interest in night life, makes him the object of scorn and ridicule from his bookkeeping co-workers. Behind his back they mock their homebound colleague as Twilight Seibei.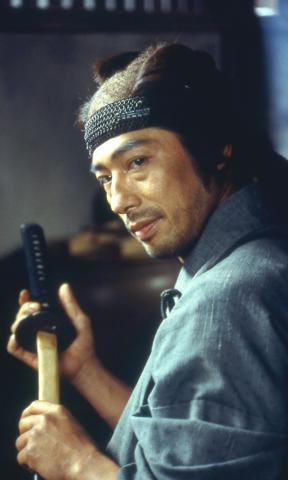 Hioryuki Sandada is the Twilight Samurai.
PHOTO COURTESY OF SWALLOW WINGS FILMS
Yamada's devotion to somber, everyday detail will definitely test the patience of many. He starts Samurai with the arresting and bleak images of a winter funeral -- the funereal whites worn in the procession blending in with the cold, pale vistas as the body of Seibei's wife is carried to its final resting place. Seibei's younger daughter, Ito (Erina Hashiguchi), supplies a voice-over, revealing that her mother died when she was 5.
This grim, blunt opening has a stoic, baroque power, a quality that defines most of this 2004 Oscar nominee for best foreign-language film.
The word samurai in the title seems to mock audience expectations as well as Seibei's banal existence. Most of his working time is spent keeping an inventory of provisions and offending visiting bigwigs with his malodorous presence. His remote gentility thaws when he is home with his children, Kayano (Miki Ito), and Ito, who is the conscience of the film and dotes on her father. (When the camera catches her sleeping, it seems as if she rests with one eye partly open to keep watch over her hard-working father.)
And a caring, slightly puzzled expression covers Seibei's face as his senile mother (Reiko Kusamura) constantly asks him which family he is from. Sanada is expert at alternating Seibei's acute awareness of his surroundings with a bland guardedness. The film itself often assumes such a stance; despite the handsome and thoughtfully lighted cinematography by Mutsuo Naganuma, the closed wariness that Seibei exercises reflects the way the director handles the film, allowing only Seibei's adoration of his girls to provide some warmth.
Seibei is berated by a cruel uncle (Tetsuro Tamba) who demands to know why his nephew has not found someone -- anyone -- to remarry, so that order can be restored to the Iguchi household. This cantankerous, blustery older man also ties his sister -- Seibei's mother -- to a post. Seibei has to maintain some calm in the house, while conspiratorially joking with his daughters about his highly strung uncle.
An old girlfriend, the sweet Tomoe (the delicate and precise Rie Miyazawa), re-enters Seibei's life, bringing a complicated domestic history with her; her presence in the film allows Yamada to create a meticulous tableau wracked with internal and external pressures.
At about this time Seibei demonstrates his startling reflexes and martial skills in a scene that is staged with hilarious deftness. Seibei's co-workers gulp as they call him Twilight from then on. (Sanada's physical effortlessness has been a mainstay in numerous films, including a turn in The Last Samurai.)
Yamada is confident that by taking his time and relishing the leathery arrogance that is the perquisite of a director in his 70's, his audience will follow his whims. The loving, nervous formality of the courtship between Seibei and Tomoe occupies his attention as much as the other elements: he wants to give each tick of the story as much time as possible. In some ways this makes Samurai feel like the kind of distended drama that is often rewarded with a foreign-film Oscar nomination. But Yamada counts on his command to make audiences stick around for the action that constitutes the last section.
This film also buzzes with sorrow: when the fights finally arrive they are informed by an adult sense of doom and misery. What Yamada does by lingering until he has to force Seibei into a physical challenge is to develop a melodramatic aspect for the scenario. It is not enough for his protagonist to defend himself; he has to live with all the consequences.
Publication Notes
Film Notes
Directed by: Yoji Yamada
Starring:
Hiroyuki Sanada (Seibei Iguchi), Rie Miyazawa (Tomoe), Min Tanaka (Yoho Zenemon), Tetsuro Tamba (Tozaemon Iguchi), Erina Hashiguchi (Ito Iguchi), Miki Ito (Kayano Iguchi) and Reiko Kusamura (Seibei's mother)
Running time:
129 minutes
Taiwan Release: Today
Comments will be moderated. Keep comments relevant to the article. Remarks containing abusive and obscene language, personal attacks of any kind or promotion will be removed and the user banned. Final decision will be at the discretion of the Taipei Times.