Asian hip-hop music has come a long way
From the US, actually, but it is starting to spawn local and regional variations of the originally black ghetto music
As the crowd heaves at Singapore's popular Zouk nightclub, a Malaysian rapper in a crisp red-and-white tracksuit takes to the stage, working up the audience with shouts of "Come on, put your hands up!"
The phrase, almost a cliche in the cult of American hip-hop music, whips the crowd listening to Malaysian rap duo Too Phat into a frenzy.
The staccato beats and displays of urban ghetto fashion could place the scene in any of hundreds of US or European clubs.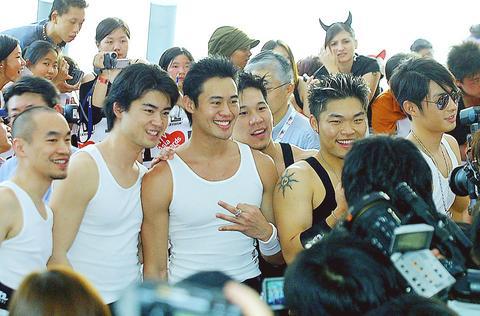 Taiwan's Machi pose-down for photographers upon arrival for the MTV Asia awards at the Singapore Indoor Stadium.
PHOTO: AFP
"Too Phat's really good but they need to be exposed more outside of Malaysia," gushed Anna Hazlett, a 19-year-old British student. "But I think they could be popular in the UK."
The increasingly global appeal and popularity of hip-hop could thrust Asian acts such as Too Phat before a wider audience, music industry executives say -- possibly even into the tough North American market.
EMI Group Plc signed Too Phat in 1998 -- through its "Positive Tone" label -- and Singapore hip-hop group "Urban Xchange" in February. Both could find appeal at home and abroad, said Caroline Qwek of EMI Music South East Asia.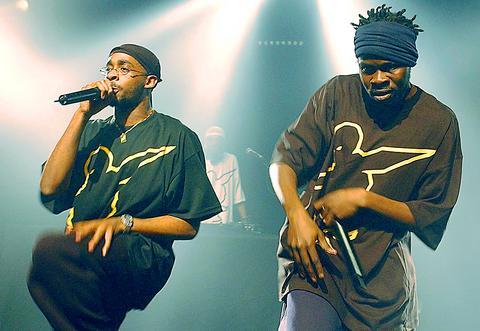 Feneski , left, and Vicelow from the French Hip-Hop group O.F.X., perform at the Caprices Festival in Crans Montana, Switzerland.
PHOTO: AFP
"Asian hip-hop music has come a long way and I think Too Phat certainly has the potential to do a lot more," said Qwek, an international marketing director.
In China, a new "Generation Y" has embraced hip-hop as an emblem of free-spirited expression while the sound has been a dominating influence in Tokyo sub-culture since the late 1980s.
Artists such as Taiwan's Machi and South Korea's Drunken Tiger also have strong local followings although their appeal is limited somewhat by lyrics written in their native language.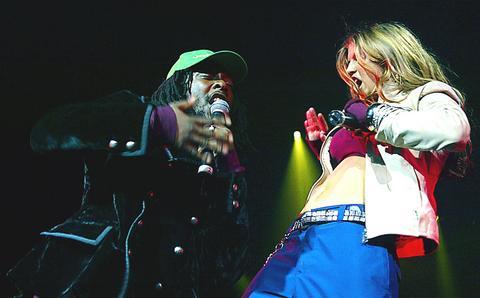 William Adams, known as ``Will.I.am,'' left and Tracy ``Fergie'' Ferguson of the US hip-hop act Black Eyed Peas perform to a full house at the Brixton Academy, London.
PHOTO: AP
But even Asian-language rap is being touted with some potential, experts say, citing the musical success of jazzy French rapper Claude M'barali, aka MC Solaar, whose fluid phrasing made up for a lack of English to generate strong US, British and Australian record sales in the mid-1990s.
"Sometimes people typecast Asian acts as merely mirroring what the West puts out.
"But I think through acts like Too Phat, Urban Xchange and Zircon, there are a lot of sounds that are slowly evolving to become very Asian-centric," said Qwek.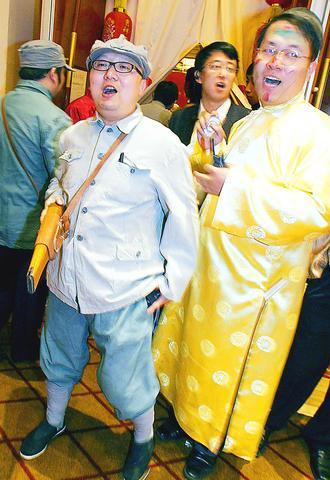 A group of Chinese party-goers celebrate the 110th anniversary of Mao Zedong with a new hip-hop song, films, books and concerts.
PHOTO: AFP
For now, Asian artists aspiring to see their names on US and European charts may want to focus on collaborations with Western artists, said Mishal Varma, vice president of programming and talent at MTV Networks Asia.
The recent MTV Asia awards held in Singapore saw pop singer Gareth Gates, winner of Favorite Male Artist, sing a duet with popular Malaysian singer Siti Nurhaliza, while Stacie Orrico performed Stuck with Urban Xchange and Too Phat.
"We intend to do much more of these collaborations ... because they come in as an underlying endorsement," said Varma, who also handles artist relations for the music network.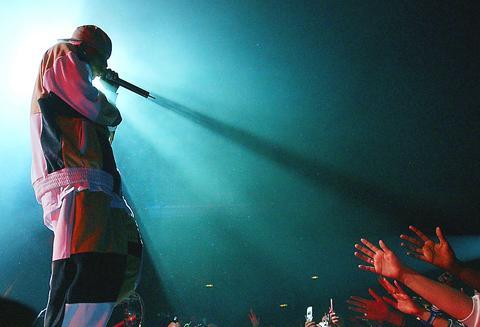 US hip-hop star Nelly performs at the Hallenstadion venue in Zurich, Switzerland.
PHOTO: EPA
Too Phat have rapped since 1998, before hip-hop evolved into a multimillion-dollar industry in Asia. But not until their collaboration with international artist Warren G on a track in their third album, 360 degrees, did their popularity surge.
In the album, which went platinum in Indonesia and Malaysia, Too Phat raps about money, fame and love, sometimes incorporating Malay traditional music, or keroncong.
But widening their appeal outside Asia could be difficult.
Malaysia's hip-hop duo Too Phat, Joe Flizzow, left, and Malique, perform at a disco in Singapore. The increasingly global appeal and popularity of hip hop could thrust Asian acts such as Too Phat before a wider audience, music industry executives say.
PHOTO: REUTERS
"It's going to be really tough for them," said Spencer Ball, who has worked as a disc jockey in Singapore for five years.
"For Western MTV viewers to see Asian groups, even though the sound is right, it's a big paradigm shift. It will be hard. They don't look like the usual boy bands that dominate in the West."
Coming from Asia, many artists are also under pressure to differentiate their music from established Western acts such as 50 Cent and Grammy Award winner OutKast, especially given hip-hop's overwhelming association with American urban culture.
"I keep repeatedly telling Too Phat why don't you add some Asian sounds to it to make it sound a little different? It can still be hip-hop, but why not hip-hop with tablas or sitars in there?" says Varma, referring to two Indian instruments.
"Why do we have to be Asian and go onto the stage and go `Yo Yo Yo, what's up?'" he adds.
Varma points to the success of Panjabi MC, well-known for his tracks infused with drum-driven Bhangra folk music from Punjab, as a trailblazer for other Asian artists.
Panjabi MC won the joint award for UK act of the year at the Music of Black Origin (MOBO) awards in London last year. The MOBO awards celebrate the spectrum of music of black origin -- R&B, hip-hop, rap, jazz, reggae and gospel.
Another challenge is Asia's sheer diversity, from the Indian subcontinent to greater China, Japan and Southeast Asia. Different regions have their own languages, identities and musical styles, though hip-hop is proving remarkably universal.
Gary See, Singapore's managing director for Universal Music Pte Ltd, says the first step is to find success in Asia before going after a global audience.
"It's a long shot," adds See, who says Asian-based artists singing in English have yet to make a visible impact in the West. "They basically have to create a wave in Asia first in big markets like Japan, Korea and Taiwan before they can make inroads into America or Europe."
But Too Phat is confident its hip-hop style can find wider appeal. "There are no guidelines or rules in hip-hop," says group member Joe Flizzow. "It's really all about representing where you're from. We're from Malaysia and we are proud of that."
Comments will be moderated. Keep comments relevant to the article. Remarks containing abusive and obscene language, personal attacks of any kind or promotion will be removed and the user banned. Final decision will be at the discretion of the Taipei Times.