101 things to do with fish besides eat it
Taiwan International Visual Arts Center presents a rag-and-bone buffet of the visceral imagery of Japanese photographer Michiko Kon through Jan. 16
To call Michiko Kon a photographer isn't exactly correct; what she does is create still-lifes that she then photographs. But to call what she photographs "still-lifes" isn't exactly correct either; her materials of choice are fish, chicken heads, flowers, an occasional
monkey skull, and a visceral variety of other materials. Her creations, then, are more still-deaths than of anything living, and that's her point.
If we are to believe the title of the current exhibition of Kon's work at the Taiwan International Visual Arts Center, Images for the New Century, it's an unsettling century we have ahead of us. Kon's arrangements seek to provoke an awareness of death in the very things that we associate with life and living -- a girl's dress looks to be of a lively polkadotted pattern until a closer look reveals that the dots are actually hundreds of small burn holes; a sneaker photographed in black and white could pass for a Converse advertisement were it not for the fact that it's made of cuttlefish; a fish-scale brassiere suggestively draped over the side of a chair has all the sex appeal of ... well, a fish.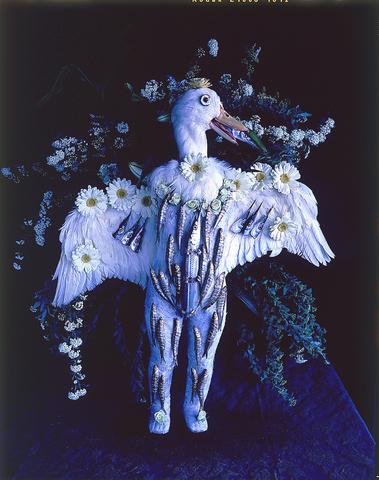 Michiko Kon uses fish and animal parts to create still lifes, which she then photographys. Her works are currently on display at TIVAC.
PHOTO COURTESY OF TIVAC
Kon's studio is located near Tokyo's Tsukiji fish market, where she shops for much of the raw materials for her photographs. For Japanese, and Taiwanese as well, fish is both a dietary staple and a potent symbol. Salmon adorn paintings as a sign of strength and vitality for their ability to swim upstream. Fish are seen and referred to throughout Chinese New Year because fish (魚) is pronounced the same as surplus or plenty (餘) and is used to wish people a prosperous new year (年年有餘). Kon has played on the Asian familiarity with these icons by having them symbolize the exact opposite of their traditional meanings: vitality becomes decay, and plenty is instead a short wait for death. Ironically, her exhibit in Taipei is located off Liaoning Street, famous for its seafood, but don't go expecting to enjoy a meal after touring the exhibit.
Misplaced acclaim
Her work is often compared to Giuseppe Arcimboldo's fruit figure paintings and lauded for its originality, but the praise is misplaced -- she's not done anything Arcimbaldo didn't already accomplish save to choose materials that betray through sheer juxtaposition the objects they ultimately become. Where Arcimbaldo painted Italian Renaissance profiles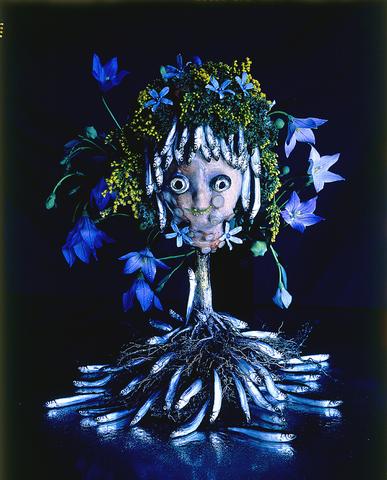 using a cornucopia of fruits and vegetables -- essentially using life to create life, Kon uses death to create it.
Her originality, then, isn't in the method she's employed, but in her choice of materials. And if that is the case, it's only laudable in her subtler examples, which are few -- most of her work is striking not for the juxtaposition, but for the materials alone. It is only after seeing the octopus resting atop a bucket, resting atop a mannequin, dressed in a crustacean-encrusted suit do we see the artist peeking over its shoulder; her self-portrait.
The more successful of her assemblages, generally speaking, are those she has chosen to photograph in a platinum-tinted sepiatone. The matte finish and heavier shadows in these prints forces the viewer to look more closely before discovering exactly what the works are made of.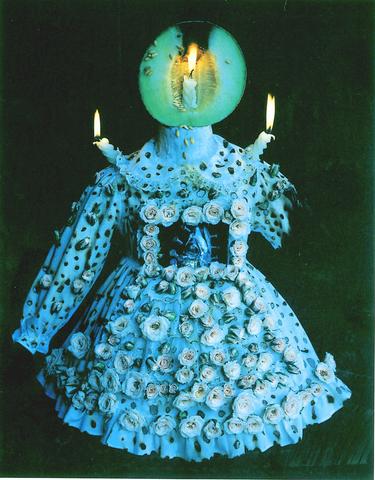 Her color photographs shine not only from their gloss finish, but from the glistening of the fish scales and ample amount of water the artist has spritzed onto her constructions. Too much light betrays these works by first making the viewer queasily aware of the materials used, then aware of what the assembled materials are comprised of. When the photographs stand out for their materials instead of their subject matter the viewer is hammered over the head with meaning, meaning, meaning. "A `living thing' made of dying things -- do you get it? ... Its eyes are actually watches -- do you get it?"
Poor presentation
The exhibition's venue doesn't help matters. TIVAC's arrangement of Kon's photos is hardly what you would expect of one of the better-known art galleries in a nation known for fine photographers. Visitors to the center first see Kon's self-portrait with a chronology of her life and works hung to its side. The remainder of what is exhibited, however, is maddeningly hung without any method and often repeated. On one wall hangs a large portrait of a chicken stretched over a guitar. Turn the corner and there it is again, only smaller. In truth, there are only a dozen or more prints and many of these are duplicated and even triplicated. By the time you're ready to visit the basement, you're afraid you've seen it all already. For the most part, you have.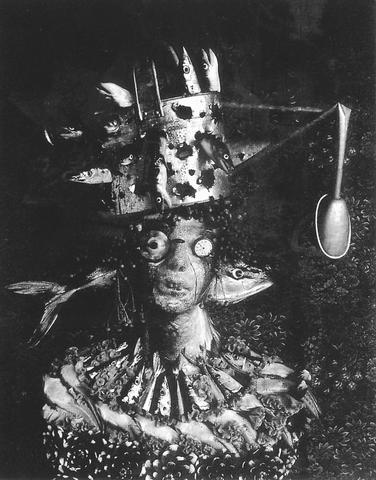 This is a shame not only for its lack of curatorial vision, but for the sparsity of Kon's works. Most of the series that are on display are incomplete. More disappointingly, the artist has several other visceral series -- of which that not-so-sexy lingerie mentioned above is part -- that aren't hung at all. References to these works are made in the chronology hung next to Kon's self-portrait, but anyone interested in seeing prints from these missing series must look for one of Kon's books of prints. Unfortunately, TIVAC doesn't have any of these either.
Publication Notes
Exhibition notes:
Michiko Kon's Images for the New Century is on display through Jan. 16 at Taiwan International Visual Arts Center (TIVAC), located at 1F, 29, Lane 45 Liaoning St., Taipei (台北市遼寧街45巷29號1樓).
Comments will be moderated. Keep comments relevant to the article. Remarks containing abusive and obscene language, personal attacks of any kind or promotion will be removed and the user banned. Final decision will be at the discretion of the Taipei Times.