Taiwan's greatest cinema rebel
The golden age of Taiwanese-language films may have been all but forgotten by most movie-goers, but in this year's Golden Horse Awards, one of the pioneers of that movement is to be honored for his contribution to cinema in Taiwan
Hsin Chi (辛奇), one of Taiwan's most venerable film directors, will receive a Lifetime Achievement Award at the annual Golden Horse Awards this December. He is being honored mainly for the 90 films he produced during the heyday of Taiwanese-language films (台語片) between 1955 to 1971.
What many people may have forgotten, however, is his long history of rebellion.
"My grandfather was a rebel against the Japanese, so I guess I inherited some of his defiant traits," says the mustached Hsin, reflecting back on his long career. At the age of 76, he still takes great delight in talking about his history as an insurgent. This includes two periods of exile brought about by political censorship of his work, as well as other adventures in which he evaded the political witch hunt of the White Terror. Even now, despite his advanced age and chronic illness, he is still fighting to produce a script he wrote in 1951. The film, Men Without Motherland (沒有祖國的人), is about the Taiwanese who fought for Japan during WWII, which has been deemed so politically sensitive that it was never made. After a half century, it is still an unfulfilled dream.

Left to right: Silly Wife, Foolish Husband; Unforgettable Train Station; Bride in Hell; Dangerous Youth; Bamboo Wrapped Meat Dumplings.
FILM STILLS PROVIDED BY THE TAIWAN NATIONAL FILM ARCHIVE.
Cocking a snook
The project dates from Hsin's most provocative period, a time when he was already getting himself into trouble with other works. After finishing his study of drama in Japan in 1946, he first voiced his political criticisms in a co-produced play called The Wall (壁), which was fervently received but soon banned.
"In Taiwanese," he says the play's title "is pronounced the same as `robbery,' with the implication that the KMT soldiers' behavior at the time they took over Taiwan after WWII was that of thieves."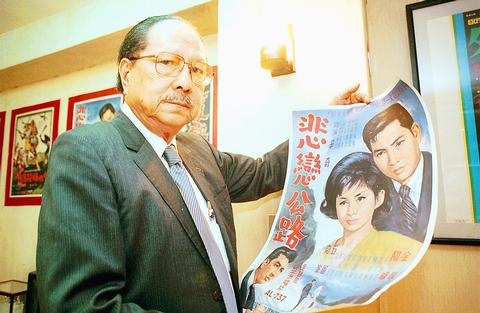 Now 76, director Hsin Chi still hopes to produce a script about Japanese war veterans that has been suppressed since he wrote it in 1951.
PHOTO: CHEN CHENG-CHANG, TAIPEI TIMES
Hsin says he remembers one line in the play that made the entire audience burst into laughter. A monk in the play says, "I killed a dog to make some dumplings, and you just came in, so we can have the dumplings together."
"People at the time seized on the implications immediately," says Hsin, explaining that the dog stood for the Japanese military, and that the word "just" sounds the same as "pig" in Taiwanese. The pig, of course, referred to the KMT soldiers who were just arriving.
"That was how Taiwanese people felt about the ruling class at that time," he says -- the Japanese dogs had left, to be replaced by KMT pigs.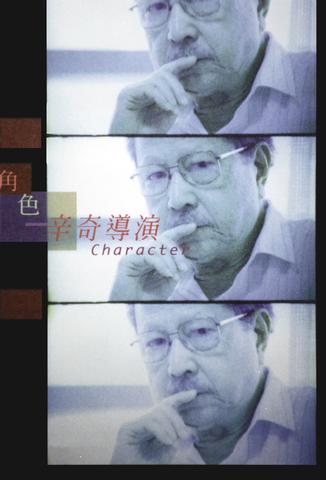 Hsin Chi in the documentary The Team about the people who created the golden era of Taiwanese-language films.
FILM STILLS PROVIDED BY THE TAIWAN NATIONAL FILM ARCHIVE.
The Wall caused the KMT government to monitor Hsin and quickly led to his first flight to Xiamen. Two years later, another play, Banana Flavor (香蕉香) portrayed miscommunication as the main reason behind the 228 Incident and got him into trouble again. During one performance, a fight sprung up in the audience between the mainlanders and native Taiwanese. "The next day, the military police came to my house to arrest me," he recalled. Hsin evaded arrest. Banana Flavor was banned and Hsin returned to exile in Xiamen.
"During my two times in exile, I experienced many hardships, which made me realize the roughness of life," he says. It was perhaps these experiences that made Hsin into the best story-teller of the Taiwanese film era. According to film critics, Hsin excelled at making realistic dramas that reflected the life experiences of Taiwanese at that time. In his films, people could see the ridiculous tricks fate played on characters caught up amid war and the changing social climate.
Cinema for the oppressed
"I like to make stories about working class people struggling in difficult situations, to express the voices of common people. Their spirit is the same as that of people making Taiwanese films. We were struggling in an equally difficult environment," he says. He explained that in those days it took an average of seven days to make a two-hour film with a budget of around NT$300,000. "It was more like manual labor? so I guess we shared the same feelings as those so-called second class citizens."
Hsin says that in the early stages of Taiwanese filmmaking, films were shot with Eyemo cameras -- a camera used by the US military for shooting newsreels. "There is a timer device on the Eyemo which lasts just 20 seconds. So in the 1950s, each shot could only run 20 seconds or less," he says.
The 1966 film Life in the Back Streets (後街人生) is Hsin's favorite of his 90 films. Now lost, the tragi-comedy tells a story of a prostitute in Taipie's Wanhua (萬華) district. "I intended to present a satire reflecting the growing class differences of people during the economic growth of that period," he says.
"The women had to take two different customers, one on Monday, Wednesday and Friday and the other on Tuesday, Thursday and Saturday. The irony here was that the Government Information Office sent censors to check our films on that same schedule."
Such films attracted thousands of viewers, who according to critics of the time brought handkerchiefs to the theaters and shed tears of compassion as they left.
But Hsin was also impressive for his cinematic style. In his 1965 work, Bride in Hell (地獄新娘), he shot sequences from elevated angles and through peep-holes to generate a European cinematic feel. Moreover, the adaptation from the Western novel, Madame Milan, blended the genres of horror, thriller and drama in a way that is reminiscent of Hitchcock. In his 1969 work, Dangerous Youth (危險的青春), which depicts daring scenarios of sex and high-class prostitution in the story of one man's decadent life, he shot one motorcycling scene in a continuous take of more than ten minutes. Film scholar Liao Chin-feng (廖金鳳) described Hsin's works as having a "quality of rendering similar to the classic Hollywood style."
End of golden days
The golden years of Taiwanese-language films came to an end in the 1970s with the establishment of Taiwan's first television company, TTV, and the government's new Mandarin language policy, which gradually reduced funding for movies made in Taiwanese. So the Taiwanese films which were produced to the tune of over a hundred per year in the 1960s were replaced by a series of Mandarin-speaking martial arts films in the 1970s that were backed largely by Hong Kong investors.
In that period, Hsin made the transition to television were he remained for more than 20 years, directing and producing more than 1000 TV dramas and other programs. "During those days there were many years that I had barely a day off," he says. Then, in the early 1990s, Hsin retired on account of asthma.
But sickness did not kill Hsin Chi's rebellious nature. He remains a rebel -- against age and illness. "When I was sick, I once I would just wait for the day I die," he says, "But I've changed. Life should keep on moving, so I should forge ahead and not stop."
So in 1996, Hsin set up the Association for Taiwanese Filmmakers and Actors (台語片影人聯誼會), which helps take care of his old co-workers from the Taiwanese film era. The same year, he also formed the Taiwan Filmmaker's Theater Troupe (台灣影人劇團), which aims to revive the language and aesthetic of old-time dramas. "A lot of the slang and idiom used in Taiwanese scripts has disappeared from current Taiwanese usage," laments Hsin, whose troupe has recruited old performers and young drama students in the hope of preserving a tradition.
Then two years ago, Hsin found himself in the early stages of cancer. But not even that could slow him down. That same year he participated in the TV drama Waiting for Spring Blossom (春花望露) as an actor. He also directed the first play of the Taiwan Filmmakers' Theater Troupe, Ancient Capital (古都). And then there's the 49-year-old script that he still hasn't given up on. "I still want to tell the story of Men Without Motherland," he says, noting that there may be some hope on the horizon. He has been talking to some people in the industry about the possibility of producing it as a television drama, but "I'm still looking for funds," he says.
Publication Notes
For your information
Out of Hsin's 90 films, only five have been fully preserved at the National Film Archive (國家電影資料館). These will be screened over the next two weeks as part of the Golden Horse Film Festival. They are: Bamboo Wrapped Meat Dumplings (燒肉粽), Sept. 4th Bride In Hell (地獄新娘), Sept. 6th Unforgettable Train Station (難忘的車站), Sept. 8th Dangerous Youth (危險的青春), Sept. 11th Silly Wife, Foolish Husband (三八新娘憨子婿), Sept. 12th There will also be a screening of the documentary about Hsin and his film crews, The Team, by Lai Feng-chih (賴豐奇) at the festival on Sept. 13th For times and locations, check our movie listing on the relevant days.
Comments will be moderated. Keep comments relevant to the article. Remarks containing abusive and obscene language, personal attacks of any kind or promotion will be removed and the user banned. Final decision will be at the discretion of the Taipei Times.