Beware of banks bearing high interest rates
Finding a reasonable savings account requires caution, but FDIC-insured banks guarantee coverage of up to US$250,000 per depositor
Many bank customers are less concerned with the return on their money than with the return of their money. As such, the biggest financial institutions — which tend to offer low interest rates to savers — are raking in deposits following the collapse of Silicon Valley Bank (SVB) and Signature Bank.
The uncertainty in the sector is likely to set off a bidding war for savers in which smaller online or regional banks jack up interest rates in an attempt to persuade savers to stay or come back.
This could lead some less-ethical players to dupe customers about what they are really offering. That means regulators and savers need to use some extra vigilance.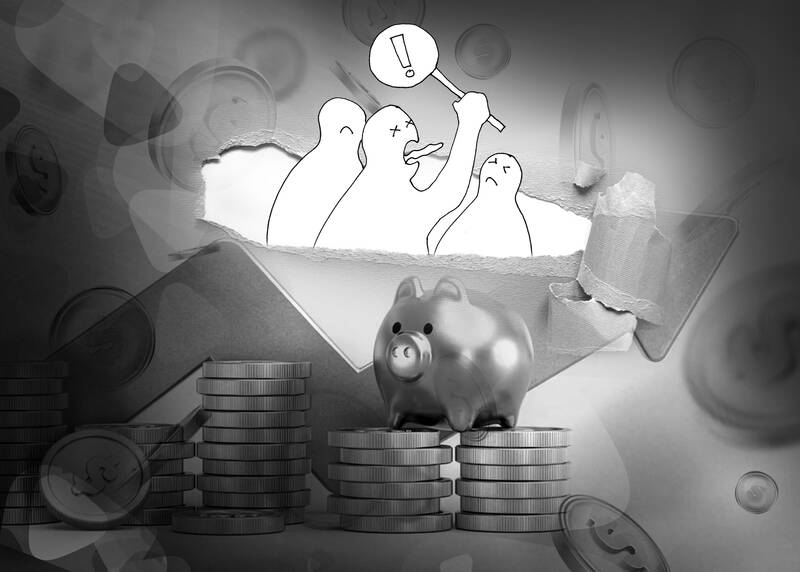 Illustration: Tania Chou
Clearly, those who are fleeing smaller banks do not care about the big banks' stubborn refusal to increase rates. At Chase, savings accounts still pay just 0.01 percent, at Citibank, standard rates are 0.05 percent and at Wells Fargo, they are 0.15 percent.
The average online savings account payout is 3.55 percent, and many lenders are offering more than 4 percent, data from Deposit Accounts showed.
With more consumers opting for safety over yields, big banks would be even less inclined to increase their savings account rates. They are still sitting on US$19.2 trillion in deposits overall — well above pre-COVID-19 pandemic levels despite seeing more withdrawals over the past few quarters.
To persuade risk-averse depositors to come back, regional and online banks would have to up the ante.
However, how much is too much in the ensuing battle for cash?
Savers should not settle for the big banks' insultingly low rates, but post-SVB, they also should not be reaching for the top in terms of yields.
If a bank is offering a yield that seems too good to be true, it could be because they are desperate. Washington Mutual was offering a one-year certificate of deposit at 5 percent just a month before it failed — a rate that far exceeded those from other banks at the time, Deposit Account founder Ken Tumin said.
Although JPMorgan ended up acquiring Washington Mutual and honoring those 5 percent certificates of deposit for a time, it is a gamble to assume history will repeat itself.
Some have argued that regulators have effectively given depositors the green light to invest large sums and chase the highest yields by stepping in and making all SVB and Signature depositors whole, including those beyond the US$250,000 threshold.
However, if other banks were to fold, it seems overly optimistic to think all depositors would be covered ad infinitum beyond the US$250,000 limit set by US Federal Deposit Insurance Corp (FDIC). Nor can depositors expect that every struggling bank would find a buyer.
That does not mean a saver should settle or give up on higher rates altogether.
However, some extra caution is warranted. Promotional rates might have minimum balance requirements, fees tacked on if a certain balance is not maintained or a cap on how much interest can be earned.
As offers from online or smaller banks come in, depositors should ensure the bank has FDIC insurance directly, not through a "partner bank."
As long as it is FDIC-backed, coverage is guaranteed up to US$250,000 per depositor — in other words, joint accounts are guaranteed up to US$500,000.
Since 1933, all depositors at failed banks have been made whole up to insurance limits.
A bidding war for savers could be a good thing. It is not regulators' place to set a ceiling — or floor — on banks' offered rates. That is something best left to the market.
Regulators should play a role in ensuring banks can manage their risks and have enough capital to absorb unexpected losses, University of Michigan finance professor Amiyatosh Purnanandam said.
As the bidding war heats up, regulators should require fintech and other non-banks to make it blatantly clear when consumers are not covered by FDIC insurance.
Ultimately, that is how consumers can be protected, regardless of what they are earning on a savings account.
Alexis Leondis is a Bloomberg Opinion columnist covering personal finance. Previously, she oversaw tax coverage for Bloomberg News. This column does not necessarily reflect the opinion of the editorial board or Bloomberg LP and its owners.
Comments will be moderated. Keep comments relevant to the article. Remarks containing abusive and obscene language, personal attacks of any kind or promotion will be removed and the user banned. Final decision will be at the discretion of the Taipei Times.