China's Huawei seeks out a global role
For Huawei to make good on its ambitions to break into the US market, the company may have to learn to be a bit more open
The security guard's mirrored sunglasses reflect Barcelona's pale winter sunshine. His job is to keep the crowds attending the sprawling trade fair at bay. Behind him, a pavilion the size of a bus garage houses the latest technology produced by China's Huawei. Those without a meeting to attend are told they cannot enter and cameras are banned inside.
Huawei is China's biggest exporter, and its equipment helps run the broadband network of UK telecoms giant BT, but the brand is unknown to most UK households. Regarded as a secretive organization even within China, Huawei is headed by a former People's Liberation Army engineer, Ren Zhengfei (任正非).
Unlike other Chinese IT firms, such as the PC maker Lenovo and telecoms group ZTE, Huawei is not listed on the Hong Kong stock exchange. A private company owned entirely by its founders and employees, the names of its board members were published for the first time last year.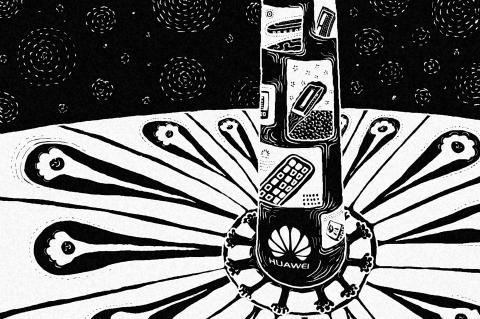 Illustration: Mountain People
However, it is also a flagbearer for China's "going out" policy of encouraging the first generation of corporations created by economic liberalization in the 1980s to compete on the world stage. Entrepreneurial and unbureaucratic, it has prospered without having the state as a shareholder.
It sells everything from mobile mast radios to software, data-centers and laptop dongles. Founded in 1987, Huawei only began exporting in earnest in 2000, but already more than 65 percent of its revenues are from abroad. Last year, they totaled 185.2 billion yuan (US$29.4 billion), just US$1 billion less than the world's largest telecoms equipment group, Ericsson.
Now Huawei is preparing to step out of the shadows. While its governance remains veiled, the company is pushing its brand to the fore. It wants to place its products in the hands of millions of Western consumers, and become the fourth-largest manufacturer of smartphones by the end of this year.
At the Mobile World Congress in Barcelona last month, Huawei's devices chairman Richard Yu said that by the end of this year he hoped to have sold 60 million smartphones, up from 17 million last year.
Hitting that target would vault the firm into the big league, behind Apple, Samsung and Nokia, and ahead of BlackBerry maker RIM and Taiwan's HTC. To succeed, it will have to redefine what "Made in China" stands for.
While Huawei's hometown of Shenzhen is the electronics workshop of the world, churning out iPhones for Apple and PCs for Dell, its products usually bears the stamp of a foreign company. Aside from PC maker Lenovo, it is hard to name a Chinese brand known to European and US shoppers.
"Consumer perception is that a Chinese product is cheap and looks cheap because the quality is no good," said Francisco Jeronimo, an analyst at research firm IDC. "Huawei needs to change that perception."
Jeronimo believes Huawei products have the quality to compete, but said the company will need to raise its public profile. The charge will be led from the UK, where no expense has been spared in recruiting British executives and an advisory board to help find friends in high places.
Patience Wheatcroft, the former editor of the London-based Sunday Telegraph is an adviser, as is Amazon's ex-UK boss Brian McBride, and Sir Andrew Cahn, recently chief executive of UK Trade & Investment, the government trade promotion body. To promote the smartphones, Bartle Bogle Hegarty, ad agency to Google and British Airways, will create a global campaign from London.
"It's imperative we are seen as a global brand and not a Chinese brand," said Mark Mitchinson, a Samsung veteran running Huawei's UK devices arm.
His newest stock are phones and tablet computers running Google's Android interface, which house computer chips that have four rather than the now usual two processors, allowing them to handle multiple instructions at the same time. They are fast, particularly when it comes to downloading video.
While most phone makers prefer to leave chips to specialists like Intel, Huawei, whose name stands for "China can" and "splendid act," designed its quad core processors in-house and has become known in recent years for innovating. About 62,000 of its 140,000 staff work in research and development, and there are 23 R&D centers around the world.
However, without a recognized brand, Huawei's phones will sell on price. Its mission will be to mop up those mobile subscribers who do not yet own a smartphone, rather than trying to poach Apple's customers.
"There are certain manufacturers that have dropped the ball over recent years and others can pick up that ball and run with it," said Mitchinson.
Samsung has shown it can be done. The Korean company moved from fifth to second spot globally in smartphone sales last year, the only one in the top five to grow in the face of the unstoppable iPhone.
There are those who wonder why Huawei is so keen to risk its hard-earned yuan by chasing capricious mobile phone customers. The answer is that this is a high-growth market. Even in an early adopter nation like the UK, only half of us have a smartphone. In addition, the handset market has the attraction of being a less politically sensitive one than infrastructure.
Huawei is already big in Europe, having last year won a breakthrough contract to overhaul the network of the UK's largest operator — Everything Everywhere.
However, an offer to donate £50 million of equipment to bring a mobile signal into the London Underground in time for the Olympics was never taken up.
A spokesman for Huawei said the deal fell apart not because of security fears, but because commercial agreement could not be reached between the various players involved.
The culture within Huawei is often described as militaristic. Information is shared on a need-to know basis, with one employee complaining anonymously on recruitment Web site Glassdoor: "Don't expect to get the information or documentation to be able to carry out the job you are employed to do." Others who have worked there, like former UK Mobile chief Jeremy Sheehan, said this comes from a desire to "protect client confidentiality."
Bengt Nordstrom, a strategic adviser to European mobile networks, said Huawei has succeeded because of its ability to learn fast.
"Ten years ago they were really only selling on low prices," said Nordstrom. "It was hard to find people that could speak English well enough to conduct a business discussion, but for every quotation they produced, their quality increased."
Backed by a US$30 billion credit line from the China Development Bank, the pattern of Huawei's international expansion has followed a philosophy, borrowed from Mao Zedong (毛澤東), of encircling the cities by winning the countryside.
Beginning in Africa and Russia, the company has moved successfully West. Only the US has blocked its advance. Efforts to expand have been repeatedly neutralized by Washington. Offers to acquire Motorola's wireless division and a broadband software group were quashed after the sellers were informed that regulatory approval would not be forthcoming.
A contract to modernize mobile operator Sprint Nextel's network was kyboshed, and the US Department of Commerce last autumn barred Huawei from an emergency services contract.
A British executive whose company buys from Huawei said US politicians are using espionage as a scare tactic to protect domestic businesses.
"What the Americans are really trying to do is stop Huawei getting the business they know they could get if they opened up their equipment market to them."
Huawei's stated ambition is to become as big as Cisco or IBM, with annual revenues of US$100 billion in 10 years' time. Nordstrom said this is unlikely without conquering the US: "This is an industry where you need to be truly global to have a future."
Observers say the most serious threat to Huawei's ambitions comes from within. As Ren approaches his 68th birthday in October, the company he founded is facing a succession crisis.
In aletter published in last year's annual report, Huawei's charismatic chairwoman Sun Yafang (孫亞芳), thanked the staff for re-electing her, saying: "I am sincerely grateful for our employees' trust and confidence in me."
It was a short statement that masked an internal power struggle. While Ren, who does not give interviews, has been criticized in the Chinese press for a lack of transparency, Sun is increasingly being seen as Huawei's public face, a networker who was among corporate China's most senior representatives at Davos this year.
However, in October 2010, a report in Meiri Jingji Xinwen (Daily Economic News) suggested Sun had been offered 1 billion yuan to leave Huawei so that Ren could prepare the ground for the appointment to the 13-member board of his son, Ren Mengping (任孟平), who is customer relationship management director and is said to have spent time in the US.
The company denies this. Whatever the truth, Sun survived in a post she has held since 1999 and Ren Mengping did not join the board.
However, the Ren dynasty holds sway at Huawei; Ren's daughter Cathy Meng (孟晚舟) is chief financial officer. According to a report in Zhengquan Ribao (Securities Daily) from April last year, she is married to fellow director William Xu (徐文偉), although the company denied this.
Meanwhile, Ren Shulu (任樹錄), the founder's younger brother, is a member of the five-strong supervisory board that oversees the directors.
Gary Liu, a professor at the China Europe International Business School in Shanghai, said Ren's determination to find a successor from within his family stems from 2000 when his then-second-in-command Li Yinan (李一男), left to start a rival company, Harbour. Ren fought and eventually bought Harbour, but the experience, said Liu, destroyed his trust in non-family members.
Succession is not just an issue at Huawei. China's first generation of entrepreneurs at Lenovo and white goods maker Haier are also nearing retirement.
"These companies' futures hinge on how effectively the incumbents manage leadership transitions. Indeed, the choices the founder CEOs make may well reshape their companies as well as the Chinese economy," said Liu.
Ren has resisted a stock exchange listing, but ownership could help shed light on the business and build trust. Huawei may have to open its own doors before the US decides to do the same.
Comments will be moderated. Keep comments relevant to the article. Remarks containing abusive and obscene language, personal attacks of any kind or promotion will be removed and the user banned. Final decision will be at the discretion of the Taipei Times.