Living libraries loan people, not books
The idea came from Denmark but has been used around the world. People borrow a 'living book' to hear about the book's experiences or interests — living proof, as it were, that you shouldn't judge a book by its cover
Two teenagers listen in fascinated silence to a hijab-wearing Muslim as she describes her daily prayer ritual. Nearby, a college student grills a female vicar on sexual abstention. Nearby, a blind woman politely but firmly shatters the preconceptions of a man who cannot believe she washes and dresses herself.
This is neither a social experiment nor a scene from the latest Big Brother household, but the burgeoning phenomenon of the living library. The three-hour session at the central library in Bournemouth aims to break stereotypes and tackle prejudice by giving direct access to someone else's experience. It allows people to "borrow" a person — or "living book" — for a conversation ("loan") to explore their experience or interests and to understand other backgrounds and cultures.
The "books" — library users who volunteer in response to local advertisements, friends of library staff, or those recruited via local community organizations — are people who can share a significant personal experience or particular perspective on life. "Loans" can last for up to an hour.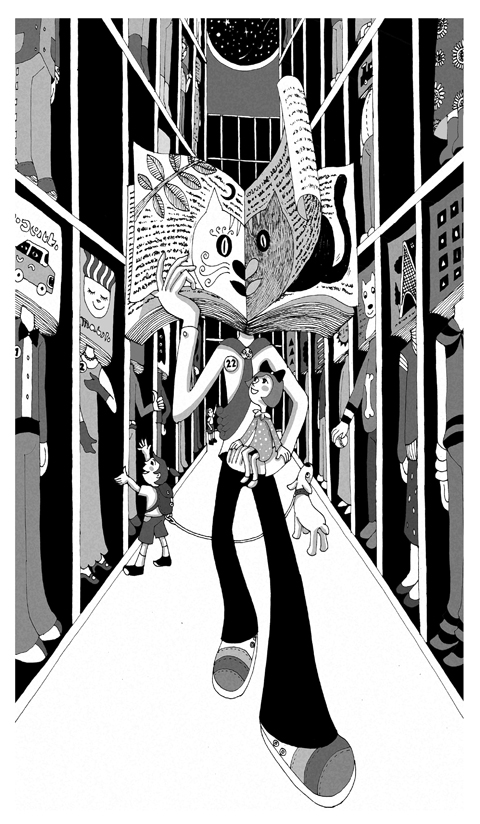 ILLUSTRATION: MOUNTAIN PEOPLE
Auliya Bouguerrache, 36, is the Muslim woman book, one of 10 living books available to borrowers for the three-hour event. Bouguerrache was raised a Catholic, but converted in 1995 after marrying a Muslim. Now divorced, the mother-of-three is a voluntary teacher at the Bournemouth Islamic Centre.
"I got involved in living libraries for da'wah [an Arabic word meaning spreading the true message about Islam] and to explain to people that Islam isn't what you think it is," she said.
Bouguerrache believes she is the only hijab-wearing Muslim in her hometown of Poole, further along the coast, a fact that means she is stared at or subjected to unprovoked verbal abuse.
"With the hijab, I thought it would be old people who would stare, but it's the younger ones. It happens especially when I'm in the car, the boy racers shouting swear words at me," she said.
Volunteering as a living book, she said, allows her to explain the truth about her religion.
"People ask, 'Who makes you wear the hijab?', and I explain that it's my choice. I say: 'I'm one of you — we're all human beings.' Often, people have never spoken to a Muslim before. When people at the living library first meet me, they see me as an alien, but they go away with the idea of me as a human," she said.
Margaux Leymarie, a 17-year-old student from Belgium, "borrowed" Bouguerrache and says the experience was an eye-opener.
"We hear lots about Muslim people, but it's mostly negative and I don't really know about their lives," she said. "I wanted to know about women in particular, and she's more free than I thought, not like the stereotypical picture I had."
Bournemouth has a large foreign student population, so it makes sense for them to build bridges with locals such as Bouguerrache, organizers said.
Another student, Brice Counet, 19, said: "The difference between this event and looking something up on the Internet is that here it's more communicative. You ask questions and see people's faces."
Julie Duffy is the blind woman living book. Blind since her teens due to a congenital condition, Duffy, 54, says the living library allows her to dispel the myth that the visually impaired are helpless.
"Today is about challenging stereotypes and breaking down barriers. Sometimes, people think I can't do anything myself and have someone to dress and wash me. It surprises people that I am quite independent," she said.
Duffy adds that borrowers ask how she uses a computer (through speech software) while others want to know about Braille.
"We're just normal people," she said. "We do what you do, but in a different way."
Duffy said that for those who cannot read books, either through sight or language problems, living libraries offer a host of learning opportunities.
Sandra Prudom, 51, the Baptist minister book, also confounds expectations.
"Being a woman minister is still relatively uncommon, and on top of that people expect me to be very serious. I joke that God gave me my sense of humor," she said.
The project allows dialogue between people whose paths might not otherwise cross, Prudom said.
In three hours, 61 people borrowed living books at the Bournemouth living library — a concept that comes from Denmark, where the first living library was held in 2000 by Danish youth organization Stop the Violence. It has grown into a fledgling movement promoted by the Council of Europe's youth program on human rights education, and around 100 such events have been staged worldwide, from Poland to Japan and Canada, according to Living Library, the voluntary network that champions the movement.
A report published this year by independent consultancy Local Level outlines the experiences of four areas of the UK that have run living library pilots — Bournemouth, Bradford, Norton Canes in Staffordshire and Sevenoaks in Kent. The process, the report found, helped "deliver on specific local policy priorities and key national agendas, such as community cohesion and community engagement."
The report also found that 92 percent of those questioned at Norton Canes library in Staffordshire were impressed with the event. As one borrower told researchers about her conversation with an African Muslim book, "It closes the gap between people who in normal cases wouldn't have anything to do with each other."
Gerardine Bodey, Bournemouth libraries area manager, said: "It's like reading a biography, but more interactive because you can talk to the person and ask them questions. Maybe the experience challenges your own ideas about how people live, and how what you see on television or read in the papers is different to people's lives."
The only cost of the day-long project is reimbursing the books' travel expenses and providing refreshments. Bournemouth received a £500 (US$750) grant from UK government development agency, the Museums, Libraries and Archives Council, which has paid for two living library sessions in the seaside town this year.
The idea certainly fits with the government's vision for libraries. UK Culture Secretary Andy Burnham has launched a six-month modernization review of public libraries, saying that libraries are "a welcoming and stimulating place at the heart of the community where people can come together to learn."
The living libraries concept was highly commended this month in the Institute of Community Cohesion's inaugural Awards for Bridging Cultures, in Leicester, England, which recognize grassroots schemes that promote intercultural dialogue and understanding.
Yet it is not without its flaws. Borrowers are often invited through colleges or other libraries, rather than simply wandering in off the street. So isn't the event in danger of preaching to the converted?
"There is an element of that," said Local Level consultant Linda Constable, who coauthored the report on living libraries. "But you will also get people coming in who have read about in local newspapers, and language students who have not been to library before. It's more than just a public relations exercise. The books get to bond and they have not necessarily been to the library before, so you're attracting people in all sorts of ways."
Another challenge is that the living books could be accused of pushing a particular agenda or recruiting borrowers to whichever community group they represent. However, the report said: "Such questions of political balance are not new to local authorities or to library services, and we found no evidence that any borrower felt uncomfortable about the 'neutrality' of any of the books. When in Bournemouth [during a previous event], the Big Issue seller lightheartedly invited people to buy his 'last copies,' civic principles were not suddenly in jeopardy."
Challenges aside, living libraries offer potential not only for granting a new lease of life to an embattled public resource, but also for bringing history and information alive to an entire swath of society that is not interested in or cannot read books.
Bodey said that the project also resurrects the oral history tradition and, with that in mind, she plans to organize a Holocaust-themed living library next year.
"We also want to take living libraries into schools so that pupils get a bit of living history and we introduce a new generation to the concept," she said.
As Prudom said: "Many people don't read books, so you have to find other, more creative ways of engaging them. Testimony is an incredibly powerful thing."
Comments will be moderated. Keep comments relevant to the article. Remarks containing abusive and obscene language, personal attacks of any kind or promotion will be removed and the user banned. Final decision will be at the discretion of the Taipei Times.