'MadGerman' workers face an uncertain future
Workers say a labor program between East Germany and Mozambique was little more than a way to pay off the latter's debts
A handful of tattered photos are all that remain of Mozambican Anacleto Amade's two years in East Germany, where he worked in the 1980s under a labor scheme between the then-communist allies.
However, his memories of friendships abroad and walking in the snow are scant comfort now. Like most of the 15,000 Mozambicans sent to work in East German factories, Amade said he has never been paid his full wages.
"When I see those pictures, the emotion is enormous, it is big. It is the size of the world, because no one's story is the same," the 41-year-old said.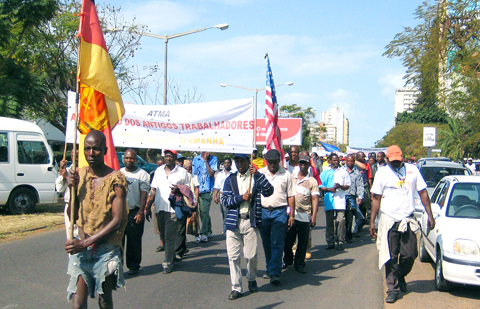 Protesters from the MadGerman association, meaning "those from Germany" in the Shangaan language, march in Maputo on Aug. 25 with a banner reading "Association of Former Mozambican Workers in Germany."
PHOTO: AFP
While in East Germany, the Mozambicans were paid only 40 percent of their salaries, they said. They were told the rest was sent to Mozambique for investment and pay-out upon their return.
However, after the Berlin Wall fell in 1989, the labor pact ended and they were sent home to a nation that was still a Cold War proxy battlefield. They received only about US$350 each.
The Mozambicans in East Germany worked in steel, construction, manufacturing and textiles industries from 1979.
Locally they are known as the MadGermans, meaning "those from Germany" in the Shangaan language.
"It's pejorative," MadGerman Association president Zeca Cossa said from their base at a park across from parliament in the Mozambican capital Maputo.
"We were there to learn these trades to build Mozambique. Then we returned and we were all unemployed," Cossa said. "They told us 'We don't have money.'"
He believes the group was sent to repay East Germany for the weapons sold on credit to liberation party Frelimo during Mozambique's fight for independence against Portugal from 1964 and during the civil war that ended in 1992.
"We didn't go to train. We went there to work off Mozambique's debt," he said. "We were used like slaves."
The MadGermans' situation reflects nagging problems that remain in the country, one of the world's poorest, after the 16-year civil war that pitted the communist Frelimo government against rebels supported by apartheid South Africa.
Despite the economy's projected 6.5 percent growth this year, 60 percent of Mozambicans do not have work.
However, the MadGermans see more sinister reasons behind their failure to build a life in their home country. They say the government, the nation's biggest employer, refuses them work because they demonstrate for their rights.
"Most Africans don't see. Even when they do see, they don't speak," Cossa said. "We who were in Europe can see."
"But in Mozambique, if you talk, they kill you," he said, referring to a demonstration in 2003 when police shot dead one of the group.
Every Wednesday about 300 MadGermans march through the city's streets. Earlier this year they even attempted to storm parliament.
The labor ministry afterward said it would make some payments to nearly 1,800 former workers, "definitely closing" the case, state radio reported.
However, the group's reputation as troublemakers complicates finding a job anywhere.
"Even when you work, when they find out you're a MadGerman, you lose your job," said Rose Ester Libombo, who worked in a lamp factory in Erfurt for two years.
"When they find out, they think you could make a noise because we insist on our rights," Libombo said. "They call us marginalized, confused."
These days she sits waiting in the dusty park with other MadGermans in the shadow of a tattered German flag hanging off a tree stump, while street vendors dodge the refuse and heaps of ash as they ply their trade.
Asked about the way forward, Libombo smiles faintly.
"I don't have plans. You need money to make plans," she said.
Comments will be moderated. Keep comments relevant to the article. Remarks containing abusive and obscene language, personal attacks of any kind or promotion will be removed and the user banned. Final decision will be at the discretion of the Taipei Times.