A native brew reasserts its claim to New York
Chock full o'Nuts wants to reinforce the loyalties of longtime buyers while attracting younger urban flavor-seekers
A venerable brand known for decades as "that heavenly coffee" is coming out with a campaign that, to quote Harry Nilsson, guesses the Lord must be in New York City. \nThe brand, of course, is Chock full o'Nuts, a regional mainstay that calls itself "New York's coffee" because it was started in the city in the early 1930s by William Black when he converted his chain of nut shops into stores that sold a sandwich and a cup of coffee for a nickel. \nAlways linked to its city of origin, as evidenced by its checkerboard, black-and-yellow packages evocative of the old Checker cabs, Chock full o'Nuts is now seeking to strengthen that affiliation in a campaign carrying the theme "Full o'NY flavor." \nWith a budget estimated at US$2 million to US$3 million as it starts in metropolitan New York, the campaign is composed of traditional advertising (print, outdoor and radio) created by BBDO Worldwide, part of the Omnicom Group; promotions, samplings and other events; sponsorships; a Web site (chockfullonuts.com); and Gotham-centric marketing that includes posters on buses and at subway stops and signs atop taxis and on water towers. \nIn addition to the new theme and localized media buys, there is a new flavor, New York Roast; a plan to update the taxicab look of the packaging; and the expansion of a franchised chain of coffee shops in the Northeast called Chock Cafes. \nThe campaign is focused overall on associating Chock full o'Nuts with quintessential New York qualities like assertiveness, boldness and robustness. That is partly to reinforce the loyalties of longtime buyers and partly to attract younger shoppers, known as urban flavor-seekers, who are drawn to more intensely flavored foods and beverages. \nKeeping current customers while appealing to new ones is one of the trickiest tasks in marketing. \n"If you look at this brand, there are tremendous connections to consumers," said Ed Dubin, director of marketing and innovation at Sara Lee Coffee and Tea in Harrison, New York, a division of the Sara Lee Corp, which has owned Chock full o'Nuts since 1999. "And a lot of it is tied to the fact it has such strong New York roots." \n"This brand is authentically New York, which has a really powerful equity for us," Dubin said. "But we want to know, how does that resonate today" with the "new, younger group of consumers who want an alternative to the huge, Goliath-type brands" like Starbucks. \n(Those with long memories can recall when there were about as many Chock full o'Nuts shops on Manhattan streets as there are Starbucks shops today. It appears that being the "first mover" does not provide an advantage forever.) \nTo demonstrate how Chock full o'Nuts is "full o'NY flavor" that all New Yorkers can love, many of the print ads, posters and signs feature the work of a photographer, Eugene Richards, who captures local residents -- real people, not models, Dubin promised -- at work and play. \nThey are seen outside a factory in the Meatpacking District, in a diner, in front of a hot-dog stand, schlepping a cello up the front steps of a brownstone, on the Coney Island Cyclone roller-coaster, at Gleason's Gym and on a roof in Hell's Kitchen. \nEach ad carries an appropriate caption. The meatpacker, with a stern look and surrounded by carcasses, is labeled "Chock full o'Attitude." A harried waitress in the diner is labeled "Chock full o'Strength." Boxers at Gleason's, striking poses, are labeled "Chock full o'Character." And the packed roller-coaster is labeled -- what else? -- "Chock full o'Nuts." \n"Getting strong, flavorful personalities for a strong, flavorful coffee was the key," said Marty Orzio, executive vice president and chief creative officer at the Chicago office of BBDO. \nWait a New York minute. The Chicago office? What is the BBDO New York office, chopped liver? \nAlthough the Sara Lee division for which Dubin works, the one overseeing Chock full o'Nuts, Chase & Sanborn and other coffee and tea brands is based in Harrison, a New York suburb, Sara Lee's corporate headquarters is in Chicago. But Orzio, formerly with two New York agencies, Lowe & Partners and Merkley Newman Harty, hastened to note that he is a native New Yorker. \n"I grew up with Chock full o'Nuts," Orzio reassured a reporter. "I can remember my aunt saying, `It's the only coffee that when I brew it I can smell it from the living room.'" \nReturning to the campaign, Orzio said that in tests, consumers approved of the strategy of "positioning the brand as a strong, flavorful coffee for a distinctive place." \n"Who thought Seattle would become known for coffee?" Orzio asked. "Of all the places in the country that can compete with that, New York has the best potential, because of the strong personalities associated with the city." \nAt the same time, Orzio said, "we don't want to lose what's real with these people and we don't want to make them into cartoons." That is why the photographs by Richards are shot in a realistic, journalistic style and the radio commercials are narrated by an announcer in a documentary format. \nThe campaign, which began last month, will run through early March "full strength," Dubin said, pun intended, with an eye toward expanding it in the future to major Northeast markets like Boston and Philadelphia. It is to be augmented in the new year with elements like a promotion titled "Chock Loft Live," offering consumers a chance to win tickets to a concert in a SoHo loft. \nSpeaking of music, no discussion of Chock full o'Nuts can ignore its famous jingle, adapted from a song called That Heavenly Feeling and sung for many years by Page Morton Black, the wife of the founder. The jingle was the subject of a promotion last year with local radio stations, which asked listeners to sing it to win prizes, but it is not part of the current campaign. \n"We're looking to do something updated with the jingle in 2004, its 50th anniversary," Dubin said. "It's not the most modern; people don't say `heavenly' anymore. But we should never take it for granted." \nFor those eager to sing along, here are the lyrics: \n"Chock full o'Nuts is that heavenly coffee, \nHeavenly coffee, heavenly coffee \nChock full o'Nuts is that heavenly coffee, \nBetter coffee a millionaire's money can't buy." \nNew Yorkers with really long memories may recall the last line as "Rockefeller's money," which was changed after the Rockefel-ler family complained.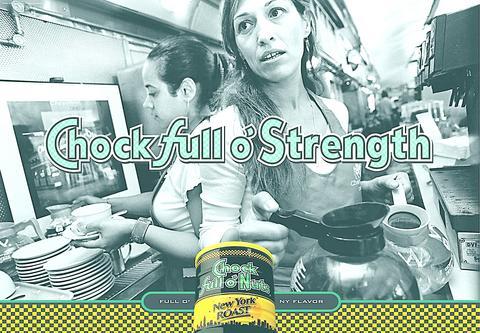 Chock full o'Nuts, a regional mainstay that calls itself ``New York's coffee,'' has always linked itself to its city of origin, as evidenced by its checkerboard, black-and-yellow packages evocative of the old Checker cabs, as can be seen in this ad. Chock full o'Nuts is now seeking to strengthen that affiliation in a campaign carrying the theme ``Full o'NY flavor.''
PHOTO: THE NEW YORK TIMES
Comments will be moderated. Keep comments relevant to the article. Remarks containing abusive and obscene language, personal attacks of any kind or promotion will be removed and the user banned. Final decision will be at the discretion of the Taipei Times.