No-name stars of the Internet find clip 'n paste fame
More and more people are working in royalty-free stock photography -- for a flat fee, they sell their images to be downloaded or put on packaged CDs
First there was the Internet Guy. Then there was the Banner Lady. And now comes AA030587. \nSuperheroes? No, supermodels, at least in terms of visibility. You will not find these people strutting the runways in Milan or mentioned in gossip columns. But chances are you have seen their photos, heading Web pages or plastered on posters, hawking diarrhea remedies or jazzing up a PowerPoint presentation. \nThese people are working in a business known as royalty-free stock photography. For a flat fee, perhaps less than what Kate Moss pays for a lipstick, they have sold the rights for their images to be downloaded from the Internet or packaged in CDs, almost without restriction. While the photographer generally earns royalties from the sales, the models do not. \nStock photographs, or off-the-shelf pictures of people and things, have been around far longer than personal computers, but the digital delivery of images has increased their popularity. So did the advent in the early 1990s of royalty-free collections, which offer photos without asking how they will be used, a simpler and generally less expensive arrangement than traditional licensing agreements. \nNo-name cover girls and boys may come cheaply, but using their images, which can be purchased by anyone, is not without its perils. \nMeet Julia, as an advertising copywriter nicknamed her for her vague resemblance to Julia Roberts. She is a dark-haired young woman with a dazzling smile who spent half this year on the New York subways on posters promoting Monroe College in New York. \n"Lord knows where she's from, but she seems like a New Yorker," said Kevin Alter, formerly a senior copywriter for KPC Christopher Thomas of Melville, New York, the ad agency that created the college ad and chose the nickname. "She looks frazzled and a little tough." \nIn June, an identical photo arrived in many New York mailboxes, this time in a brochure from Time Warner Cable of New York City that was illustrated with 20 photos of people presented as offbeat New Yorkers. The smiling woman is shown with the caption "Her deal: wears gloves on the subway year 'round." \nIn fact, Julia is a clerk at a Seattle baby photography studio, or at least she was two years ago, said officials at Getty Images in Seattle, which offers three portraits of her on its Vivid Faces CD, part of its royalty-free PhotoDisc collection. The company says that a photographer working in a neighboring studio spotted her, found her striking and asked her to pose. \nThe company knows the woman not by her name -- which she signed on a model release but the company declined to disclose -- but rather by the image number, AA030587. \n"It's very, very expensive to hire a photographer," said David Goldberg, vice president for marketing at Time Warner Cable of New York, explaining why his company had found its "typical New Yorkers" on a US$399 disk produced in Seattle. \nMonroe College has since switched models. Alter said his former agency had already decided on the change when someone showed him the cable brochure. "That's the risk you run with stock photography," he said. "Other people might also use it, and they might be in the same market." \nAccording to Getty Images, Vivid Faces is a best-selling disc but AA030587 is not a particularly popular download. The faux Miss Subways has yet to match the fame of former PhotoDisc top picks, notably George Chen, a Web designer and sometime model. \nA few years ago, royalty-free photos of this impish young man with nerdy glasses and spiky hair seemed to be everywhere that advertisers like Domino's Pizza and Nokia needed an engaging image of a dotcommer. \nIn 1999, TheStreet.com, an online business publication, called him "the Internet Guy" in an article that concluded, "The rise of George Chen, just like the Internet he represents, is just beginning." \nAs it turns out, both predictions were inflated. Now 29, Chen said he had approached a modeling agency in San Francisco during his high-profile days, partly "as a joke," but also to see whether he could earn more than the US$500 his other modeling work had brought him. \n"Their reaction was, `George, you're way too popular,'" he said. \nIn 2000, the Banner Lady reigned. Clenching her teeth or screaming, this young woman was all over the Web in the advertising strips known as banners. She promised a fix for every problem, from a bad cough to bad credit. \nMarc Ryan, an analyst who follows Internet advertising, said that certain stock photo images become ubiquitous because advertisers use the same search terms to find them in Getty Images' PhotoDisc collection. Indeed, searching for "stress" and "woman" will still turn up an image of the Banner Lady. \nAnother term that works: PMS.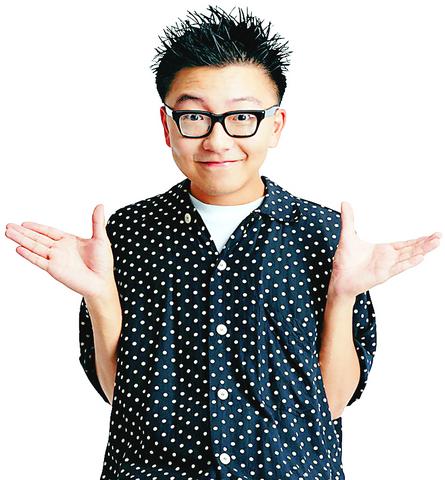 George Chen, `the Internet Guy' has been in numerous online ads.
PHOTO: NY TIMES
Comments will be moderated. Keep comments relevant to the article. Remarks containing abusive and obscene language, personal attacks of any kind or promotion will be removed and the user banned. Final decision will be at the discretion of the Taipei Times.