Japan's recession hits sex clubs
As expats lose their huge expense accounts and Japanese men hold on to their money for fear of losing their jobs, hostesses are taking greater risks to augment their income
Sex is cheap in Japan these days and foreign hostesses must take greater risks to earn hard cash. \n"I finally quit when the club owner suggested it would be a good idea for customers to drink for free for 30 minutes while all the girls danced naked in front of them," said Karen, a former hostess from Germany. \nThe allure of easy money and lavish gifts attracts thousands of girls to work in Japan's sex industry, but as the economy slumps many businessmen can no longer afford to play in hostess bars and strip joints. \n"I wanted to make some cash fast before I went travelling," Karen said. \n"I've heard you could earn up to ?150,000 (US$1,130) a night working as a hostess in Tokyo. All you had to do was talk to customers, pour their drinks and maybe do a striptease, so I decided to give it a go." \nBut with a salary of only ?3,000 an hour, Karen quickly realized she had to do a lot more than serve drinks to make good money. \n"We had to convince at least three men a week to take us out for dinner," said Karen, aged 24. Failure to do this meant an immediate ?2,000 fine. \n"If someone offered to take us to a love hotel, we would earn ?10,000. But if we refused to sleep with them, we would be fined," she said. \nGirls were also penalized for refusing to dance or sing with guests, no matter how lecherous the men were. \nMany became indebted to the bar and were forced to strip to avoid further punishment, recalled Karen, who has since left Japan. \nHer story is typical of an industry that once turned young girls into princesses overnight as men showered them with cash at the height of Japan's economic boom in the eighties and early nineties. \n"But as the economy gets worse, the sex gets dirtier and cheaper," said a British businessman who has used hostess bars for over 10 years. \nEveryone in the entertainment industry hopes a boozy carnival of football fans will boost business when Japan co-hosts the World Cup at the end of May. \nBut temporary fixes will never bring back hostesses' glory days, said the businessman, who declined to be identified. \nx"I remember a night when I went into a bar and spent US$10,000 in two or three hours. We used to flush money away." \nThe whiff of easy cash attracted gangs from across the world to set up hostess bars in Tokyo, but as the money dries up, many clubs go bust, tempers fray and the streets of the capital have become far more dangerous. \n"There is a lot more fighting here now," said the businessman. "People aren't making the money they had expected, they get desperate and violent." \nKabukicho, an area of flashing neon lights and pounding music in the heart of Tokyo, is still packed with hostess bars, sex clubs, massage parlors and strip joints, but the nightly crowds of drunken businessmen are gone. \n"Our work is much tougher now," said Christopher Okoloigwe, the general manager of Ocis, a hostess bar in the basement of a shabby building. \n"People, worried about their jobs, are less willing to go out and spend money. We used to have customers in the club every night, but now the only night we're busy is a Friday. \n"Look behind you -- that is the heart of Kabukicho and it's almost empty. Ten years ago the place was crammed with people wanting to spend money." \nCompanies have slashed corporate entertainment budgets as Japan wallows in its worst post-war recession. The move has hit hostesses and strippers hard. \n"Before you would get huge groups of foreigners with their expat accounts. They might spend ?2 million a month taking clients out," said a Japanese stripper who asked to remain anonymous. \n"But they haven't got so much now and don't go out as often," she said. \n"We still see a lot of Japanese, but they don't like spending and when they do, they want extra. They want a private dance in a hotel or a blow job in the bathroom." \nBritish hostess Lucie Blackman was brutally murdered two years ago after she accepted a date with a customer outside of work, but girls still take risks to make money. \n"After Lucie Blackman we were all really scared but work is work and so we just get on with things," said Monika, a hostess from Romania. \nClubs make a fraction of what they did a decade ago, said Okoloigwe. \n"In the good days we used to get at least 90 customers in a night but now we have 30," he said. \nHowever there is still money to be made, with some girls in the larger hostess clubs and strip bars are earning around ?100,000 a week simply for dancing and talking to customers, they say.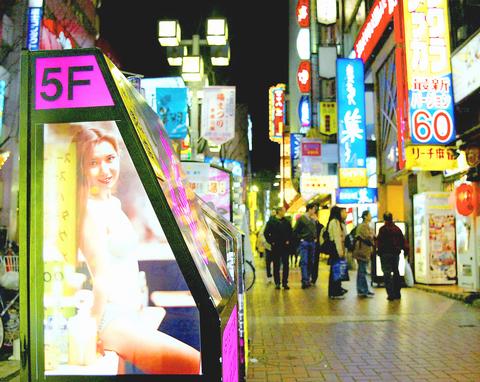 A neon sign showing a portait of a woman is displayed at the Tokyo's Kabukicho area Friday. Kabukicho, an area of flashing neon lights and pounding music, is still packed with hostess bars, sex clubs, massage parlors and strip joints, but the nightly crowds of drunken businessmen are gone.
PHOTO: AFP
Comments will be moderated. Keep comments relevant to the article. Remarks containing abusive and obscene language, personal attacks of any kind or promotion will be removed and the user banned. Final decision will be at the discretion of the Taipei Times.