Microsoft snaps up Altman, other ex-OpenAI employees
Microsoft Corp CEO Satya Nadella yesterday announced the hiring of OpenAI's (OAI) Sam Altman and other members of his team, days after the cofounder of the venture behind ChatGPT was fired.
OpenAI's board sacked Altman on Friday, with US media citing concerns that Altman was underestimating the dangers of its tech and leading the company away from its stated mission — claims his successor as CEO has denied.
Altman shot to fame with the launch of its artificial intelligence (AI) chatbot last year, which ignited a race to advance AI research and development, with billions being invested in the sector.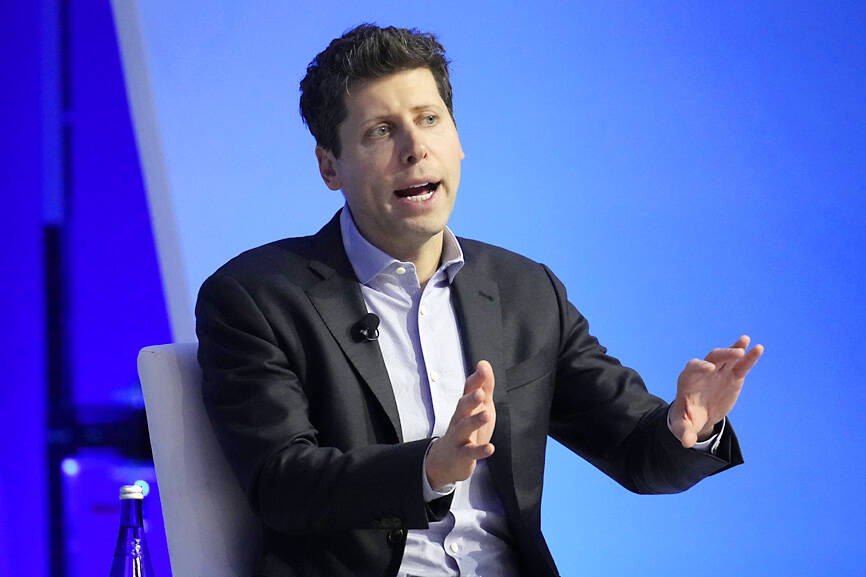 Sam Altman participates in a discussion during the Asia-Pacific Economic Cooperation (APEC) CEO Summit on Thursday in San Francisco.
Photo: AP
Nadella wrote on X, formerly Twitter, that Altman "will be joining Microsoft to lead a new advanced AI research team," along with OpenAI cofounder Greg Brockman and other colleagues.
"The mission continues," Altman posted on X.
Altman's sacking triggered several other high-profile departures from the company, as well as a reported push by major investors to bring him back.
Microsoft was among several high-profile OpenAI investors that were trying to restore Altman as CEO, US media reported.
Yet OpenAI stood by its decision in a memo sent to employees on Sunday night, saying that "Sam's behavior and lack of transparency ... undermined the board's ability to effectively supervise the company," the New York Times reported.
OpenAI appointed Emmett Shear, a former chief executive of Amazon.com Inc's Twitch streaming service, as interim CEO, he wrote in a post on X yesterday.
Shear also denied reports that Altman had been fired over safety concerns regarding the use of AI.
"Today I got a call inviting me to consider a once-in-a-lifetime opportunity: to become the interim CEO of @OpenAI. After consulting with my family and reflecting on it for just a few hours, I accepted," he wrote.
"Before I took the job, I checked on the reasoning behind the change. The board did not remove Sam over any specific disagreement on safety, their reasoning was completely different from that," he added.
Microsoft CEO Nadella wrote in his post that "we look forward to getting to know Emmett Shear and OAI's new leadership team and working with them."
"We remain committed to our partnership with OpenAI and have confidence in our product roadmap," he said.
Microsoft has invested more than US$10 billion in OpenAI and has rolled out the AI pioneer's tech in its own products.
Comments will be moderated. Keep comments relevant to the article. Remarks containing abusive and obscene language, personal attacks of any kind or promotion will be removed and the user banned. Final decision will be at the discretion of the Taipei Times.