Applied Materials falls after report of US criminal probe
Applied Materials Inc, the largest US maker of chipmaking machinery, slid in late trading on Thursday following a report that it faces a US criminal investigation for allegedly contravening export restrictions to China.
The company is being probed by the US Department of Justice over dealings with China's biggest chipmaker, Semiconductor Manufacturing International Corp (SMIC, 中芯), Reuters reported.
The department is looking at whether Applied Materials sold hundreds of millions of dollars of equipment without the proper licenses, the news outlet reported, citing unidentified people familiar with the situation.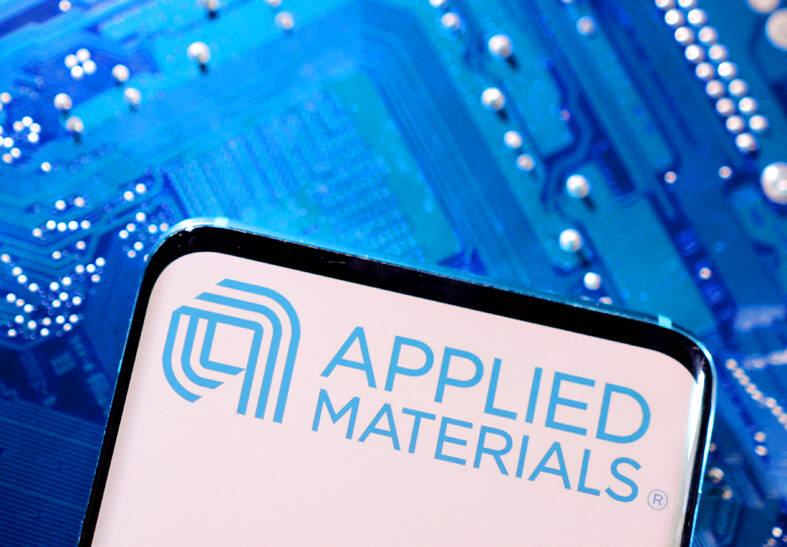 A smartphone with a displayed Applied Materials Inc logo is placed on a computer motherboard on March 6.
Photo: Reuters
The justice department declined to comment.
Applied Materials declined to discuss details of the case, but said that it previously disclosed a federal review of China deliveries.
"Applied Materials first disclosed in October 2022 that it received a subpoena from the US Attorney's Office for the District of Massachusetts requesting information relating to certain China customer shipments," the company said in an e-mailed statement. "The company is cooperating with the government and remains committed to compliance with global laws, including export controls and trade regulations."
The report overshadowed generally upbeat quarterly results from Applied Materials, which topped analysts' estimates with its earnings and forecast.
Shares of Applied Materials, based in Santa Clara, California, fell as much as 7 percent in extended trading.
The company and its peers are operating under increasingly strict rules imposed by Washington on exports of chip technology to China. The US has said such rules are needed to protect national security and requires companies to seek licenses to send certain types of machines or have dealings with particular companies in the Asian nation.
Reuters said that Applied Materials produced chipmaking gear in Gloucester, Massachusetts, and then shipped it to a subsidiary in South Korea. It then went to China's SMIC, people familiar with the investigation said.
SMIC was placed on a so-called entity list in December 2020 by the US Department of Commerce, which cited alleged links between the chipmaker and the Chinese military.
Applied Materials' fiscal fourth-quarter earnings, excluding some items, amounted to US$2.12 a share, the company said. Sales were little changed in the quarter, which ended on Oct. 29, at US$6.72 billion. Analysts estimated earnings of US$1.99 a share and revenue of US$6.54 billion.
Fiscal first-quarter sales would be about US$6.47 billion, the company said. That compares with analysts' average estimate of US$6.34 billion. Excluding some items, profit would be US$1.72 to US$2.08 a share in the period, which ends in January. The average projection was US$1.84 a share.
China had been one of the fastest-growing markets for chip equipment, but the US restrictions have begun to take a toll on sales.
A recent tightening of the export restrictions would not have an incremental impact on Applied Materials' results, the company said on Thursday.
In fiscal fourth quarter, that market provided 44 percent of overall sales and would remain at an "elevated level" in the current period because of some large shipments to a computer memory customer, the company said.
Over time, China would shrink back down to about 30 percent of sales — its historical level, it said.
Dickerson said he remains bullish on the outlook for demand for his products overtime.
"Longer term, the setup is really great," he said in an interview.
Comments will be moderated. Keep comments relevant to the article. Remarks containing abusive and obscene language, personal attacks of any kind or promotion will be removed and the user banned. Final decision will be at the discretion of the Taipei Times.