Flagship phone chip to bring in US$1bn: MediaTek
MediaTek Inc (聯發科) yesterday said that its flagship mobile processors would generate more than US$1 billion in revenue this year, as the world's biggest smartphone chip supplier aims to bring its chips to edge devices and cloud-based machines with generative artificial intelligence (AI) capabilities.
That means about 7 percent of the chip supplier's revenue this year, estimated at US$14 billion, would come from advanced 5G mobile processors.
The Hsinchu-based chip designer has added its first AI processing unit (APU) to its latest flagship mobile processor, the Dimensity 9300. MediaTek sarted building its APU technology about four to five years ago.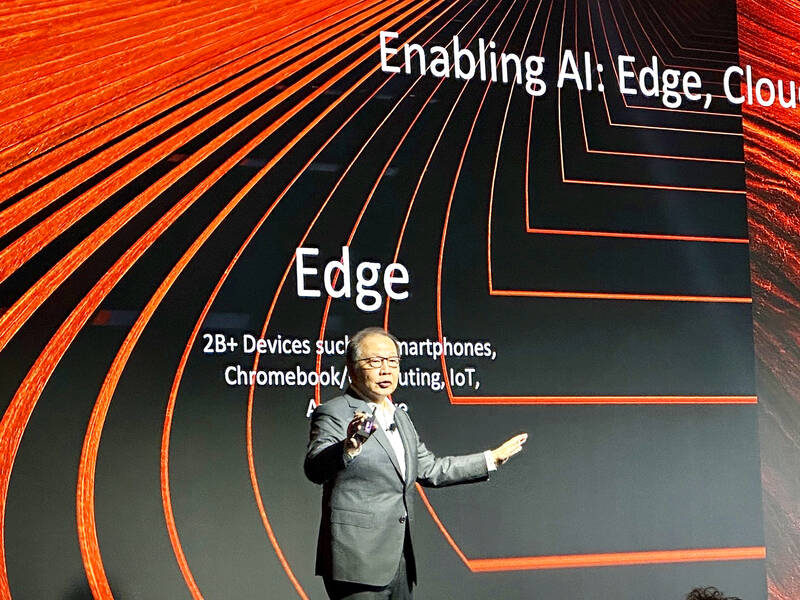 MediaTek Inc CEO Rick Tsai delivers a speech during the company's executive summit in the US yesterday, sharing the mobile chip's supplier's strategy to bring generative artificial-intelligence applications to all devices.
Photo courtesy of MediaTek Inc
The new advanced processor is optimized to run large language models for generative AI, the company said.
MediaTek expects smartphones powered by Dimensity 9300 — the third-generation of its flagship mobile chip — to hit the market by the end of this year. Next year, the company plans to increase the availability of AI-enabled 5G processors to a variety of smartphones.
The introduction of the Dimensity 9300 chip has boosted MediaTek's confidence that its flagship mobile processors would "bring in more than US$1 billion in revenue for us," company CEO Rick Tsai (蔡力行) said in his speech during the MediaTek Executive Summit 2023 in the US yesterday.
"In the next five years, I want Mediatek to enable AI either on all [devices] on edge, cloud or [anything] in between," Tsai said.
MediaTek said the US market would play a critical role in fueling its revenue growth in the next five years, as it is diversifying its product portfolio from mobile chips and broadening its footprint beyond China.
MediaTek made a great stride yesterday by adding Meta to its US client portfolio. The company is to collaborate with Meta to develop chips for the technology giant's new augmented reality (AR) glasses. Meta's Reality Labs vice president Jean Boufarhat joined Tsai onstage to make the announcement.
The partnership ignited speculation that MediaTek might replace Qualcomm Inc and become the sole chip supplier for Meta's new AR glasses.
Mediatek said that building an ecosystem is crucial for the firm to grow its revenue in the future.
The chip designer partners with Taiwan Semiconductor Manufacturing Co (台積電) to utilize its leading-edge technology, including 3-nanometer processing and advanced chip packaging technologies from chip on wafer on substrate, or CoWoS, to chiplets to manufacture its processors, Tsai said.
The company also collaborates with ARM Holdings and Nvidia Corp to broaden its business to computing and automotive areas, he said.
"We want to work with them [those partners] to optimize, to maximize capabilities, so people can enjoy edge AI," Tsai said. "We cannot do Deep Mind things. We cannot do [what] OpenAI [does]. But, we will provide technology, chips and services to enable them to do that."
Mediatek said it has built up its technology leadership by investing heavily in research and development. Since 2018, the company has spent about US$18 billion on research and development, it said.
During the same period, its revenue is estimated to have surged 77 percent to an estimated US$14 billion this year from US$7.9 billion, it said.
Comments will be moderated. Keep comments relevant to the article. Remarks containing abusive and obscene language, personal attacks of any kind or promotion will be removed and the user banned. Final decision will be at the discretion of the Taipei Times.