Fubon Financial upbeat on economy
FAVORABLE TRENDS: The economy would expand 3 percent next year, as exports look set to rise from this month and the Fed eases its monetary stance, Rick Lo said
Fubon Financial Holding Co (富邦金控) yesterday voiced optimism about Taiwan's economy, saying the worst is over and that GDP growth would reach 3 percent next year, which would be favorable to its operations.
Fubon Financial chief economist Rick Lo (羅瑋) unveiled his projections during an online media briefing, citing improvement in the nation's exports, a critical economic gauge.
Exports last month slipped back into contraction, but might stage a sustained rebound from this month onward, the Ministry of Finance has said.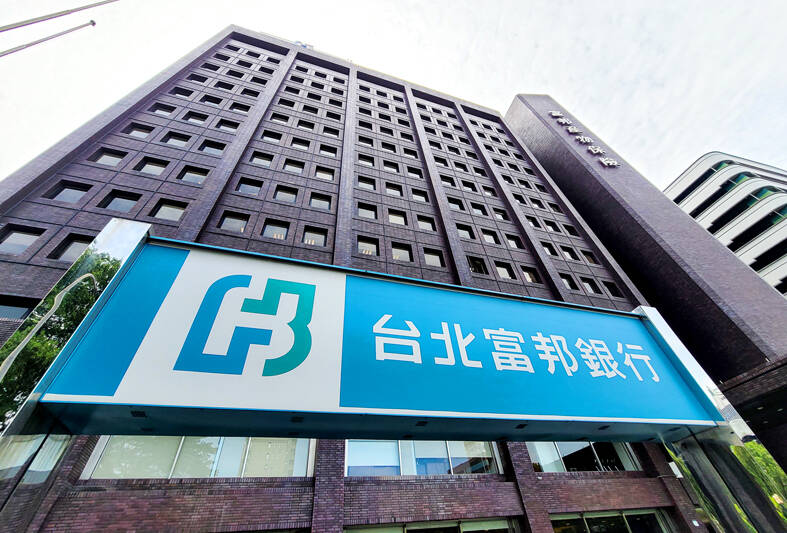 The signage of Taipei Fubon Commercial Bank, a subsidiary of Fubon Financial Holdings Co, in Taipei is pictured on June 7, 2021.
Photo: CNA
Major tech firms offered similar earnings guidance.
Lo said the market is now less concerned about whether the US Federal Reserve would raise its policy rate by another 25 basis points to tame inflation and avoid asset bubble busts.
The Fed would assign more importance to how its earlier rate hikes would affect the US economy, a process that needs more time to pan out, Lo said.
The restrictive monetary cycle is likely over in light of the latest US inflation data, he added.
The market is now looking at an interest rate cut of 0.75 percentage points by the Fed in June next year to avert a recession, Lo said.
A lenient monetary stance is favorable to corporate investment and capital expenditure as borrowing costs drop.
Private investment is widely expected to regain growth momentum next year after playing a laggard this year, Lo said.
Consumer spending would stay healthy, helped by a resilient job market, although the benefits of revenge consumption would taper off, he said.
Taipei-based Fubon Financial retained its title as the most profitable financial holding company with cumulative net earnings of NT$67.8 billion (US$2.13 billion), or NT$4.94 per share, company data showed.
Fubon Financial said it intends to raise its stakes in bonds and equities if monetary tightening is over.
It trimmed its stock holdings to 7.9 percent at the end of last quarter, from 8.8 percent a year earlier, after realizing capital gains, officials said.
Main subsidiary Taipei Fubon Bank (台北富邦銀行) last quarter became the nation's second-
largest credit card issuer, based on the number of active cards, after it replaced Cathay United Bank (國泰世華銀行) in August as Costco Taiwan's exclusive partner.
Comments will be moderated. Keep comments relevant to the article. Remarks containing abusive and obscene language, personal attacks of any kind or promotion will be removed and the user banned. Final decision will be at the discretion of the Taipei Times.