Services make up 60.85% of GDP: ministry data
Local service sector output accounted for 60.85 percent of Taiwan's GDP last year, the 2023 Business Services Yearbook published on Friday by the Ministry of Economic Affairs showed.
The latest yearbook released by the Administration of Commerce showed that local service sector output totaled NT$13.75 trillion (US$425.28 billion) last year, up about 2.37 percent from NT$13.02 trillion a year earlier.
While the local economy slowed down in the wake of weakening global demand, the service sector stayed resilient with consumer spending increasing in the post-COVID-19 era, analysts said.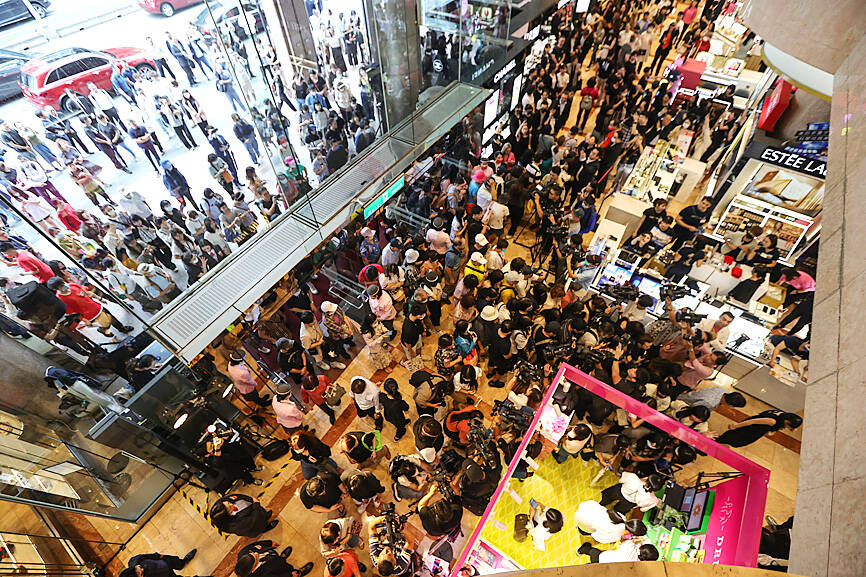 Shin Kong Mitsukoshi Department Store's Nanjing W Road branch in Taipei is packed with shoppers looking for bargains during the store's anniversary sale on Oct. 5.
Photo: CNA
Administration of Commerce Director-General Su Wen-ling (蘇文玲) said in a statement that the service sector employed about 6.8 million people last year, accounting for about 59.96 percent of Taiwan's total workforce.
As the service sector plays an important role in Taiwan's economic development and job market, the commerce administration is determined to improve service industries and build a better environment to encourage consumer spending, as well as push for technology development and boost the efficiency of domestic demand-oriented industries, Su said.
In addition to large-sized department store chains, shopping malls and logistics business operators, the commerce administration also provides assistance to smaller vendors, including night market stall owners, she said.
The commerce administration would also help local sector brands expand overseas by increasing their global visibility, she added.
However, companies in the service sector should look beyond their traditional business mindset and become leaders in tackling challenges created by climate change and growing demand for environmental protection, the commerce administration said.
The government has set a goal of reaching net zero carbon emissions by 2025 and is promoting the environmental, social and governance initiatives to improve the service sector's business sustainability and risk management, it said.
Comments will be moderated. Keep comments relevant to the article. Remarks containing abusive and obscene language, personal attacks of any kind or promotion will be removed and the user banned. Final decision will be at the discretion of the Taipei Times.