Carriers set to make big purchases at Dubai Air Show
WHEELS UP: With air traffic back to 97 percent of pre-COVID-19 levels, several Middle Eastern carriers have made their orders for newer narrow-body and wide-body aircraft
The biennial Dubai Air Show opened yesterday with airlines poised to make major aircraft purchases after rebounding from the groundings of the COVID-19 pandemic, even as Israel's war with Hamas clouds regional security.
That conflict, as well as Russia's war on Ukraine, are likely to influence the five-day show at Al Maktoum International Airport at Dubai World Central. It is the city-state's second airfield after Dubai International Airport, the world's busiest for international travel and the home base for the long-haul carrier Emirates.
While commercial aviation takes much of the attention, arms manufacturers also have exhibitions at the show. Two major Israeli firms — Rafael Advanced Defense Systems Ltd and Israel Aerospace Industries Ltd (IAI) had been slated to participate.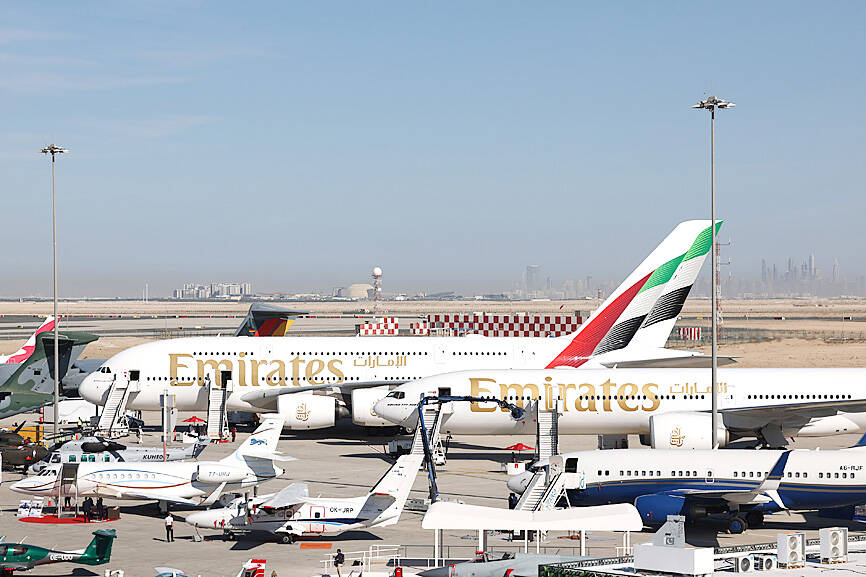 An Airbus SE A380-800, top left, and a Boeing Co 777-300ER passenger aircraft, operated by Emirates, are pictured at the Dubai Air Show in the United Arab Emirates.
Photo: Bloomberg
However, the IAI stand, bearing the slogan "Where Courage Meets Technology," was roped off and empty yesterday morning as people poured into the show.
A stand for Rafael handed out coffee, although there were no salespeople. The company also sponsored a meeting of air force commanders yesterday at a luxury Dubai hotel, highlighting the balancing act being struck by the United Arab Emirates (UAE) amid anger in the Arab world over the Israel-Hamas war.
The UAE, a federation of seven sheikhdoms, established diplomatic relations with Israel in 2020.
The firm Russian Helicopters has staff on hand after attending the Abu Dhabi arms fair earlier this year, despite being sanctioned over Moscow's invasion of Ukraine. ROSCOSMOS, the Russian state space company, is also at the show.
Global aviation is booming after the COVID-19 pandemic saw worldwide lockdowns and aircraft grounded, particularly at Al Maktoum Airport, which served for months as a parking lot for Emirates' double-decker Airbus SE 380s.
Air traffic is now at 97 percent of pre-COVID-19 levels, the International Air Transport Association (IATA) said. Middle Eastern airlines, which fly key east-west routes, saw a 26.6 percent increase in September traffic compared with a year earlier, IATA said.
Boeing is closing in on a major order for its 777X wide-body model from Emirates, people familiar with the discussions said, in what would provide an important boost to a program that is years behind schedule.
Already the biggest buyer of the 777X, Emirates is poised to make a high double-digit order of the aircraft, it said. As part of the deal, regional affiliate FlyDubai could take some of Emirate's 787 Dreamliner earmarked orders, the company said.
EgyptAir is also set to receive 18 Boeing 737 Max 8 aircraft, adding more narrow-body jets to the state-owned airline's fleet, people familiar with the matter said. The airline is to receive the aircraft between 2025 and 2026, a company spokesperson said.
Turkish Airlines might also make a record-shattering purchase of 355 Airbus aircraft, including 250 A321neo aircraft, state-run Anadolu news agency said.
Additional reporting by Bloomberg
Comments will be moderated. Keep comments relevant to the article. Remarks containing abusive and obscene language, personal attacks of any kind or promotion will be removed and the user banned. Final decision will be at the discretion of the Taipei Times.