Strong demand for products to last, Gigabyte says
Gigabyte Technology Co (技嘉) yesterday said that strong sales of its consumer electronics-related products, such as motherboards and graphics cards, would continue this quarter, and that demand remains strong for its server products — artificial intelligence (AI) servers in particular.
Overall, the company is confident that revenue growth would remain steady this quarter. It expects this year's revenue to exceed NT$100 billion (US$3.08 billion) earlier than expected, thanks to continued end-market demand and effective optimization of its product mix, it said in a presentation document released after the company's online investors' conference.
Gigabyte's revenue last quarter was NT$36.9 billion, up 52.53 percent year-on-year and 41.2 percent quarter-on-quarter.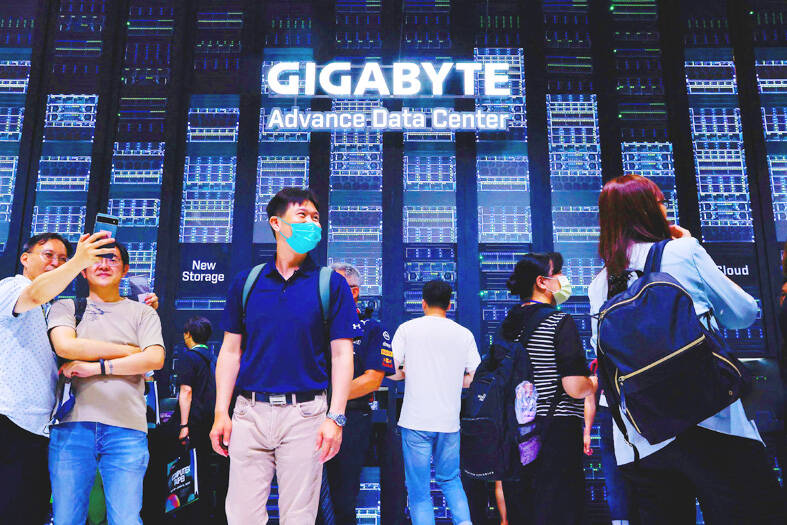 People visit a Gigabyte exhibition during COMPUTEX Taipei on May 30.
Photo: Ann Wang, Reuters
It was the highest quarterly figure in the company's history, the company said.
Sales from graphics cards accounted for 36 percent of Gigabyte's total sales in the third quarter, followed by servers at 27 percent, motherboards at 22 percent, and laptops and other computer peripherals at 15 percent, it said.
The company's graphics card business has come out of the trough experienced in the first half of the year, with demand recovering and shipments booming in the second half as clients stepped up efforts to reduce channel inventories, Gigabyte told investors.
Its motherboard business is expected to return to positive sales growth next year following clear signs of improvement in the bottom half of this year, while server shipments are likely to register a high double-digit percentage increase this year, as demand for AI services continues to rise, it said.
To meet demand from clients, the company plans to optimize the production capacity of two server assembly plants in Taiwan, Gigabyte said, adding that its main customers are in Europe and the US, but it aims to gain orders from the Asia-Pacific region.
The US AI chip ban would not affect Gigabyte as it is not shipping to China, it said.
Gigabyte is striving to maintain its leadership by providing a wider choice of product lines compared with its local peers, it said.
While it remains a strong supply partner of US graphics chip designer Nvidia Corp, it aims to launch new server products for other chipmakers and cloud service providers next year, Gigabyte said.
The company did not reveal its bottom-line figures for the third quarter, but analysts forecast that its gross margin would improve to 13.3 percent from 11.83 percent in the second quarter, while its earnings per share would grow to NT$2.72 from NT$1.4, given better economies of scale and higher-than-expected sales in the third quarter.
Gigabyte's cumulative sales in the first nine months of the year totaled NT$91.37 billion, an increase of 15.13 percent from the same period of last year and a record high for the period, the company said.
By region, American markets contributed 41 percent to the company's sales, followed by the Asia-Pacific region with 34 percent and Europe and the Middle East with 25 percent, it said.
Editor's note - Gigabyte on Nov. 3 reported net profit of NT$1.48 billion in the third quarter, up 66.43 percent quarter-on-quarter and 26.63 percent year-on-year. Earnings per share were NT$2.33, the highest in the past six quarters. Gross margin was 13.27 percent, the highest in five quarters, and operating margin reached 3.02 percent.
Comments will be moderated. Keep comments relevant to the article. Remarks containing abusive and obscene language, personal attacks of any kind or promotion will be removed and the user banned. Final decision will be at the discretion of the Taipei Times.