Retail, food and beverage rise as wholesale lags
SHOPPING SPREE: The wholesale sector has lagged behind as consumer goods spending has risen, with food and beverage spending hitting almost NT$90 billion
Sales in the retail, and food and beverage sectors last month continued to rise, increasing 4.3 percent and 14.3 percent respectively from a year earlier, while sales in the wholesale sector fell for a 10th straight month and declined 5 percent annually, the Ministry of Economic Affairs said on Saturday.
The ministry forecast that retail, and food and beverage sales would retain growth momentum this month due to the opening of new shopping malls and the Mid-Autumn Festival.
However, the wholesale sector is predicted to see sales drop for another month on an annual basis, as end-market demand remains weak and inventory adjustments persist, it said.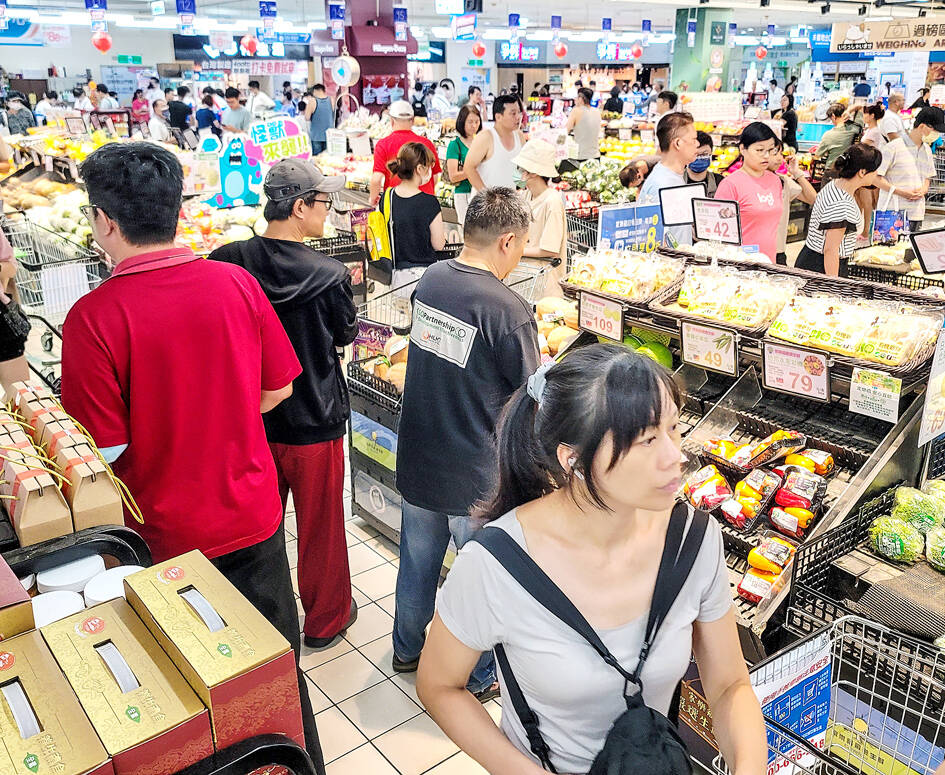 People shop at a large supermarket in New Taipei City on Aug. 2.
Photo: CNA
HOLIDAY WINDFALL
Last month, the retail sector's sales were NT$373.6 billion (US$11.63 billion), driven mainly by higher sales in department stores, supermarkets, convenience stores and hypermarkets as people spent more during the summer vacation and prepared offerings for the Chung Yuan Festival, which is part of Ghost Month.
In the first eight months of the year, retail sales totaled NT$2.981 trillion, up 7.9 percent from a year earlier, ministry data showed.
The ministry said it expects retail sales to grow between 3.1 and 6.1 percent annually to between NT$364.3 billion and NT$374.9 billion this month.
Sales in the food and beverage sector reached NT$89.8 billion last month, as catering service providers posted a 56.9 percent annual increase in sales due to robust demand for in-flight meals, while restaurant sales rose 15.1 percent year-on-year because of the holiday effect and summer vacation, the report said.
UNDER PRESSURE
In the first eight months of the year, food and beverage sales rose 23.5 percent year-on-year to NT$683.6 billion, while sales this month are projected to grow 13.5 to 16.5 percent to between NT$81.9 billion and NT$84 billion, it said.
However, the wholesale sector remained under pressure last month, with sales dropping to NT$986.1 billion as lackluster demand for machinery equipment, building materials and chemicals offset solid sales of automobiles, motorcycles, food and tobacco products, the report said.
Cumulative sales in the sector in the first eight months fell 10.5 percent to NT$7.58 trillion, it said.
Comments will be moderated. Keep comments relevant to the article. Remarks containing abusive and obscene language, personal attacks of any kind or promotion will be removed and the user banned. Final decision will be at the discretion of the Taipei Times.