Huawei unit ships Chinese-made camera chips
EVADING US CONTROLS? 'These surveillance chips are relatively easy to manufacture compared to smartphone processors,' a source said about HiSilicon's components
A Huawei Technologies Co (華為) unit is shipping new Chinese-made chips for surveillance cameras in a fresh sign that the Chinese tech giant is finding ways around four years of US export controls, two sources briefed on the unit's efforts said.
The shipments to surveillance camera manufacturers from the company's chip design unit, HiSilicon Technologies Co (海思半導體), started this year, said one of the sources and a third source familiar with the industry supply chain.
One of the sources briefed on the unit said that at least some of the customers were Chinese.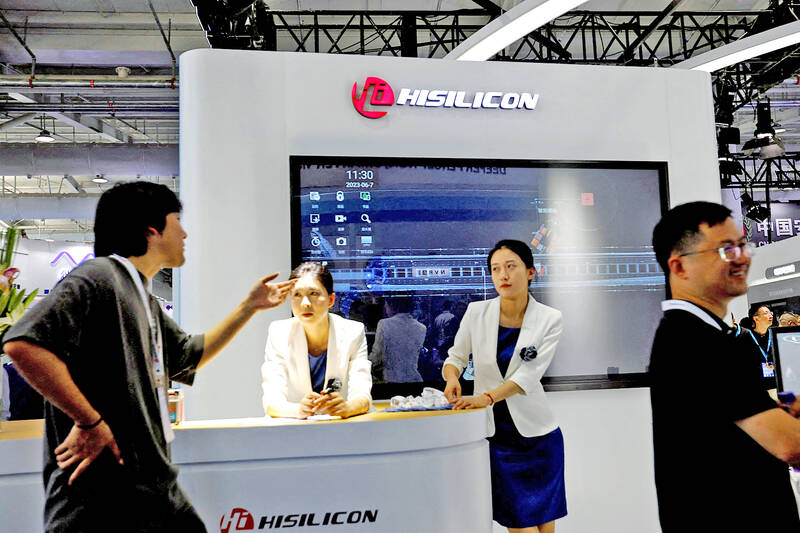 Staff members stand at the booth of Huawei chip developer Hisilicon at Security China, an exhibition on public safety and security, in Beijing on June 7.
Photo: Reuters
Huawei unveiled new smartphones in the past few weeks that use advanced chips, which analysts say are domestically made.
The developments indicate that the Chinese tech giant is overcoming Washington's export controls, which since 2019 have barred it from obtaining components and technology from US firms without approval.
"These surveillance chips are relatively easy to manufacture compared to smartphone processors," said the source familiar with the surveillance camera industry's supply chain, adding that HiSilicon's return would shake up the market.
A key factor is that the company appears to have worked around US restrictions on chip design software.
Huawei in March announced it had made breakthroughs in design tools for chips produced at and above 14 nanometers — two to three generations behind leading-edge technology, but an advance for the company.
HiSilicon mainly supplies chips for Huawei equipment, but has had external customers such as Dahua Technology Co (大華科技) and Hikvision Digital Technology Co (海康威視).
Before the US export controls, it was the dominant chip supplier to the surveillance camera sector, with brokerage Southwest Securities Co (西南證券) estimating its global share in 2018 at 60 percent.
By 2021, HiSilicon's global market share plummeted to just 3.9 percent, data from consulting firm Frost & Sullivan showed.
One of the sources briefed on the unit's efforts said that HiSilicon had shipped some low-end surveillance chips since 2019, but that its focus was on the high-end arena and reclaiming market share from the likes of Hsinchu-based Novatek Microelectronics Corp (聯詠).
The US sanctions have strangled HiSilicon's access to electronic design automation (EDA) software from Cadence Design Systems Inc and Synopsys Inc, and Siemens AG's Mentor Graphics.
The three firms' products dominate the chip-design sector, which produces blueprints for chips before they are mass manufactured.
Research firm TechInsights, which examined Huawei's Mate 60 Pro smartphone, found that it was powered by a new Kirin 9000S, an advanced chip it said was most likely made in China by China's top chip foundry, Semiconductor Manufacturing International Corp (中芯國際).
TechInsights analyst Dan Hutcheson said that its analysis of the Mate 60 Pro and other components such as its radio frequency power chip also suggested that Huawei had access to sophisticated EDA tools that "they are not supposed to have."
"We don't know if they got them illicitly, or more probably the Chinese developed their own EDA tools," Hutcheson said.
The US has no evidence that Huawei can produce smartphones with advanced chips in large volumes, US Secretary of Commerce Gina Raimondo said on Tuesday at a US House of Representatives hearing in Washington.
All three sources declined to be named, because of the sensitivity of the matter.
Huawei declined to comment.
Comments will be moderated. Keep comments relevant to the article. Remarks containing abusive and obscene language, personal attacks of any kind or promotion will be removed and the user banned. Final decision will be at the discretion of the Taipei Times.