Chinese laws are worrying firms, top EU official says
The European Commission's digital chief yesterday said that murky Chinese laws were fueling concerns among foreign firms in the country, following discussions with Beijing officials about critical areas such as artificial intelligence (AI) and data governance.
Vera Jourova, who is also the commission's vice president, made the comments after meeting on Monday with Chinese counterparts including Vice Premier Zhang Guoqing (張國清) in the second "High-level Digital Dialogue" between the two sides.
Among the concerns Jourova said she had heard about from European businesses in China was the "unpredictability of the decisions and interpretation of the laws by the regulators."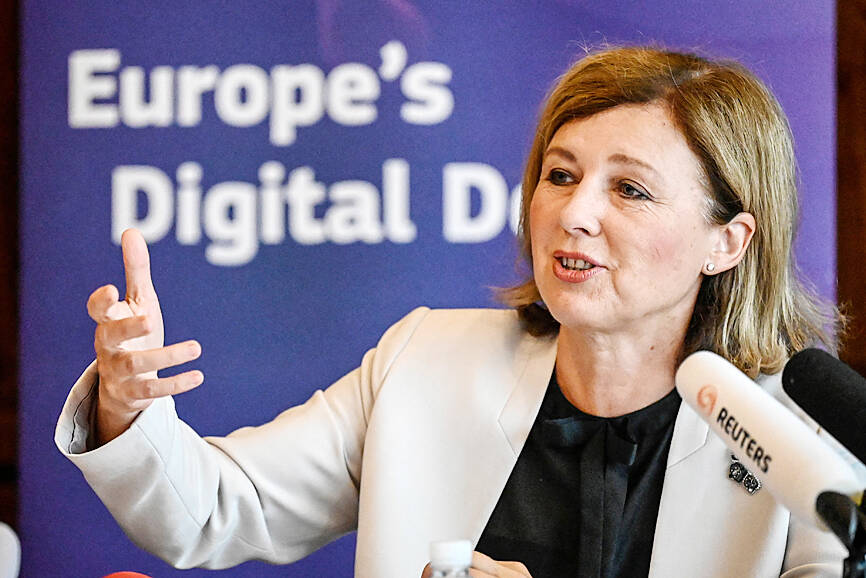 European Commission Vice President Vera Jourova speaks at a news conference in Beijing yesterday.
Photo: AFP
Beijing has recently implemented expansive new regulations covering cybersecurity, counterespionage and data management, citing the need to shore up national security measures.
However, the new regulations have worried some foreign firms, unsure of how their enforcement would affect their business operations in the world's second-largest economy.
"First thing is the not-very-clear wording of the laws, especially missing definitions of, for instance, what is 'important data,' and what ... the companies could be confronted with when transferring the data outside," Jourova told reporters.
Jourova also criticized the "lengthy procedures" foreign firms must undergo to conduct business in the country.
"I think it's 45 days for one process — it lasts very often a much longer time," she said. "Nobody is criticizing the Chinese laws, we just want them to be clear and relatively easy to comply with."
Jourova's visit to Beijing comes just days after Brussels announced a probe into Chinese subsidies for electric vehicles, which it said had resulted in unfair competition.
China said that the investigation would have a negative effect on its trade relations with the bloc, accusing it of "naked protectionism."
Deteriorating ties between China and the West over the past few years have given rise to concerns in Brussels over the potential vulnerabilities posed by AI, misinformation and data security.
"The EU does not seek to decouple from China, but we need to improve our resilience and competitiveness by derisking our economic interdependencies and advancing our technology security agenda in order to remain competitive and protect our essential European interests," Jourova said.
Comments will be moderated. Keep comments relevant to the article. Remarks containing abusive and obscene language, personal attacks of any kind or promotion will be removed and the user banned. Final decision will be at the discretion of the Taipei Times.