Auto strike could weigh on US growth
SPEED BUMP: About 12,700 workers in three states went on strike yesterday with risks to US economic growth increasing if the stoppage were to drag on, experts said
A walkout by more than 12,000 autoworkers yesterday could slow an outperforming US economy should it drag on — even risking the first monthly net drop in payroll employment in nearly three years — but is unlikely on its own to trigger a recession.
Economists see the most immediate risk to activity concentrated in the auto sector itself, which only this year got back on its feet after two years when COVID-19 pandemic-related supply chain bottlenecks hampered vehicle output. With dealer inventories restrained, sales of new cars and trucks slumped even as consumer demand remained strong.
After failing to reach a deal on a new contract with Detroit's "Big Three" automakers, General Motors, Ford and Stellantis, the United Auto Workers (UAW) union yesterday went on strike at three plants in three states. The stoppage for now affects about 12,700 hourly employees.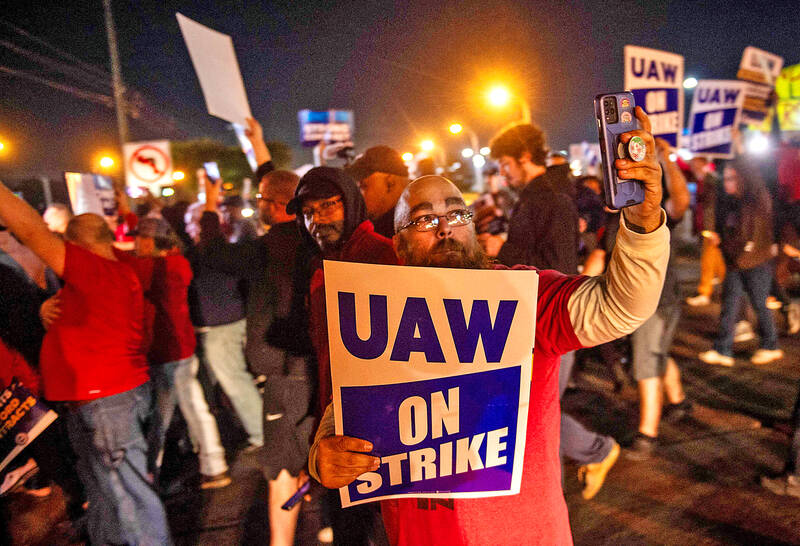 United Auto Workers members picket and hold signs outside the union's Local 900 headquarters across the street from the Ford assembly plant in Wayne, Michigan, yesterday.
Photo: AFP
Should it widen in the weeks ahead to include all 146,000 UAW members at the three companies, it could become the largest automotive industry strike in a quarter century — since more than 150,000 GM workers went off the job for nearly two months in 1998.
That would put "at risk half a billion dollars per day in an economy that generates more than US$26.7 trillion in goods and services each year, or more than US$73 billion per day," RSM chief US economist Joe Brusuelas estimated this week.
RSM estimated the US economy would suffer a modest 0.2 percent drag to annualized growth of GDP this quarter should the strike action last for a month, Brusuelas said.
"While that amount is large in nominal dollar terms, it would not be large enough to tip the economy into recession. In the end, the impact of a such a strike would be modest compared to previous generations," Brusuelas said.
Other economists offered comparable estimates of the potential drag from a prolonged strike by the Big Three's full union membership.
The US economy this year has dodged what was a consensus expectation for falling into recession in the face of aggressive interest rate hikes by the US Federal Reserve to rein in the highest inflation in four decades.
In fact, growth in GDP motored along at an above-trend rate of just above 2 percent annualized through the first six months of the year, and indicators of activity so far in the third quarter suggest it has accelerated further.
That said, activity in some sectors — manufacturing in particular — has recently slowed or even stalled, and a historically hot job market has cooled over the summer.
A full-blown strike "could push US payroll growth temporarily negative," Michael Pearce, lead US economist at Oxford Economics, wrote on Wednesday.
While this was the survey week for the US Department of Labor's monthly nonfarm payrolls report for this month, the fact that union members were on the job for most of the week ahead of the walkout means they would be counted as employed for this month's report, Pearce said.
That means any recorded knock to employment would likely not occur until next month, should the strike last that long, and that would not be reported until early November.
Comments will be moderated. Keep comments relevant to the article. Remarks containing abusive and obscene language, personal attacks of any kind or promotion will be removed and the user banned. Final decision will be at the discretion of the Taipei Times.