Industrial land prices soaring steeply
'MANUFACTURING HUB': Taoyuan's industrial parks made NT$158.7 billion from 2018 to the first half of this year, benefiting from the global supply chain realignment
Land prices in Taiwan's industrial parks grew steeply in the past five years, which was driven by global supply chain realignment, reshoring of Taiwanese firms and demand from foreign technology firms, property consultancy Colliers International Taiwan (高力國際) said in a report yesterday.
The trend might sustain and lend more support to industrial land prices despite slow transactions this year, as firms spend cautiously amid economic uncertainty, Colliers said.
Industrial land transactions totaled NT$651.2 billion (US$20.4 billion) in the past five years with prices more than doubling in areas where land prices were previously cheap, Colliers said, after surveying 15 industrial parks in New Taipei City, Taoyuan, Hsinchu, Taichung, Tainan and Kaohsiung.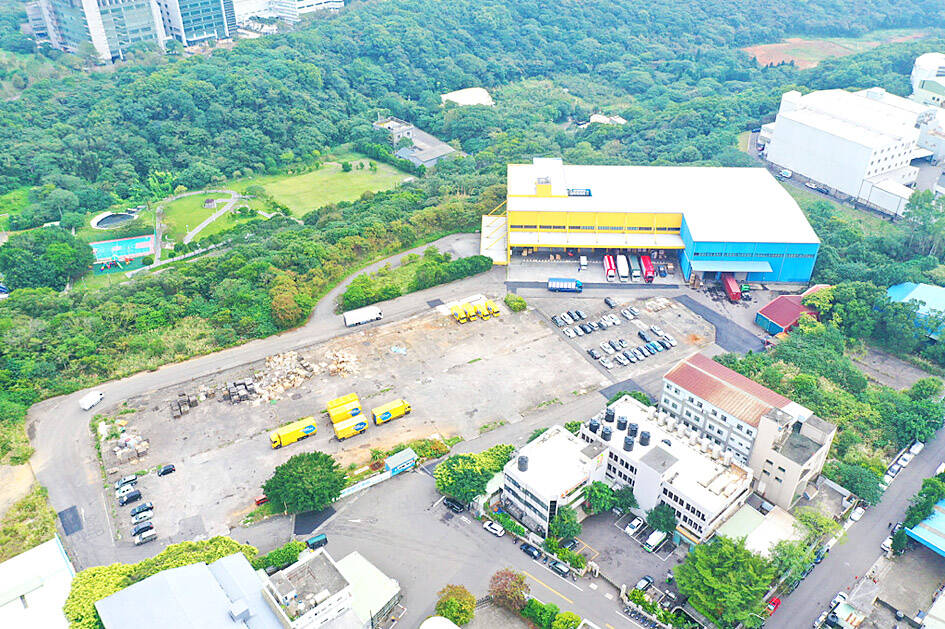 Trucks and a logistics center in Taoyuan's Gueishan Industrial Park are pictured in an undated photograph.
Photo courtesy of Colliers International Taiwan
Land prices soared by 20 percent to 125 percent and the increases were most conspicuous in southern Taiwan owing to low bases, it said.
Land prices for Kaohsiung's Benjhou Industrial Park (本洲產業園區) spiked more than twofold, followed by Tainan's Madou Industrial Park's (麻豆工業區) 89 percent increase and Kaohsiung's Dafa Industrial Park's (大發工業區) 56 percent gain, it said.
The pace of growth reached 20 percent elsewhere in the nation, it said.
Taoyuan, with 34 industrial parks, tops other special municipalities in both industrial land supply and demand, consistent with its status as Taiwan's manufacturing hub, Colliers said.
Industrial land deals in Taoyuan amounted to NT$158.7 billion from 2018 to the first half of this year, driven by reshoring of manufacturing facilities previously in China in the wake of US-China trade frictions, it said.
Hsinchu, Taichung, Tainan and Kaohsiung also benefited from supply chain realignment and capacity expansions of major local tech firms, it added.
By value, industrial plots in New Taipei Industrial Park (新北產業園區) ranked as the most expensive at NT$950,000 to NT$1.1 million per ping (3.3m2), it said, adding that Tucheng Industrial Park (土城工業區) and Hwa Ya Technology Park (華亞科技園區) tied for second place at NT$550,000 to NT$600,000 per ping.
Linkou Gong'er Industrial Park (林口工二工業區) was in the third place at NT$450,000 to NT$500,000 per ping, Colliers said.
It is no longer possible to find industrial plots valued at below NT$100,000 per ping anywhere in Taiwan, it said.
Industrial output at the Southern Taiwan Science Park (南部科學園區) hit NT$458.4 billion in the first four months of this year, surpassing that at Hsinchu Science Park (新竹科學園區) and Central Taiwan Science Park (中部科學園區), after semiconductor equipment supplier ASML Holding NV, chipmaker United Microelectronics Corp (聯電) and Applied Materials Taiwan added a presence, it said.
The southward migration of property funds would continue, thanks to a lack of land supply and increasing unaffordability in northern Taiwan, it said.
Comments will be moderated. Keep comments relevant to the article. Remarks containing abusive and obscene language, personal attacks of any kind or promotion will be removed and the user banned. Final decision will be at the discretion of the Taipei Times.