Far EasTone targeting 10m subscribers
CONSOLIDATION: Far EasTone's and Taiwan Mobile's acquisitions of their smaller peers would reduce the number of telecoms, but intensify competition, Douglas Hsu said
Far EasTone Telecommunications Co (遠傳電信) yesterday said it aims to expand its number of mobile subscribers to about 10 million, or about one-third of the market, as part of its strategy in a new competitive landscape following market consolidation.
Far EasTone made the remarks after last month receiving conditional approval from the Fair Trade Commission to acquire Asia Pacific Telecom Co (亞太電信), clearing the final hurdle to proceed with the deal. The transaction is to take effect next quarter.
"The number of telecoms will shrink following the merger of Far EasTone and Asia Pacific, but the market competition will intensify," Far EasTone chairman Douglas Hsu (徐旭東) told reporters.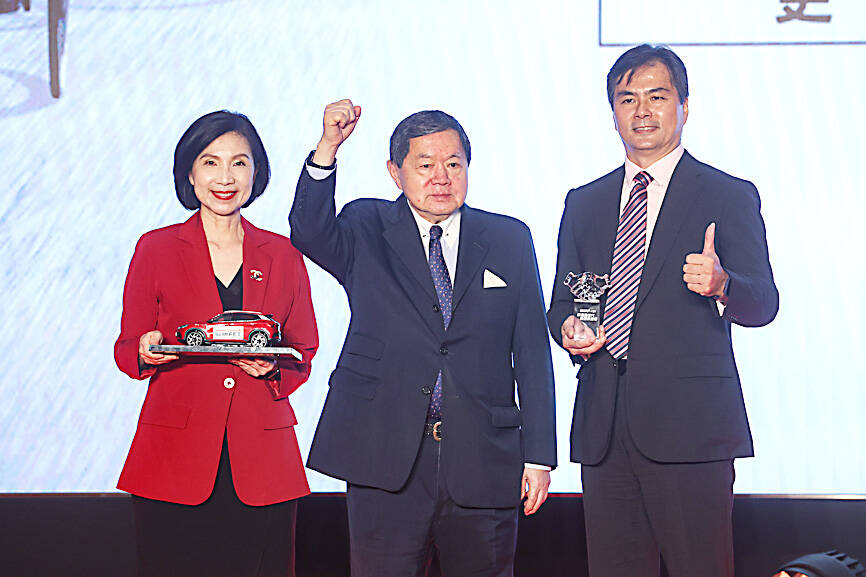 From left, Far EasTone Telecommunications Co president Chee Ching, Far EasTone chairman Douglas Hsu and Asia-Pacific Telecom Co chairman Steven Chen gesture at a news conference in Taipei yesterday.
Photo: CNA
Far EasTone would be competing head-to-head with its rivals, which have almost identical subscriber bases, following the acquisition of Asia Pacific, company president Chee Ching (井琪) said.
The new entity would have a combined 9.2 million mobile subscribers, lagging behind Chunghwa Telecom Co's (中華電信) 11.15 million, but ahead of an estimated 9.8 million for Taiwan Mobile Co (台灣大哥大) after it acquires Taiwan Star Telecom Corp (台灣之星).
The nation's competition watchdog is widely expected to give the go-ahead later this month at the earliest to Taiwan Mobile's bid to absorb Taiwan Star after wrapping up a 30-day review.
As a result, the number of telecoms in Taiwan would shrink to three from five.
Far EasTone said that more than 36 percent, or about 2 million, of its post-paid subscribers, not including Asia Pacific's, are 5G users.
To woo more mobile subscribers from rivals, Far EasTone yesterday rolled out new service plans with affordable monthly rates from NT$149 to NT$399 (US$4.66 to US$12.48) and heavy subsidies for smartphones and home appliances.
The new service plans target 4G users and their potential to upgrade to 5G service.
One of its promotions for new 5G service subscribers is a free Samsung smartphone and a rice cooker for a minimum 12-month subscription plan at NT$599 per month plus a NT$1 fee.
Far EasTone expects to complete the network integration with Asia Pacific within one month after it takes effect.
The company would operate 12,500 base stations nationwide as a result of infrastructure optimization, it estimated.
The telecom said it does not expect the merger to incur significant increases in capital spending due to base station additions.
It has budgeted NT$9 billion for this year's capital expenditure, down from an outlay of NT$9.9 billion last year.
Far EasTone expects the merger to significantly increase its spectrum resource, especially in the low-band bandwidth, or lower-than 1-gigahertz band, which is considered the most efficient band.
Far EasTone would operate 50 megahertz of bandwidth, up 66 percent.
The company's 5G bandwidth would also rise 50 percent to 120 megahertz.
Comments will be moderated. Keep comments relevant to the article. Remarks containing abusive and obscene language, personal attacks of any kind or promotion will be removed and the user banned. Final decision will be at the discretion of the Taipei Times.