US could be short 67,000 chip workers by 2030, study finds
The US semiconductor industry faces a shortfall of about 67,000 workers by 2030, an industry association study published yesterday said.
The chip industry's workforce is projected to grow to 460,000 by the end of the decade, up from about 345,000 this year.
However, at the rate that people are graduating from schools, the US cannot not produce enough qualified workers to fill the increase, said the study prepared by the Semiconductor Industry Association (SIA) and Oxford Economics.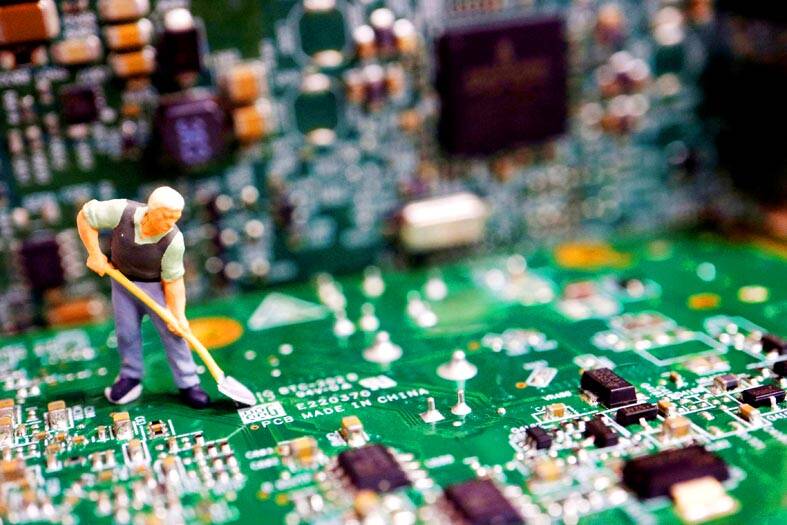 A figurine worker stands among printed circuit boards on July 5.
Photo: Reuters
The study comes as the US works to improve its domestic chip sector. The US' Creating Helpful Incentives to Produce Semiconductors (CHIPS) and Science Act, which sets aside money for new manufacturing sites, and research and development, was signed into law on Aug. 9 last year.
The US Department of Commerce is overseeing the US$39 billion in manufacturing subsidies stipulated under the act, and companies such as Intel Corp, Taiwan Semiconductor Manufacturing Co (台積電) and Samsung Electronics Co have said they would apply for them.
The law also created a 25 percent investment tax credit for building new chip factories, or fabs, that is worth US$24 billion.
Those factories would create jobs, the SIA said.
The projected shortage includes computer scientists, engineers and technicians. Roughly half of future chip industry jobs are expected to be for engineers.
"This has been a problem that we've been facing for a long time," SIA president John Neuffer said. "But with the CHIPS Act in particular, and the kind of the bending the arc of history towards more manufacture here on US shores, it really kind of threw this acute problem into bold relief."
The shortage of skilled chip workers is part of a larger shortfall of science, technology, engineering and math graduates in the US, the report said, adding that by the end of this year, 1.4 million positions might go unfulfilled.
Comments will be moderated. Keep comments relevant to the article. Remarks containing abusive and obscene language, personal attacks of any kind or promotion will be removed and the user banned. Final decision will be at the discretion of the Taipei Times.