Intel, Asustek team up on development of NUC mini-PCs
Semiconductor giant Intel Corp and PC brand Asustek Computer Inc (華碩) have agreed to team up to manufacture, sell and support new generations of the Next Unit of Computing (NUC) line of mini-PCs.
NUCs are a line of small computers designed by Intel that are small enough to be held in one hand, but still pack the power and utility of a complete computer system. They function like a PC, and are used with a mouse, keyboard and monitor or other types of screens.
In a statement released overnight, Intel said the two companies have agreed to a term sheet to take the Intel NUC product line forward.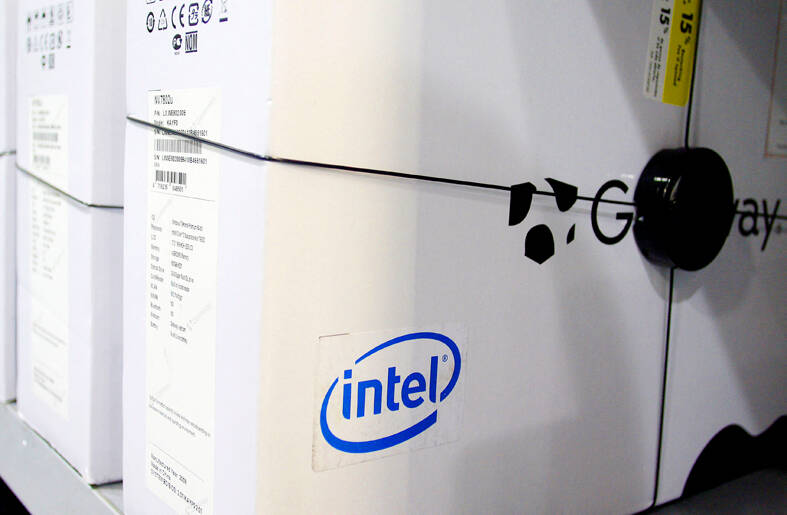 The Intel logo is pictured on the side of a computer box at an electronics store in Phoenix, Arizona, on Nov. 4, 2009. Intel Corp was sued on Wednesday by New York Attorney General Andrew Cuomo, who accused the world's largest chipmaker of threatening computer makers and paying billions of dollars in kickbacks to maintain its market dominance.
Photo: Reuters
Intel said Asustek's expertise and track record delivering industry-leading mini-PCs to customers makes it ideally suited to continue driving innovation and growth in NUC products.
The partnership came after Intel announced earlier this month that it plans to stop "direct investment" in its NUC line, but said the company aimed to change its strategy to enable its ecosystem partners to continue innovating the mini-PCs.
Under the agreement, Asustek is to receive a non-exclusive license to Intel's NUC designs, enabling it to produce and sell 10th to 13th-generation NUC systems, as well as develop future designs.
In addition, Asustek is to launch a new business unit called Asus NUC BU to provide product and support continuity for Intel NUC customers.
"As we pivot our strategy to enable ecosystem partners to continue NUC systems product innovation and growth, our priority is to ensure a smooth transition for our customers and partners," Intel vice president and Intel Client Platform Solutions general manager Sam Gao (高嵩) said in the statement.
"I am looking forward to Asus continuing to deliver exceptional products and supporting our NUC systems customers," he said.
Also in the statement, Asustek chief operating officer Joe Hsieh (謝明傑) said the partnership would have benefits for his company's PC development.
"I am confident that this collaboration will enhance and accelerate our vision for the mini-PC — greatly expanding our footprint in areas such as AI [artificial intelligence] and AIoT [AI of Things]," Hsieh said.
Comments will be moderated. Keep comments relevant to the article. Remarks containing abusive and obscene language, personal attacks of any kind or promotion will be removed and the user banned. Final decision will be at the discretion of the Taipei Times.