Rent holds firm, rising 1.98% to a new record
The nation's rent index last month climbed another 1.98 percent to a record 103.66, as landlords passed on rising holding costs to tenants, Sinyi Realty Inc (信義房屋) said yesterday.
It was the first time in 12 months the pace of gains slowed below the 2 percent mark, but it remained a key factor in bolstering housing prices, Sinyi research manager Tseng Ching-der (曾進德) said.
The rent reading, tracked by the Directorate-General of Budget, Accounting and Statistics (DGBAS), has made noticeable advances for two years, as soaring house prices in the past few years prompted people to rent rather than buy their own home, the analyst said.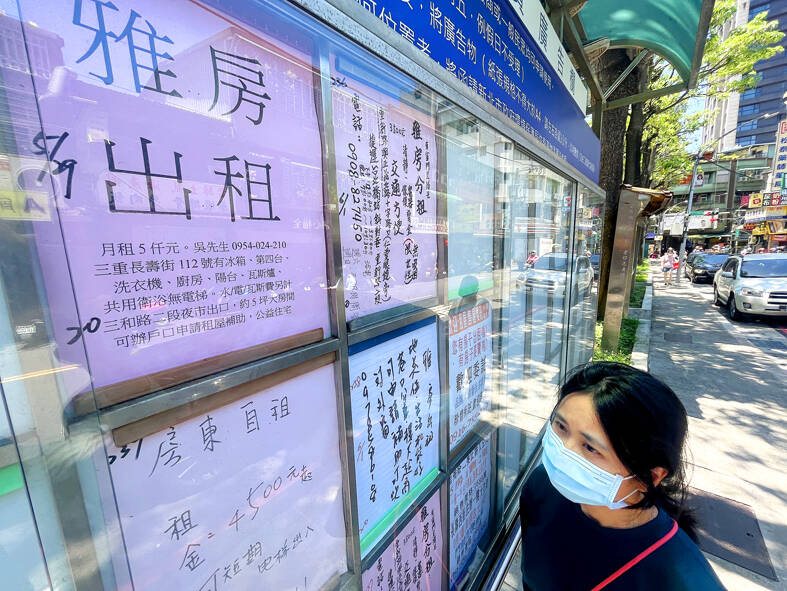 A woman looks at ads for rental properties in New Taipei City's Sanchong District on July 1.
Photo: CNA
An ongoing economic weakness, interest rate hikes and unfavorable policy measures also curbed buying interest, Tseng said.
Nonethelesss, housing prices held firm, as developers refused to concede, buoyed by rising land, labor and building material prices, as well as the belief that real-estate properties are a proven bulwark against inflation.
Rent in central Taiwan reported the steepest gain of 2.59 percent, followed by rent in eastern Taiwan at 2.55 percent, southern Taiwan at 2.11 percent and northern Taiwan at 1.74 percent, Sinyi said, citing DGBAS figures.
Tseng said it was too early to tell whether the government's plan to raise the cap on house taxes from 3.6 percent to 4.8 percent on multiple homes would spur another round of rent hikes.
The proposed tax adjustments still need to clear the legislature and would not affect landlords' holding costs until they are implemented in July next year at the earliest, Tseng said, adding that a healthy job market has lent support to rental rates.
In related developments, new housing and presale projects in the first six months of the year surged 26.75 percent from a year earlier to NT$695.64 billion (US$22.52 billion) in northern Taiwan, as developers introduced more office buildings to meet robust demand, a report by property researcher My Housing Monthly said.
The value represented a new high since 2012, as developers sought to take advantage of the low vacancy rate for upscale offices in popular locations, the publication said.
Vacancy rates last quarter stood unchanged at 2.7 percent for Grade-A offices in Taipei, while rent inched up 1.3 percent, despite an economic slowdown, property consultancy Jones Lang LaSalle (JLL) Taiwan said.
That explained why presale and new housing projects in Taipei surged more than twofold to NT$323.02 billion in the first half of this year, but shrank in New Taipei City, Keelung and Taoyuan, My Housing Monthly said.
Urban renewal projects also made sizable contributions to new and presale house projects, as they are not subject to lending restrictions by the central bank to curb property speculation, it said.
Comments will be moderated. Keep comments relevant to the article. Remarks containing abusive and obscene language, personal attacks of any kind or promotion will be removed and the user banned. Final decision will be at the discretion of the Taipei Times.