TSMC denies US 'brutal' corporate culture claims
Taiwan Semiconductor Manufacturing Co (TSMC, 台積電), the world's largest contract chipmaker, on Monday issued a statement about the balanced life environment it provides its employees, in response to a Fortune article at the weekend in which several former and current employees in the US were quoted complaining about the company's "brutal" corporate culture.
In the statement, TSMC said average work hours at the company have not exceeded 50 hours a week over the past two years with only a few exceptions, such as when the company introduces a new technology process or speeds up building a new plant. In such situations, a ceiling of 60 working hours a week is observed.
TSMC said it is the company's unshirkable responsibility to provide employees with a balanced life environment, and with ongoing efforts to expand production worldwide the chipmaker is aware its top priority is to cultivate and manage cross-border talent.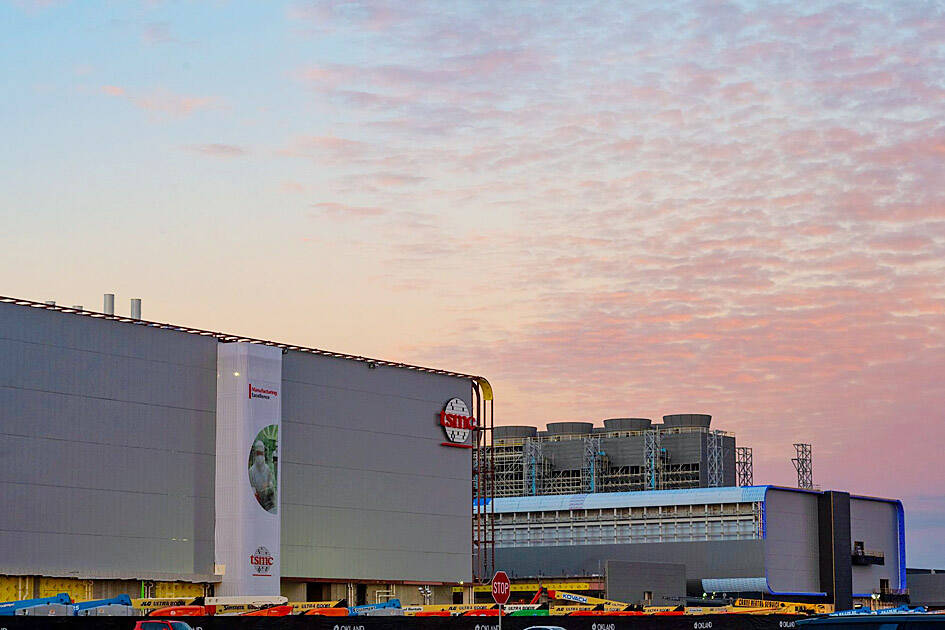 A Taiwan Semiconductor Manufacturing Co wafer fab under construction in Phoenix, Arizona, is pictured on Dec. 6 last year.
Photo: Bloomberg
The company said it currently has a workforce of more than 70,000 employees worldwide.
The statement came after Fortune magazine cited messages posted by former and current TSMC employees in the US on an online job search Web site that they worked 12 hours a day, and weekend shifts were not uncommon.
"People ... slept in the office for a month straight," a TSMC engineer was quoted as saying in a message posted to Glassdoor in August last year. "Twelve-hour days are standard, weekend shifts are common. I cannot stress ... how brutal the work-life balance is here."
"TSMC is about obedience [and is] not ready for America," another TSMC engineer was quoted as saying in a message posted in January.
Fortune said that TSMC's US operations have earned a 27 percent approval rating on Glassdoor from 91 reviews, which means that less than one-third of reviewers would encourage others to work there. On the other hand, Intel Corp, one of TSMC's major rivals, has an 85 percent approval rating, albeit from tens of thousands more reviews.
TSMC is spending US$40 billion to build two wafer fabs in Arizona, with one to use the 4-nanometer process and the other the more advanced 3-nanometer process. They are scheduled to start mass production next year and in 2026 respectively.
The 3-nanomater process is the latest technology TSMC uses for commercial production in Taiwan.
For its new production sites in Arizona, TSMC brought engineers hired in the US to Taiwan for training before they started their jobs. In addition, the company has sent Taiwanese engineers to Arizona in preparation for the opening of the new plants.
Due to its expansion globally, TSMC's workforce continues to grow and has become diverse, the company said, adding that it listens to a wide range of opinions from its employees through established communications channels.
TSMC said it has established a comprehensive recruitment and training package, while trying its best to retain employees and place them in the right positions.
In addition to 13 site labor-management meetings, TSMC has also set up 10 new Silicon Garden Meetings, labor-management meetings by function/division and launched a dedicated opinion collection system in the fourth quarter of last year to enhance communications and forge better ties with its employees, the company said.
The Silicon Garden Meetings allow employees to voice their opinions via employee representatives during quarterly meetings and the online system can also be used to express their opinions at any time, TSMC said.
Through these communication channels, employees are able to give their opinions using their real names or anonymously, and responses are provided in a timely manner, the company said.
Comments will be moderated. Keep comments relevant to the article. Remarks containing abusive and obscene language, personal attacks of any kind or promotion will be removed and the user banned. Final decision will be at the discretion of the Taipei Times.