TSMC rallies on deeper Nvidia partnership
Taiwan Semiconductor Manufacturing Co (TSMC, 台積電) shares yesterday rallied 2 percent on the local stock market after Nvidia Corp said the contract chipmaker would be the sole supplier of its latest graphics processing chip, defusing speculation that Intel Corp would get a share of the orders.
TSMC's share price climbed to NT$562, snapping a three-day losing streak. It outperformed the benchmark index's 1.18 percent gain. Net purchases by foreign institutional investors yesterday totaled 8.37 million shares, reversing net sales of 2.9 million shares on Thursday.
The rebound follows Nvidia's announcement that its latest artificial intelligence graphics processing unit (GPU), codenamed H100, would be made using the Taiwanese firm's 4-nanometer process technology, extending its partnership with the world's biggest contract chipmaker.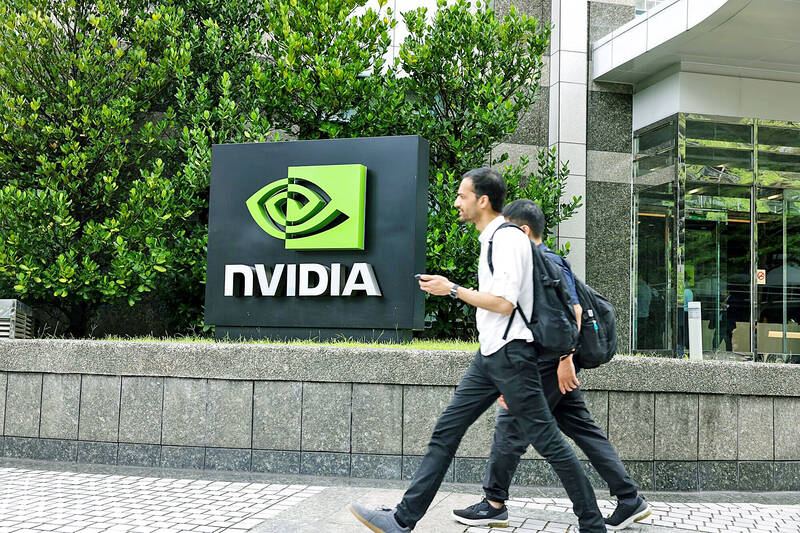 People walk by a Nvidia Corp signage at its offices in Taipei yesterday.
Photo: Cheng I-hwa, Bloomberg
"Our next-generation [GPU] gonna be made at TSMC," Nvidia founder and chief executive offer Jensen Huang (黃仁勳) told reporters on Thursday in Taipei after appearing on the stage with server maker Super Micro Computer Inc's chief executive Charles Liang (梁見後) at Computex Taipei.
"We are diversifying through multiple nodes and multiple fabs at TSMC. We are also going to diversify in the US at TSMC. So TSMC is now part of Nvidia's diversity and redundancy strategy," Huang said. "It will take some time to target designs for the US fab."
TSMC's new US fab in Arizona is to commence mass production of 4-nanometer chips by the end of next year.
The Hsinchu-based chipmaker is planning a second fab in the US to make 3-nanometer chips. Together, the two fabs would have an installed capacity of 600,000 12-inch wafers, it said.
Huang said TSMC is a company with "immense capacity" and "incredible agility."
Besides, TSMC is running its local fabs at a high yield rate and delivers very good costs, Huang said.
The demand for Nvidia's H100 AI GPU processor "is extremely high," he added.
Huang dismissed a media report that Nvidia could make its H100 GPU processor at Intel. TSMC is also the supplier of Nvidia's previous generations of GPU, including the A100 and A800 series, using TSMC's 7-nanometer process technology.
"That's not true," Huang said. "TSMC's process technology is, as you know, world class."
Huang on Wednesday said Nvidia adopted a diversity and redundancy strategy to safeguard the resilience of its supply chain.
The company also works with Samsung Electronics Co and is open to cooperating with Intel on manufacturing, he said.
Comments will be moderated. Keep comments relevant to the article. Remarks containing abusive and obscene language, personal attacks of any kind or promotion will be removed and the user banned. Final decision will be at the discretion of the Taipei Times.