Temasek penalizes staff over FTX investment
Singapore state investment fund Temasek Holdings Pte yesterday said that it had slashed compensation for the team and senior management responsible for its investment in collapsed cryptocurrency exchange FTX.
FTX and its sister trading house Alameda Research went bankrupt in November last year, dissolving a virtual trading business that at one point had been valued at US$32 billion.
Prosecutors allege that then-FTX chief executive Sam Bankman-Fried cheated investors and misused funds that belonged to FTX and Alameda Research customers.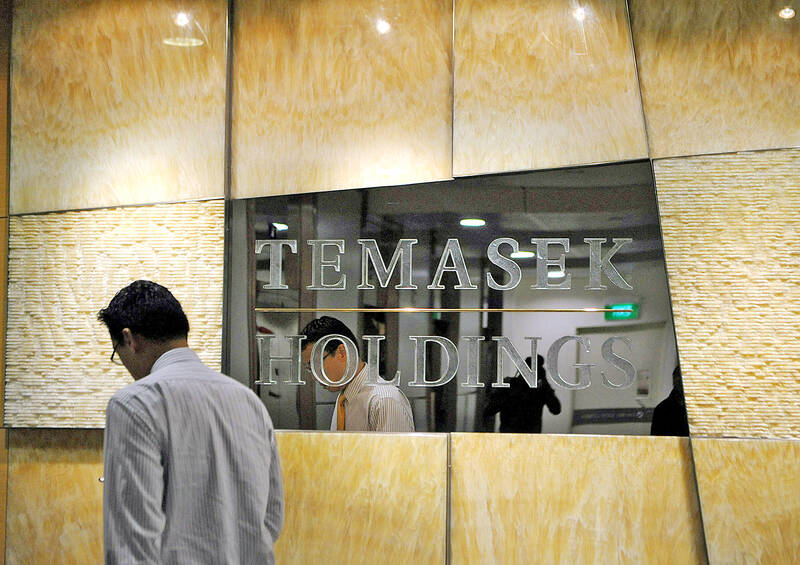 A man walks past the Temasek Holdings Pte logo in Singapore on February 6, 2009.
Photo: AFP
Bankman-Fried has pleaded not guilty to all charges and is due to go on trial in New York in October.
Temasek wrote down US$275 million of investments in FTX and launched an internal review.
"Although there was no misconduct by the investment team in reaching their investment recommendation, the investment team and senior management, who are ultimately responsible for investment decisions made, took collective accountability and had their compensation reduced," Temasek chairman Lim Boon Heng (林文興) said in a statement on the company's Web site.
He did not give details.
Temasek said it invested in new sectors and emerging technologies to better understand how they could affect its existing portfolios and drive future growth.
"With FTX, as alleged by prosecutors and as admitted by key executives at FTX and its affiliates, there was fraudulent conduct intentionally hidden from investors, including Temasek," the statement said. "Nevertheless, we are disappointed with the outcome of our investment, and the negative impact on our reputation."
Temasek said it had invested US$210 million in FTX International and US$65 million in FTX (US), across two funding rounds from October 2021 to January last year.
The cost of the investment was 0.09 percent of its net portfolio valued at S$403 billion (US$297.9 billion) as of March 31 last year, the end of its financial year, the fund said.
Comments will be moderated. Keep comments relevant to the article. Remarks containing abusive and obscene language, personal attacks of any kind or promotion will be removed and the user banned. Final decision will be at the discretion of the Taipei Times.