Climate change insurance offers lifeline to at-risk communities
With parametric insurance there is no need to prove losses; it can pay within days if a predetermined threshold linked to factors such as temperature, wind speed or rainfall is reached
A bright sun beat down on the sprawling Indian market where Kamlaben Ashokbhai Patni sat worrying about the brass jewelry on display in her wooden stall.
When the heat rises, the metal blackens and plastic pearls become unglued.
"The color of the jewel starts to fade as it becomes hotter, making it worthless and akin to junk," said the 56-year-old mother of four, on a day in late April when temperatures simmered around 38°C in the western city of Ahmedabad, India.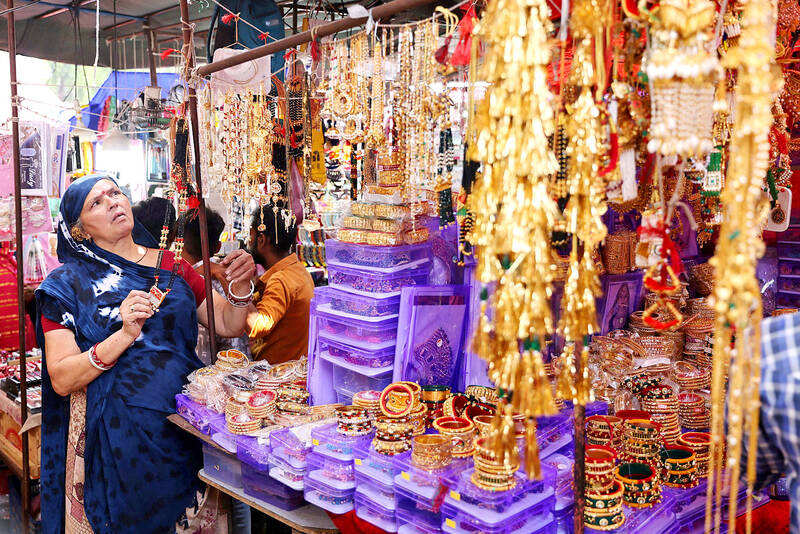 Kamlaben Ashokbhai Patni adjusts imitation jewelry at a stall in a market in Ahmedabad, India, on April 30.
Photo: Reuters
Climate change drove heat in the city to a record-breaking 48°C in 2016. Last year, it peaked at nearly 46°C.
Such high temperatures could mean a hit to business, but Patni is among 21,000 self-employed women in Gujarat state enrolled in one of the world's first insurance schemes for extreme heat, launched this month by the nonprofit Arsht-Rock Foundation Resilience Center in partnership with microinsurance start-up Blue Marble and a trade union.
If temperatures climb high enough above historical averages and linger there for three days, she would receive a small payout to help cope and compensate lost income.
While traditional insurance can take months to pay, with so-called "parametric" insurance there is no need to prove losses. It can pay within days of a trigger being reached — a predetermined threshold beyond which conditions are considered extreme. Payments can be set to things such as wind speeds or rainfall.
This form of disaster assistance is on the rise across the developing world, as vulnerable communities are hammered by worsening drought, storms and heatwaves.
However, with climate change happening faster and causing more damage than scientists had predicted — and too little money being spent on protecting populations — such projects could struggle over the longer term, more than 20 industry experts consulted by Reuters said.
Reinsurer Swiss RE reported that sales of parametric product jumped 40 percent between 2021 and August last year.
Insurance analysts at Allied Market Research estimate that the market, valued at US$11.7 billion in 2021, could reach US$29.3 billion by 2031.
At annual climate talks in Egypt last year, nonprofits urged richer nations to help finance parametric insurance as a way of compensating victims of worsening weather extremes.
It is still somewhat niche "but it's growing," said Ekhosuehi Iyahen, secretary-general of the Insurance Development Forum, an industry-led group that promotes insurance for non-traditional markets.
The past year has seen new products rolled out across Latin America, Africa and the Asia-Pacific region. The UN Capital Development Fund, for example, recently developed parametric policies for Vanuatu, Tonga and Fiji covering cyclone damage.
LIMITS
While parametric insurance has been around since the 1990s, recent advances in satellite technologies have opened up areas that were previously difficult to assess for damage, such as distant islands or mountain communities.
However, some industry experts question whether the products are likely to be financially viable in the long-run, in part because of too-frequent payouts due to climate risks escalating faster than predicted less than a decade ago. This could drive up premiums.
Some schemes have already fizzled. The Kenya Livestock Insurance Program, for example, supported pastoralists hit by drought with 1.2 billion Kenyan shillings (US$8.7 million at the current exchange rate) in payouts between 2015 and 2021.
Yet with just 1.1 billion shillings collected in premiums, the scheme operated at a loss and was replaced this year with another that offers other financial savings products alongside insurance.
At the moment, insurance schemes in the developing world are largely subsidized by nonprofit groups, national governments or wealthy countries.
Many of the programs aspire to have policyholders eventually cover more, if not all, of the premium.
However, worsening extremes could make that difficult, said Viktor Roezer, a climate change adaptation and resilience researcher at the London School of Economics.
The programs could just become a "different channel for aid," he said.
Interviews with more than a dozen groups involved in such insurance found that most products launched in the past five years had already paid out.
The products need to "geographically diversify; we have to have schemes spread out in different areas" to dilute the risk, said Jaime de Pinies, CEO of the Blue Marble group that developed the Gujarat heat program, as well as others in Colombia, Zimbabwe and Mozambique.
NEED TO ADAPT
One way of avoiding constant payouts, is for governments to implement better strategies to defend against weather extremes, for example by planting crops more resilient to drought or building cooler homes to protect against rising heat, thus slashing losses, industry analysts say.
This could enable insurers to set triggers higher.
"The beauty of the parametric is that it pays so quickly and it's incredibly flexible, but it needs to be paired with actions or tools that reduce the risk," Arsht-Rock director Kathy Baughman McLeod said.
Arsht-Rock Foundation Resilience Center is covering the US$10.30 per person premium in Gujarat.
Investment in boosting resilience remains marginal in most developing economies, with financing promised by richer countries not yet fully materializing.
Donor nations mobilized just US$29 billion in 2020 to help poorer countries adapt to a warmer world — far below the US$340 billion estimated by the UN Environment Programme that is to be needed each year by 2030.
"In most cases, there is zero adaptation spend," said Jonathan Gonzales, CEO of parametric start-up Raincoat, which has deployed five projects in Colombia, Mexico, Jamaica and Puerto Rico.
HEAT EFFECTS
Across the world, heatwaves that once had a one-in-10 chance of occurring in any given year prior to the industrial revolution are now nearly three times as likely, and 1.2°C hotter, a study published last year in the journal Environmental Research Letters said.
Scientists expect things to get worse, with such heatwaves becoming nearly six times as likely if greenhouse gas emissions continue unabated and the world reaches 2°C of warming, the study found.
In the case of the Gujarat heat scheme, insured by ICICI Bank with the Self Employed Women's Association (SEWA) as the group policyholder, the calculation determining the trigger varies across five districts. It is based on temperature expectations from historical trends over six 10-day assessment cycles.
In Ahmedabad, for example, payouts occur when temperatures add up to between 134°C and 138°C over the course of three days, assessed using satellite data. The policy can pay out multiple times, to a maximum of US$85.
"For vulnerable women on the margins, enduring extreme temperatures for three days directly amplifies the chances of sickness or death," said Sahil Hebbar, a physician attending to the women in SEWA who work jobs in construction, trash collecting and shipbreaking.
Insurance payouts enable them to buy things such as gloves to protect their hands from scorching hot metal tools, or fans to stay cool and avoid heat exhaustion.
Had the insurance scheme been in place last year, it would have led to averaged payouts of US$28 per person, de Pinies said.
Sitting in the market, Patni said if temperatures climbed higher she would put payout money toward medicine to help with heat-related headaches.
"I spend 15 hours at the stall every day ... in summers it becomes difficult to stay here," she said.
Across the city, Heena Kamlesh Parmar, 26, works as a daily wage laborer at a construction site where she is building a high-rise residential complex, earning 350 rupees (US$4.22) per day.
The heat makes her want to take a break from hauling bricks to rest in shade, but she fears that could lead to a pay cut, she said.
If she receives a payout, Parmar said that she would "use it to buy things for my house, things to eat."
Comments will be moderated. Keep comments relevant to the article. Remarks containing abusive and obscene language, personal attacks of any kind or promotion will be removed and the user banned. Final decision will be at the discretion of the Taipei Times.