TSMC says new chips to be world's most advanced
'NO DOUBT': The company's remarks followed a report that Samsung was planning to overtake TSMC as the world's No. 1 chipmaker with a technology of its own
Taiwan Semiconductor Manufacturing Co (TSMC, 台積電) yesterday expressed confidence that its 2-nanometer process technology would be the most advanced foundry technology in the world when it is introduced in 2025, shrugging off Samsung Electronics Co's plans to overtake its technology leadership position.
"Today, the 3-nanometer technology we offer is the world's most advanced technology. When we launch our 2-nanometer technology in 2025, there is no doubt in my mind that it will be the most advanced semiconductor technology in the world," senior vice president of business development Kevin Zhang (張曉強) said in response to a reporter's question about Samsung's plans.
Two enhanced versions, dubbed N2P and N2X, would be launched in 2026, TSMC said during an annual technology symposium in Hsinchu.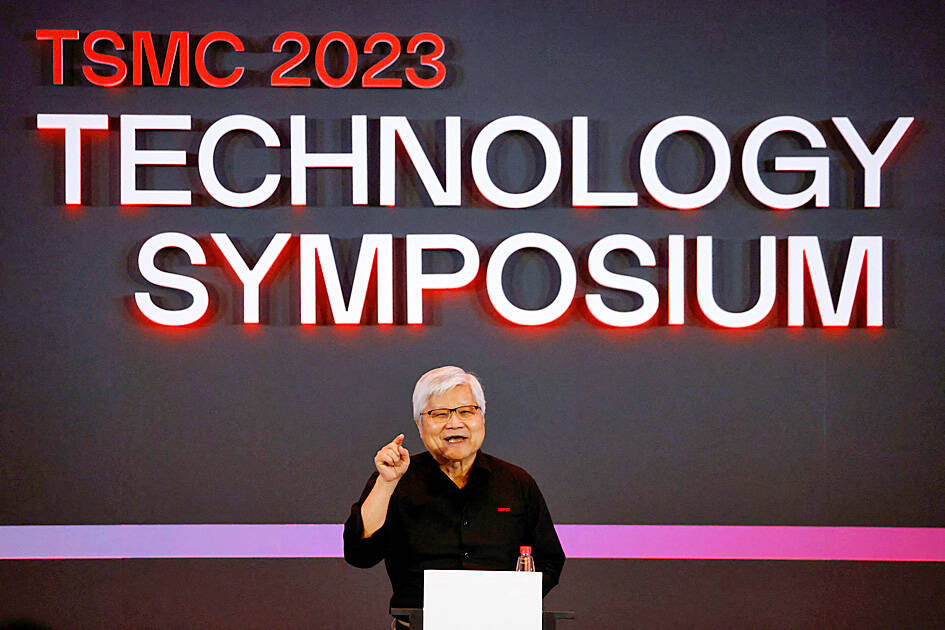 Taiwan Semiconductor Manufacturing Co CEO C.C. Wei speaks during a tech symposium hosted by the company in Hsinchu yesterday.
Photo: Carlos Garcia Rawlins, Reuters
Samsung aims to surpass its bigger foundry rival TSMC to become the industry leader within five years, the Korea Economic Daily reported on Thursday last week.
The South Korean technology giant expects to get ahead of TSMC with its 2-nanometer processing node, Samsung's head of semiconductor business Kyun Kye-hyun said during a lecture.
Samsung plans to mass produce 2-nanometer chips in 2025 as well. Its 2-nanometer technology would be based on the get-all-around structure, while TSMC adopts a nano sheet transistor structure, which it believes is a more mature technology, with less power consumption and greater performance.
In preparation for the mass production of its 2-nanometer chips, TSMC, the world's biggest contract chipmaker, is constructing a new factory in Hsinchu and would break ground for another one in Taichung next year.
The 2-nanometer chips would be used in smartphones and high-performance-computing (HPC) devices, the chipmaker said.
Commenting on market concern about TSMC's 3-nanometer process, Zhang said the technology's yield would soon catch up with that of its 5-nanometer process.
"We have strong confidence in our 3-nanometer processor, which is stable," Zhang said. "We are seeing 1.5 to two times the number of customers engaging in our 3-nanometer [technology] compared with 5-nanometer during the initial period."
Its automaker customers are participating in a program to upgrade to a new version of 3-nanometer auto chips, called Auto Early technology, Zhang said.
The new technology would allow customers to start designing chips two to three years earlier than before and to shorten their time to market, he said.
TSMC last month said that it was unable to meet customers' demand for 3-nanometer chips.
Most of its smartphone and HPC customers are migrating to the 3-nanometer technology, Zhang said.
TSMC chief executive officer C.C. Wei (魏哲家) yesterday in Hsinchu said that TSMC is a more reliable and trustworthy partner, as it does not compete with its customers.
"Our two competitors, one from South Korea and one based in California, develop their [own] products," Wei said.
"TSMC does not develop [its own] products. We do not compete with you," he told customers.
Samsung and Intel Corp are competing with TSMC to vie for a bigger market share and technology leadership.
Comments will be moderated. Keep comments relevant to the article. Remarks containing abusive and obscene language, personal attacks of any kind or promotion will be removed and the user banned. Final decision will be at the discretion of the Taipei Times.