Eased controls benefit retailers
Eased COVID-19 restrictions helped the retail, and food and beverage sectors post record sales during the first two months of this year, the Ministry of Economic Affairs said on Thursday.
Sales in the retail sector hit NT$737.6 billion (US$24.27 billion), a 4.4 percent annual increase and the highest on record for the period, the ministry said.
Meanwhile, sales in the food and beverage industry rose 20.6 percent from a year earlier to a record NT$178.2 billion.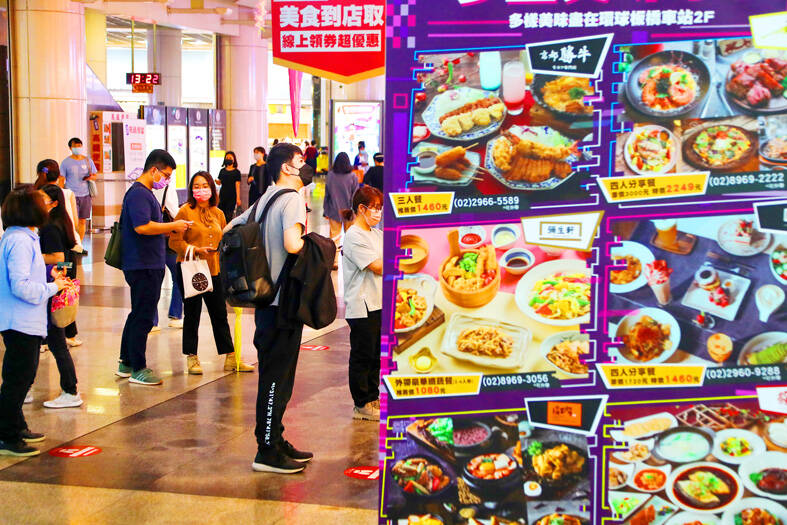 People walk along the food court inside the Banqiao Railway Station in New Taipei City on June 16 last year.
Photo: CNA
The lifting of most COVID-19 restrictions in Taiwan has made consumers more willing to spend on dining and going out, Department of Statistics Deputy Director-General Huang Wei-jie (黃偉傑) said.
In the first two months of the year, sales at department stores rose 10.2 percent annually to NT$75.3 billion, sales at supermarkets gained 5.6 percent to NT$41.6 billion, sales at convenience stores added 8.9 percent to NT$65.8 billion and sales at hypermarkets increased 6 percent to NT$44.6 billion.
Sales at restaurants rose 21.4 percent to NT$152.0 billion during the period, while sales at beverage shops rose 9 percent annually to NT$19.7 billion.
However, sales in the wholesale sector, which is still affected by weak global demand, fell 10.6 percent from a year earlier to NT$1.78 trillion, the ministry said.
Huang said industries catering to local consumers, such as retailers and restaurants, performed better than the wholesale industry amid recovering consumption in the post-pandemic era.
However, the pace of revenue growth could slow this month, due to a high comparison base last year, he added.
Sales in the food and beverage industry is expected to rise between 0.1 and 3.1 percent annually to between NT$344.4 billion and NT$354.8 billion, while revenue is expected to increase between 15 and 16 percent annually to between NT$72 billion and NT$74 billion, Huang said.
Revenue in the wholesale industry is expected to fall between 13.2 percent and 16.2 percent from a year earlier to between NT$981.8 billion and NT$1.02 trillion this month, he said.
Comments will be moderated. Keep comments relevant to the article. Remarks containing abusive and obscene language, personal attacks of any kind or promotion will be removed and the user banned. Final decision will be at the discretion of the Taipei Times.