Taipower debt leverage tipped to slow, not reverse
Electricity rate hikes and cash injections would slow debt leverage at Taiwan Power Co (Taipower, 台電), but not fast enough to reverse the uptrend, Taiwan Ratings Corp (中華信評) said in a note yesterday.
High operating costs and capital spending needed to shift Taiwan's power structure toward renewable sources accounted for the observation, the local arm of S&P Global said.
The government last week announced that it would increase electricity prices by 11 percent to NT$3.1154 per kilowatt-hour (kWh), effective next month, to keep Taipower afloat, but the adjustment is still lower than the company's service costs, which stood at NT$4.4054 kWh in January, it said.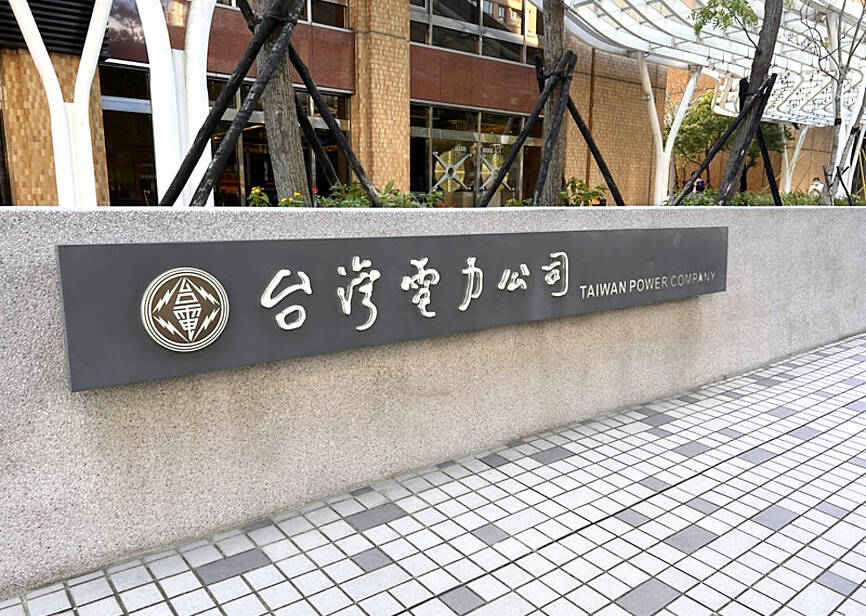 Taiwan Power Co signage is pictured at the company's headquarters in Taipei on Nov. 17 last year.
Photo: Lin Jing-hua, Taipei Times
The government earlier indicated it would give Taipower a NT$200 billion (US$6.54 billion) injection to help ease its losses.
However, the tariff hikes and fund injections are insufficient to finance Taipower's operation and capital expenditure without aggravating its debt, Taiwan Ratings said.
Taipower incurred NT$32.1 billion in pretax losses in January and the figure is expected to spike to NT$200 billion in December after factoring in the tariff increase, it said, adding that it expects fuel prices to fall gradually for the rest of the year.
That means Taipower's debt could widen to NT$1.4 trillion toward the end of this year from NT$1.2 trillion in June last year, it said.
"We do not expect Taipower to turn around its operations and improve its capital structure any time soon, as its servicing costs remain significantly higher than the average tariff," Taiwan Ratings said in the note.
Furthermore, costs aimed at increasing the use of energy from renewable sources are much higher and would rise fast in the next two years, the ratings agency said.
Such capital spending could augment the company's debt unless fuel costs drop significantly, it said.
Taiwan Ratings said it expects the government to provide additional cash injections and increase electricity rates further if it is necessary to support Taipower's capital and viability, as well as help enhance the resilience and reliability of the utility's power grids.
Taipower last year unveiled a NT$564.5 billion power grid enhancement plan for the next 10 years, aiming to prevent massive outages from affecting industrial production and people's lives.
The utility is drafting a NT$33.4 billion distribution system upgrade plan over the next five years as it hopes to further limit the duration of power outages and decrease the number of blackouts, the Chinese-language Liberty Times (the Taipei Times' sister publication) reported on its Web site yesterday.
Comments will be moderated. Keep comments relevant to the article. Remarks containing abusive and obscene language, personal attacks of any kind or promotion will be removed and the user banned. Final decision will be at the discretion of the Taipei Times.