Cathay United Bank awarded for digital strength
Cathay United Bank (國泰世華銀行) boasts a customer base of 6.3 million digital users and, in the spirit of "digital empowerment," took its digital strength to a new level by launching a new digital consumer banking brand "CUBE" in October last year.
Its core service, CUBE App, offers one-stop management of banking assets, investment positions, insurance products and other convenient services, such as mobile withdrawals, mobile number and account binding, and video customer service. The comprehensive functions and ongoing optimization of CUBE App drive customer satisfaction to new highs.
With years of experience in digital transformation, Cathay United Bank won the Best App for Customer Experience at the Retail Banker International Asia Trailblazer Awards for its CUBE App, and the Best Training and Development Course for its one-stop digital learning platform, which exemplifies the bank's commitment to "sustainable empowerment."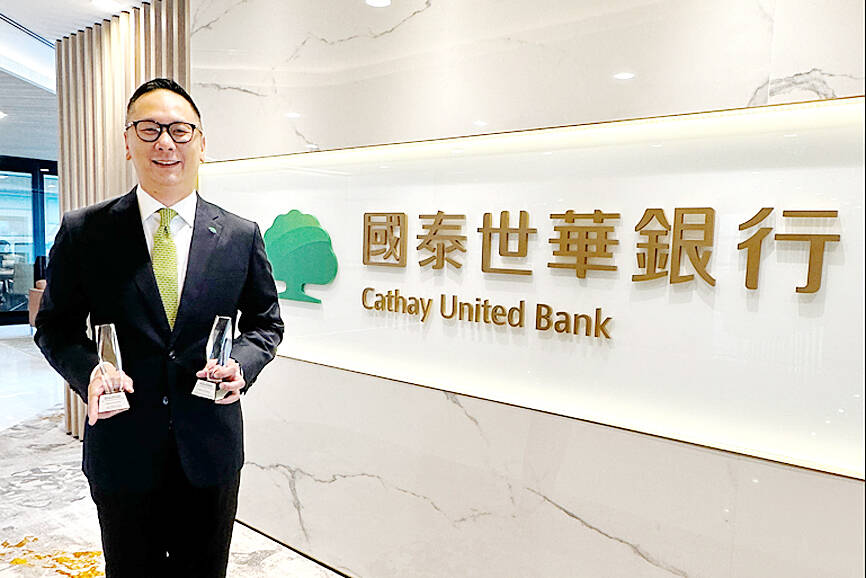 Cathay United Bank Singapore Branch executive vice president Winfield Wong holds the awards for Best App for Customer Experience and Best Training and Development Course in an undated photograph.
Photo courtesy of Cathay United Bank
CUBE App is the first in the industry to adopt "direct facial recognition" technology, and has exceeded 26 million logins. The app detects multipoint facial landmarks of the customer in real time and compares them to the customer's biometric record retained by the bank, thereby drastically enhancing the security level of online transactions.
With facial recognition technology, customers can complete transactions in a simple and secure environment, without having to use passwords or SMS verification codes.
CUBE App also comes with a design of a revolutionary video customer support that provides services that need to be conducted over-the-counter, such as account opening, applying for online banking passwords and setting up pre-designated accounts. This function was also the key to winning the award.
As the era of talent retention emerges, the bank is bracing its organizations for the transformation by empowering its employees with the necessary knowledge and skills.
To that end, Cathay United Bank uses an innovative learning model that builds a "digital learning formula" incorporated with the "one-stop shopping" concept to fulfill its commitment to sustainable empowerment.
The bank also offers diversified learning channels: Analysis of user behavior provides personalized recommendations for employees, making learning easy, fun and relevant. This feature led to bank winning the Best Training and Development Course award.
Looking forward, Cathay United Bank will continue to uphold the spirit of "One Team, One Bank," achieve its goals through cross-unit collaboration and put up a united front when serving customers. The bank strives to satisfy all customer demands with its comprehensive, one-stop financial services and leverage digital transformation to make customers' lives easier.
Comments will be moderated. Keep comments relevant to the article. Remarks containing abusive and obscene language, personal attacks of any kind or promotion will be removed and the user banned. Final decision will be at the discretion of the Taipei Times.