Inventory woes to end soon: GlobalWafers
TAKING OFF: Net profit soared 29.5 percent annually last year to a record NT$15.37 billion, as GlobalWafers received record-high prepayments from customers, it said
Semiconductor inventory corrections should end next quarter, paving the way for a pickup in demand in the second half of this year, GlobalWafers Co (環球晶圓) said yesterday.
As a majority of its customers believe demand would bounce back in the second half, the world's No. 3 silicon wafer maker said it is keeping most of its factories fully utilized to ensure sufficient supply.
"Our customers have committed to take those wafers. They only requested to push back shipments by a month or two," GlobalWafers chairwoman Doris Hsu (徐秀蘭) told an investors' teleconference.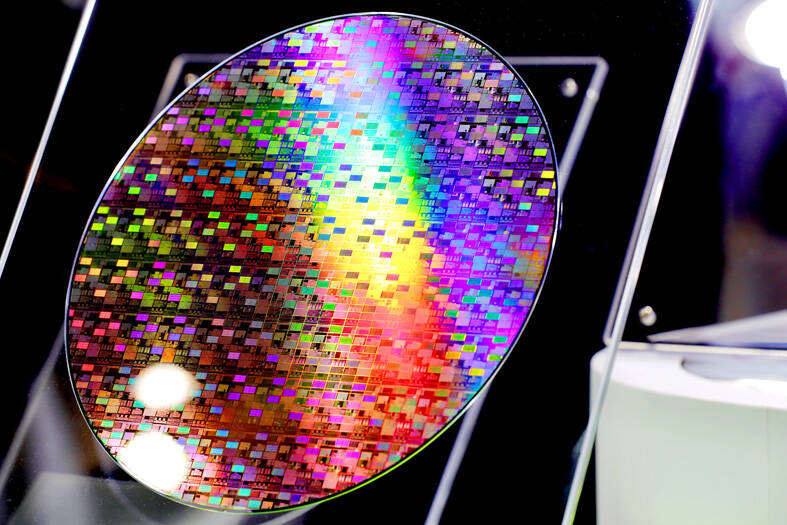 A silicon wafer is displayed during Semicon Taiwan in Taipei on Sept. 15 last year.
Photo: Ritchie B. Tongo, EPA-EFE
"Overall industry inventory adjustment should be mostly resolved in the second quarter," Hsu said. "We think the recovery will start in the second half of this year, or as late as the end of this year."
Semiconductors used in power management applications, industrial devices and automotive devices would recover at a faster pace than those used in consumer electronics and memory chips, she said.
The company expects its revenue performance this year to be better than last year, she said.
The Hsinchu-based company reported record revenue of NT$70.29 billion (US$2.3 billion) for last year, rising 15 percent from NT$61.13 billion in 2021.
Gross margin this year should be similar to last year's 43.2 percent, Hsu said.
The volatility of foreign-exchange rates is the crucial factor that decides the ups and downs of its gross margin, she said.
In response to investors' concerns that Washington's strict rules and profit-sharing scheme under the Creating Helpful Incentives to Produce Semiconductors (CHIPS) and Science Act, along with less direct funding, could make GlobalWafers' new Texas fab an unprofitable deal, Hsu said the company is closely following the development of the regulations.
GlobalWafers expects to have a clearer picture next month or in May as the US government is to release more details in a second-round announcement about rules and measures for material suppliers such as GlobalWafers, she said.
Based on its understanding, the company is likely to receive a bigger portion of direct funding, compared with the 5 percent and 15 percent of a project's total expenditures stipulated by the CHIPS Act, as GlobalWafers is not eligible for an investment tax credit, she said.
That direct funding range is just a general estimate, as there is no fixed amount of funding regulated yet, she said.
GlobalWafers' Texas fab is under construction and scheduled to start mass production in the first quarter of 2025 as planned, Hsu said.
More than 80 percent of its capacity has already been reserved by customers, she said.
Regarding concerns that Tesla Inc's plans to cut its usage of silicon carbide (SiC) semiconductors by 75 percent could undermine GlobalWafers' financial performance, Hsu said that electric vehicles were only one of many applications for SiC.
Besides, the company is not a pure SiC supplier, but a supplier of wafers, she added.
GlobalWafers said it would stick to its SiC capacity expansion plan, given its small scale and strong forecast of a compound annual growth rate of 34 percent from last year to 2027.
GlobalWafers' net profit expanded 29.5 percent annually last year to NT$15.37 billion, reaching a record high. Earnings per share climbed to NT$35.31 from NT$27.27 in 2021.
The company also had a record NT$39.73 billion in prepayments from customers at the end of last year, it said.
Customers signing long-term supply agreements are required to prepay, it added.
Comments will be moderated. Keep comments relevant to the article. Remarks containing abusive and obscene language, personal attacks of any kind or promotion will be removed and the user banned. Final decision will be at the discretion of the Taipei Times.