E Ink eyes low double-digit percentage revenue rise
E Ink Holdings Inc (元太科技), the world's sole e-paper display supplier, yesterday said it expects revenue to grow by as much as a low double-digit percentage this year, citing robust demand for electronic shelf labels (ESLs) from retailers, but sluggish consumer demand for e-readers and e-notes that might diminish the company's overall growth strength.
The Hsinchu-based company said it is bullish about the adoption of ESLs in the US and Europe as staff shortages and frequent price adjustments amid high inflation entice retailers to shift away from traditional shelf labels.
"We are optimistic about the ESL business. We are seeing a strong intention to install electronic shelf labels," E Ink chairman Johnson Lee (李政昊) told a media event in Taipei yesterday.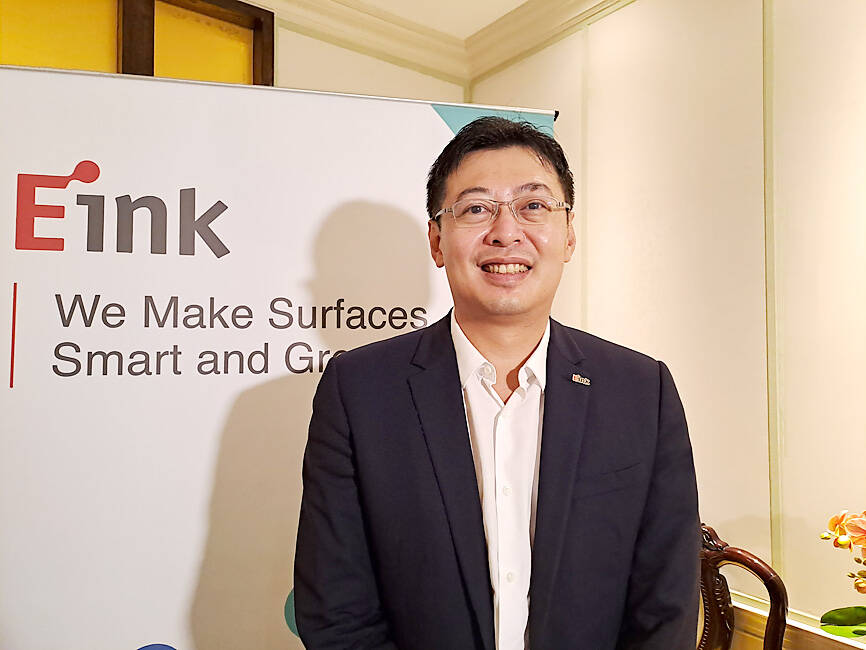 E Ink Holdings Inc chairman Johnson Lee poses for a picture in Taipei on Dec. 8 last year.
Photo: CNA
Customers increasingly explore the usage of ESLs for signage in public spaces and for advertising on public transportation, Lee said, attributing the trend to e-paper displays becoming bigger and better at displaying colors.
E-paper displays used in ESLs have since the third quarter of last year been the firm's biggest source of revenue.
However, the firm said it is concerned that further interest rate hikes by central banks could dent the growth of the world economy and dampen demand for e-readers.
E Ink expects revenue from e-readers to decline this year.
Some customers indicated that they might reschedule product launches and roll out new products when the world economy is in better shape, Lee said.
"Overall, we are cautiously optimistic about this year's outlook. We still look at growth this year compared with last year, but the growth will not be as significant as what we did last year," Lee said.
From a conservative point of view, revenue is expected to grow by a single-digit percentage this year, Lee said, adding that double-digit percentage growth is possible, depending on the macroeconomic situation, he said.
Last year, E Ink's revenue expanded 26 percent year-over-year to NT$30.06 billion (US$975.7 million), the best performance in 11 years.
The company said its capacity expansion plans are on schedule, unaffected by macroeconomic developments.
To fuel future growth momentum, E Ink said it would this quarter or next build the fourth of six planned production lines in Taoyuan's Guanyin District (觀音).
E Ink said it is planning to spend NT$5 billion to NT$6 billion on new facilities and manufacturing equipment this year.
E Ink's net profits surged to a historical high of NT$9.91 billion last year, up from NT$1.84 billion in 2021. Earnings per share rose to NT$8.69 last year from NT$1.61 in 2021.
The firm's board of directors has approved a cash dividend of NT$4.5 per common share, representing a 52 percent payout ratio. Last year, the company paid a cash dividend of NT$3.2 per common share.
Comments will be moderated. Keep comments relevant to the article. Remarks containing abusive and obscene language, personal attacks of any kind or promotion will be removed and the user banned. Final decision will be at the discretion of the Taipei Times.