February tax revenue rises 24.6 percent
MORE WORKING DAYS: Last month's tax revenue was NT$95.6 billion, the Ministry of Finance said, attributing the increase to a holiday effect that helped defy a downtrend
The government last month collected NT$95.6 billion (US$3.1 billion) in tax revenue, up 24.6 percent from February last year, thanks to more working days that boosted personal income, securities transactions and vehicle sales taxes, the Ministry of Finance said yesterday.
However, the state coffers reported a 2.7 percent annual decline in tax revenue for the first two months of this year, as corporate income, the local bourse and the property market lost steam amid economic challenges, the ministry said.
Corporate income tax revenue dropped 13.8 percent year-on-year to NT$4.6 billion last month and declined 15.9 percent to NT$8.5 billion in the first two months, as exporters took a hit from a global economic slowdown, ministry statistics official Liang Kuan-shuan (梁冠璇) told an online media briefing.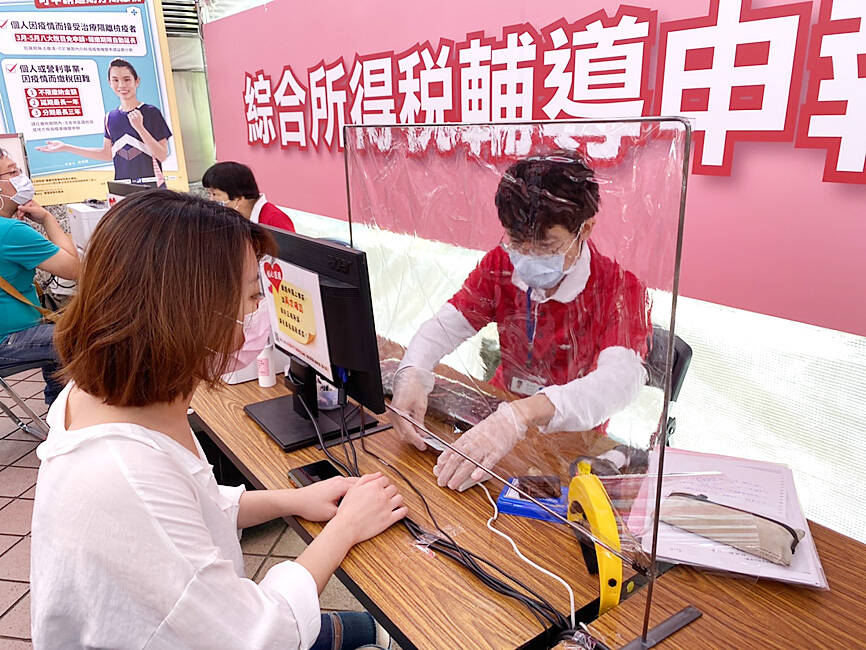 A woman files her taxes at the Taipei branch of the National Taxation Bureau on May 1, 2020.
Photo: Allen Wu, Taipei Times
Personal income tax revenue rose 10.7 percent year-on-year to NT$41.3 billion last month and 5.9 percent annually for the first two months to NT$80.4 billion, Liang said, attributing the trend to higher stock dividends.
Tech and non-tech firms reported robust business in the first half of last year before taking a hit amid global central banks' interest increases to fight inflation, affecting demand for nonessential goods.
Securities tax revenue rose 11 percent year-on-year to NT$12.2 billion last month, which had three working days more than February last year, Liang said, adding that tax revenue in the first two months plunged 32.9 percent to NT$19.1 billion, weighed by lingering bleak sentiment.
The US Federal Reserve last month slowed the pace of rate increases, raising it by 0.25 percentage points, but this week indicated that more aggressive steps might be taken in the coming months, citing stronger-than-expected economic data.
The New Taiwan dollar has weakened against the US dollar, reversing an earlier rebound, as global funds again pulled out of Taiwan in search of higher yields in US dollar denominated assets, central bank data showed.
The tax revenue generated from land value gains last month fell 22 percent from a year earlier to NT$5.7 billion and plummeted 40 percent annually to NT$10.8 billion in the first two months, Liang said, citing as reasons interest rate hikes in Taiwan and new rules banning the resale of presale house purchase agreements.
The number of taxable cases in the local real-estate market in the first two months shrank 25.9 percent year-on-year to 79,182, as buyers stayed on the sidelines, Liang said.
Sales tax revenue bucked the downtrend with a 40.5 percent surge to NT$15.1 billion last month and increased 2.1 percent to NT$23.7 billion in the first two months, the ministry said.
The holiday effect and a noticeable advance in imported vehicles drove the strong showing, Liang said.
The cumulative tax revenue of NT$272.4 billion in the first two months was 5.2 higher than the government's target, she said.
Comments will be moderated. Keep comments relevant to the article. Remarks containing abusive and obscene language, personal attacks of any kind or promotion will be removed and the user banned. Final decision will be at the discretion of the Taipei Times.