Foxconn planning plant in India worth US$700m
KARNATAKA OUTLAY: The new production site to build iPhone parts on a 121 hectare site in Bengaluru is expected to create about 100,000 jobs, sources said
Apple Inc partner Foxconn Technology Group (富士康科技集團) plans to invest about US$700 million on a new plant in India to ramp up local production, people familiar with the matter said, underscoring an accelerating shift of manufacturing away from China as Washington-Beijing tensions grow.
The company, known as Hon Hai Precision Industry Co (鴻海精密) in Taiwan, plans to build the plant to make iPhone parts on a 121 hectare site close to the airport in Bengaluru, the capital of the southern Indian state of Karnataka, said the people, who asked not to be named as the information is not public.
The factory might assemble Apple's handsets, some of the people said, and Foxconn might also use the site to produce some parts for its nascent electric vehicle business.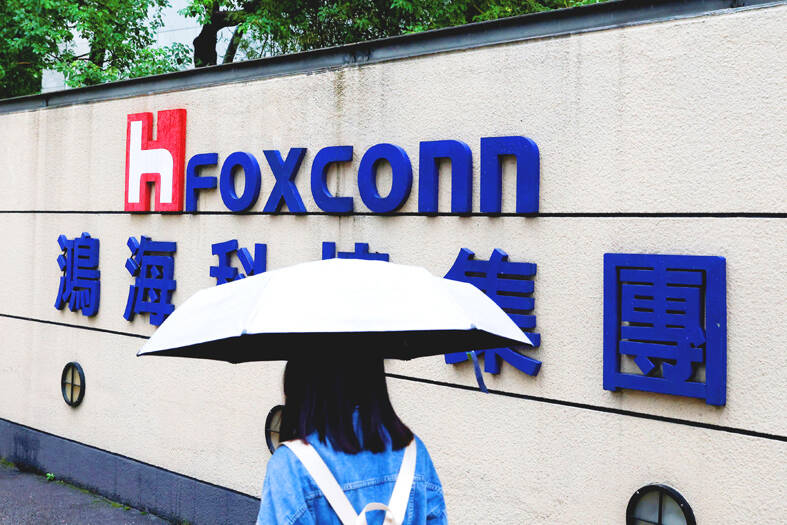 The Foxconn logo and name are pictured outside a company building in Taipei on Oct. 31 last year.
Photo: Carlos Garcia Rawlins, Reuters
The investment is one of Foxconn's biggest single outlays to date in India and underscores how China is at risk of losing its status as the world's largest producer of consumer electronics.
Apple and other US brands are leaning on their China-based suppliers to explore alternative locations such as India and Vietnam. It is a rethink of the global supply chain that accelerated during the COVID-19 pandemic and the war in Ukraine, and could reshape the way global electronics are made.
The new production site in India is expected to create about 100,000 jobs, the people said.
The company's iPhone assembly complex in Zhengzhou, China, employs about 200,000 people at the moment, although that number surges during peak production season.
Output at the plant in Henan Province plunged ahead of the year-end holidays due to pandemic-related disruptions, spurring Apple to re-examine its China-reliant supply chain.
Foxconn's decision is the latest move that suggests suppliers might move capacity out of China far faster than expected.
The plans could still change, as Foxconn is in the process of finalizing investment and project details, the people said.
It was also unclear whether the plant represents new capacity or production that Foxconn is shifting from other sites such as its Chinese facilities.
Apple declined to comment.
Hon Hai, whose chairman, Young Liu (劉揚偉), met with Indian Prime Minister Narendra Modi this week, did not immediately respond to an e-mail seeking comment.
The Karnataka state government also did not immediately respond.
Liu, who is on tour in India, has committed to another manufacturing project in Telangana state.
Foxconn's decision would be a coup for Modi's government, which sees an opportunity to close India's technology gap with China as Western investors and corporations sour on Beijing's crackdowns on the private sector.
India has offered financial incentives to Apple suppliers such as Foxconn, which began making the latest generation of iPhones at a site in Tamil Nadu last year.
Smaller rivals Wistron Corp (緯創) and Pegatron Corp (和碩) have also ramped up operations in India, while suppliers such as Jabil Inc have begun making components for AirPods there.
Comments will be moderated. Keep comments relevant to the article. Remarks containing abusive and obscene language, personal attacks of any kind or promotion will be removed and the user banned. Final decision will be at the discretion of the Taipei Times.