PMI near neutral level as inventory digestion ends
IMPROVEMENT IN DEMAND: Production declined at the slowest pace in 10 months, while a retreat in total new business slowed from early this year, the data showed
The S&P Taiwan Manufacturing Purchasing Managers' Index (PMI) last month rose to 49.0, from 44.3 in January, as the worst of inventory adjustments likely ended, as evidenced by improving demand from China following the lifting of its strict COVID-19 curbs.
The PMI pointed to a less serious deterioration in the operating conditions of manufacturers in light of subdued declines in output, new orders and input buying, S&P Global Market Intelligence said on Wednesday.
"The upward movement in the indices reflected improvements in demand at some firms, partly due to eased COVID-19 restrictions in China, and adds to hopes that the worst of the current downturn is now behind us," company associate director Annabel Fiddes said in a statement.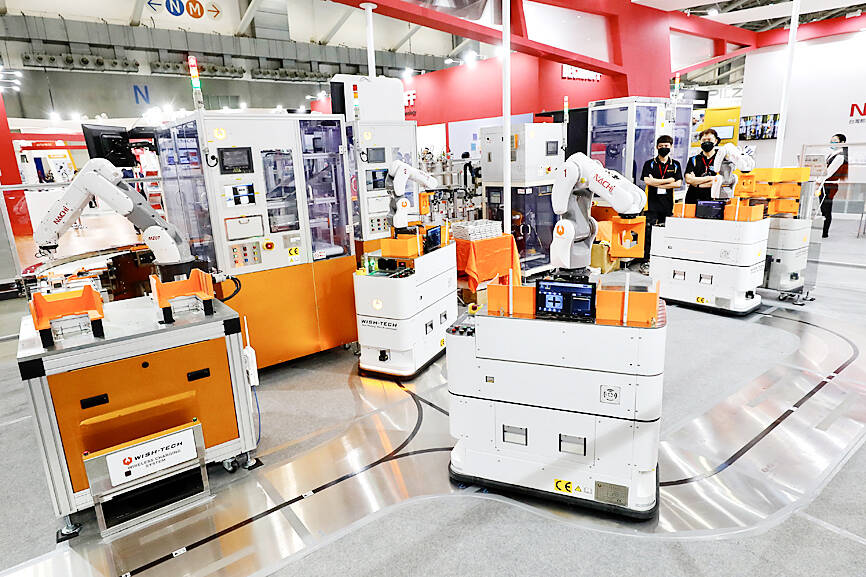 People observe robotic arms at the Intelligent Asia trade show in Taipei on Aug. 24 last year. The S&P Taiwan Manufacturing Purchasing Managers' Index (PMI) last month rose to 49.0, from 44.3 in January.
Photo: Ritchie B. Tongo, EPA-EFE
PMI data aim to gauge the health of the manufacturing industry, with scores of 50 and higher indicating business expansion and values lower than that suggesting contraction.
Retreats in output and new orders subsided, and input purchases weakened at a softer pace, while supply chain pressures fell markedly from a year earlier, Fiddes said.
Production declined at the slowest pace in 10 months, while a retreat in total new business slowed from the beginning of the year, the report said.
Employment fell for the second month in a row, albeit only slightly, it said.
New orders fell at the slowest rate since May last year and only marginally, it added.
A downturn in new export business eased notably, with foreign sales shrinking only slightly, the report said.
Supply chain stress subsided and is close to stabilizing, with businesses reporting the slowest increase in delivery times in 43 months, it said.
Customer demand remained tepid, but some companies reported sales increases, especially from customers in China, the report said.
Still, companies were cautious about inventory management, but cost pressures increased in light of sharply rising input costs, the report added.
Nevertheless, businesses reduced selling prices to boost sales, it said.
"There still needs to be a meaningful increase in global demand to support a recovery in Taiwan," Fiddes said.
Companies were not as downbeat in their business outlook for the year ahead as they were in January, but they still remain negative, she said, adding that a murky global economic outlook and stubborn cost pressures would continue to weigh on output projections.
Comments will be moderated. Keep comments relevant to the article. Remarks containing abusive and obscene language, personal attacks of any kind or promotion will be removed and the user banned. Final decision will be at the discretion of the Taipei Times.