GM locks up chip supply in deal with GlobalFoundries
General Motors Co (GM) signed a deal with GlobalFoundries Inc to lock up production capacity for semiconductors, helping the automaker manage a chip shortage that has hindered auto production for several years.
GlobalFoundries, a provider of made-to-order semiconductors, is to set aside capacity at its New York plant exclusively for chips destined for GM vehicles.
The automaker is planning to tell its chip design suppliers to use the company's production to make some of the components it deems essential to its vehicles.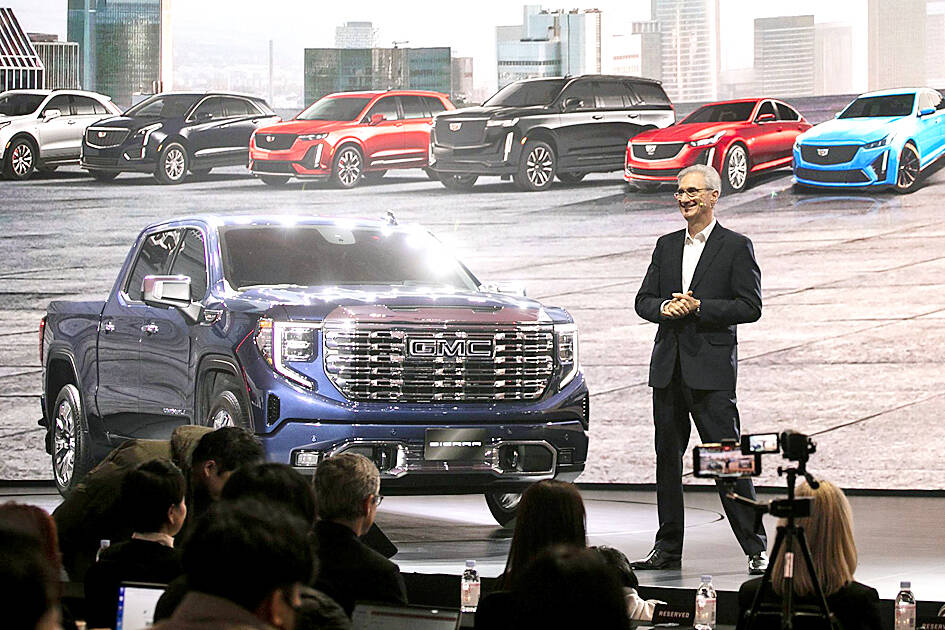 GM Korea Co president and CEO Roberto Rempel speaks next to a General Motors Co GMC Sierra Denali truck at a launch event in Seoul on Tuesday.
Photo: Bloomberg
"We see our semiconductor requirements more than doubling over the next several years as vehicles become technology platforms," GM executive vice president of global product development, purchasing and supply chain Doug Parks said in a statement on Thursday.
GM has been reducing the number of unique chips needed to build increasingly complex vehicles.
'RESILIENCE'
A worker walks through a cleanroom at a Globalfoundries Inc semiconductor plant in Dresden, Germany, on Nov. 30 last year.
Photo: Bloomberg
Parks said the GlobalFoundries deal "will help establish a strong, resilient supply of critical technology."
GlobalFoundries is positioning itself to take advantage of attempts to remake the semiconductor supply chain.
Governments in the US and Europe are pushing through support packages aimed at increasing local manufacturing of the devices and lessening a dependence on East Asia.
Outlining plans to increase his company's footprint in the US, GlobalFoundries CEO Tom Caulfield has said he would put capacity in place when his customers commit to using it.
LESS ADVANCED CHIPS
Unlike Intel Corp and Micron Technology Inc, GlobalFoundries is concentrating its efforts on older types of chip manufacturing that it says would stay in high demand for years.
Electronic components in vehicles are not typically made on the most advanced chipmaking gear, but a dearth of investment in that type of production has made capacity tight.
Caulfield said his company is "committed to working with our customers in new and innovative ways to best address the challenges of today's global supply chains."
Comments will be moderated. Keep comments relevant to the article. Remarks containing abusive and obscene language, personal attacks of any kind or promotion will be removed and the user banned. Final decision will be at the discretion of the Taipei Times.