Manufacturing business monitor signals recession
'BLUE' LIGHT: The TIER business composite index fell to 9.48 for the manufacturing sector in December, and the ratio of firms in decline increased to 74 percent
The climate monitor for the nation's manufacturing sector in December last year was "blue" for the second consecutive month, as global inflation and interest rate hikes lowered demand and prices for most products, the Taiwan Institute of Economic Research (TIER, 台灣經濟研究院) said yesterday.
The TIER business composite index shed 0.24 points to 9.48, indicating a recessionary state, after the sub-indices on demand and selling prices weakened, but the readings for operating conditions, costs and raw material prices improved marginally, the Taipei-based think tank said.
Major customers continued to adjust inventory to cope with soft end-market demand amid a global economic slowdown and monetary tightening, the institute said, adding that Taiwan's latest exports and export orders declined by double-digit percentage points for two months in a row.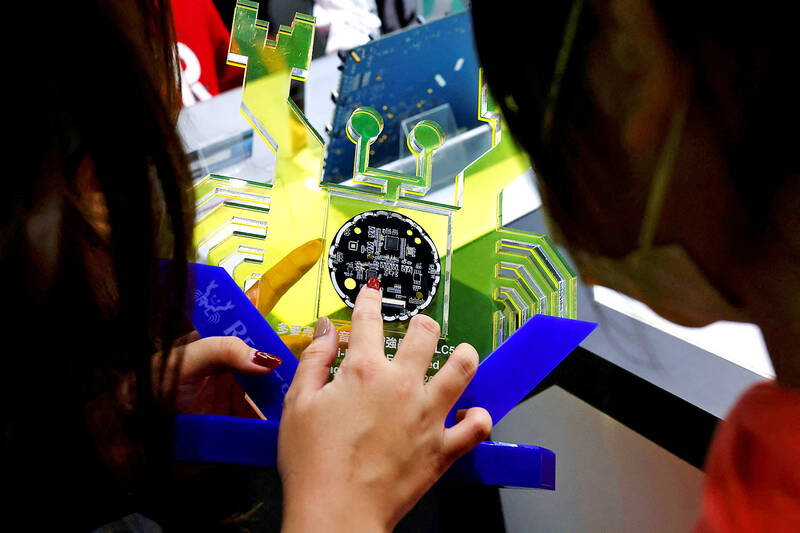 A guide introduces a chip to students on tour at the Science Park Exploration Museum in Hsinchu yesterday.
Photo: Ann Wang, REUTERS
China's recent scrapping of COVID-19 restrictions increased infections in the country, disrupting supply chains, but fueling hopes for a fast recovery, it said.
TIER uses a five-color spectrum to capture the industry's movements, with "red" indicating a boom, "green" suggesting a steady state and "blue" signifying a downturn. Dual colors indicate a transition to a better or worse condition.
The number of firms in business decline jumped from 59.04 percent in November last year to 73.63 percent in December, and none reported a boom, TIER said.
Demand for electronics used in high-performance computing and electric vehicles remained solid, but sales of smartphones and notebook computers stalled, as global consumers cut back spending on technology gadgets, it said, adding that it caused the business climate for the sector, which is the main export driver, to signal "blue."
The climate monitor for petrochemical and plastic sectors was also "blue," as labor shortages in China deteriorated due to spiking virus infections, the institute said.
Firms generally reported a retreat in business, and grew conservative in input and inventory management, it said.
Suppliers of necessity goods such as paper and textile products fell from the "yellow-blue" to "blue" state, as firms wrote off inventory losses to reflect poor demand and selling prices, TIER said.
Makers of metal products continued to struggle with sluggish demand even after major global players cut capacity to ease the imbalance between supply and demand, it said.
Machine equipment vendors held particularly gloomy views, as soft global economic outlook prompted customers to be frugal about buying capital equipment, it said.
Auto parts suppliers said they also took a hit from an overall decline in purchases of durable goods.
The number of new vehicle plates increased by 3.84 percent to 41,900, as consumers sought to avoid price hikes by major vehicle brands this year, rather than a recovery in the business, they said.
Comments will be moderated. Keep comments relevant to the article. Remarks containing abusive and obscene language, personal attacks of any kind or promotion will be removed and the user banned. Final decision will be at the discretion of the Taipei Times.