China's mega-rich move wealth, partying to Singapore
Ruled by one party, with labor strikes and street protests banned, along with low taxes, Singapore ticks all the boxes for Chinese tycoons looking to relocate
Singapore is seeing an influx of ultra-wealthy families from China looking to protect their wealth from a government that increasingly views them with suspicion.
The Chinese Communist Party's recent crackdowns on tech billionaires and tax-shy celebrities, as well as three years of "zero COVID" policies, have led many rich Chinese to look for a safe haven.
Nervous over the fate of their fortunes, some of the country's mega-rich have since booked tickets to Singapore, insiders said.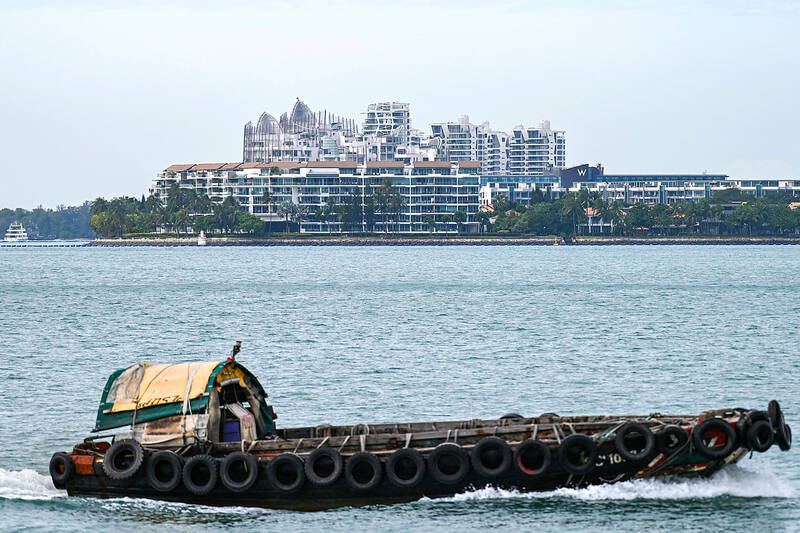 A boat passes through a waterway near the Sentosa Cove private residential area on Sentosa Island in Singapore on Wednesday.
Photo: AFP
The key Asian financial hub ticks all the boxes for relocating tycoons.
Singapore has been ruled by one party for the past six decades, and labor strikes and street protests are banned. Taxes are comparatively low and the population is predominantly ethnic Chinese.
The presence of recent Chinese arrivals is keenly felt in Singapore, with some relocating to luxury homes with waterfront views on Sentosa Island, which also has a theme park, a casino and a prestigious golf club.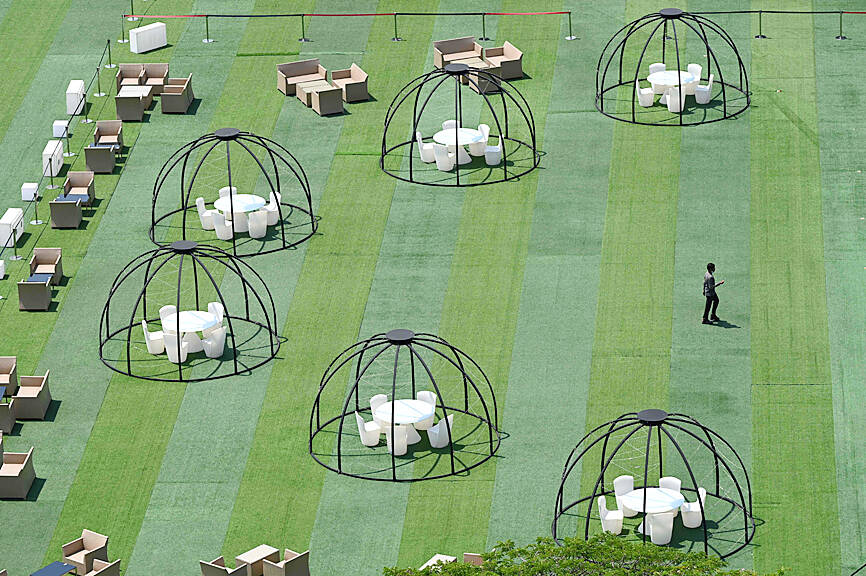 A worker prepares an outdoor restaurant on Singapore's Sentosa Island on July 15 last year.
Photo: AFP
"You cannot imagine the way they spend money. It's crazy," said Pearce Cheng (鐘貴添), CEO of AIMS, which provides immigration and relocation services.
He said he attended a client's party where a rare Japanese Yamazaki 55 whisky, worth about US$800,000 a bottle, was served.
Cheng's firm helps find luxury condos, hire chauffeurs and enroll kids in private schools. It once bought US$61,000 worth of cigars.
The new arrivals drive Rolls-Royces and Bentleys, and are often spotted at top-tier golf clubs such as the exclusive Sentosa Golf Club, where foreign members pay US$670,000 a year.
"Many of them are younger Chinese, in fashionable designer clothes, and they usually keep to themselves and dine amongst themselves, which is not surprising," said Benny Teo, managing director of Blazon Pte Ltd, a consultancy specializing in golf.
Relocating to Singapore puts the wealth of China's richest beyond the reach of Beijing, whose high-profile crackdowns have rattled billionaires.
Alibaba Group Holding Ltd (阿里巴巴) founder Jack Ma (馬雲), one of the most recognizable faces in Asian business, lost an estimated US$25 billion when Chinese regulators pulled the plug on a blockbuster initial public offering in 2020.
Other Chinese tycoons fear the government could apply similar pressure or even take over their businesses at low prices, an accountant familiar with the situation said.
"Moving to Singapore is about making sure the family wealth is kept safe and can last for several generations," the accountant said.
Singapore is increasingly viewed as a home rather than just a backup plan, another source in the industry said, adding that clients had told him: "At least when I'm here, I know my money is mine."
One of the founders of China's largest hotpot chain, Haidilao (海底撈), recently set up a so-called family office in Singapore.
The number of family offices — wealth management companies dedicated to individual and group assets — rose from about 400 in 2020 to about 700 in 2021, the Monetary Authority of Singapore said.
Loh Kia Meng (劉家銘), cohead of private wealth and family office practices at law firm Dentons Rodyk, said that about 1,500 family offices would have been set up by the end of last year.
"I won't be surprised if the total figure by the end of 2022 shows that one out of two new family offices originates from China," Loh said.
The outflow is expected to continue even though China's strict "zero COVID" policy and curbs have been lifted, analysts said.
Political tensions between Beijing and Washington are reinforcing the desire of some of China's richest to move abroad.
Singapore is a "very handy neutral zone" where the mega-rich can do business, said Song Seng Wun (宋誠煥), a regional economist with CIMB Private Banking.
The city-state has deftly managed its relations with Washington and Beijing, maintaining close security ties with the US, while preserving robust trade links with China.
"Media attention on prominent wealthy individuals setting up family offices in Singapore cast the spotlight on our little island and stirred interest," Loh said. "If the world's rich are congregating in Singapore, why not me?"
Comments will be moderated. Keep comments relevant to the article. Remarks containing abusive and obscene language, personal attacks of any kind or promotion will be removed and the user banned. Final decision will be at the discretion of the Taipei Times.