Hong Kong aims to revive the wrecked crypto sector
Hong Kong is sticking with a plan to become Asia's digital-asset capital despite the industry's tarnished reputation, a stance drawing tentative interest from bruised crypto firms looking for paths to recovery.
The territory said that it would learn from the US$2 trillion crypto market rout and a spate of global bankruptcies, such as the collapse of the FTX exchange, to create a fresh regulatory framework that can protect investors and encourage growth.
The three-month-old pivot toward fostering a crypto sector is part of a wider effort to restore Hong Kong's credentials as a financial center after COVID-19 curbs and political unrest sparked a brain drain.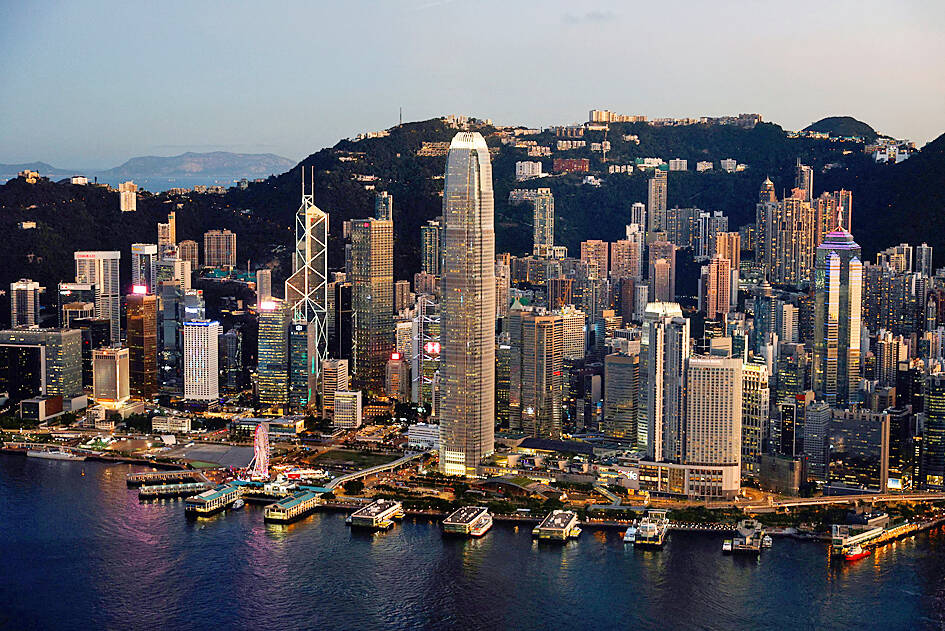 Hong Kong's central business district is pictured on July 13, 2021.
Photo: Reuters
Hong Kong's crypto plan includes a mandatory exchange licensing regime due in June and a consultation on allowing retail trading. Officials have also permitted exchange-traded funds (ETFs) and three such ETFs launched since mid-December last year have raised more than US$80 million.
However, digital-asset businesses have been retrenching of late, posing an obstacle to the territory's push.
Matrixport Technologies Pte, a crypto lender with about 300 staff, is among the firms assessing Hong Kong's evolving rulebook. Its home base of Singapore is now so wary of virtual coins that it might ban retail-token lending altogether.
Matrixport is already evaluating the possibility of setting up in Hong Kong, even as it awaits the outcome of a Singapore virtual-asset license application, people familiar with the matter said.
Gauging the likely return on the needed investment is difficult because Hong Kong's rules are still evolving, the people said, asking not to be identified as the deliberations are private.
"Companies are interested in the prospective crypto regime, but also hesitant pending more details," Bloomberg Intelligence ETF analyst Rebecca Sin said.
Sin pointed to longer-term potential for asset managers if a currently limited program allowing Chinese investors to buy some stock ETFs in Hong Kong is one day widened to span crypto. Bloomberg Intelligence estimates that total funds under management in Hong Kong ETFs might surpass US$50 billion by year-end.
Sin expects regulators to permit spot bitcoin ETFs as early as the second quarter of this year.
Samsung Asset Management, which this month launched the Samsung Bitcoin Futures Active ETF in Hong Kong, has said it might consider starting a spot fund if the territory gives it the green light.
Comments will be moderated. Keep comments relevant to the article. Remarks containing abusive and obscene language, personal attacks of any kind or promotion will be removed and the user banned. Final decision will be at the discretion of the Taipei Times.